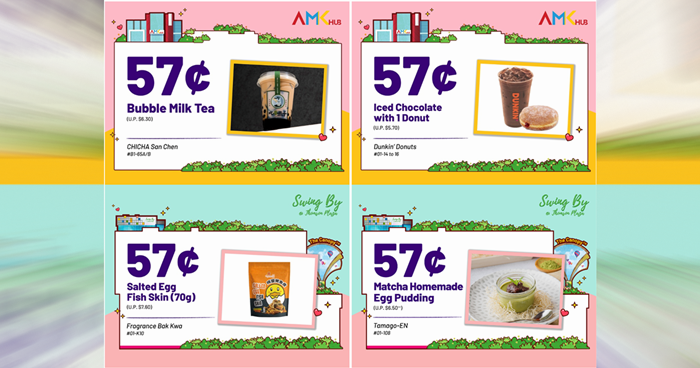 Fastest fingers first! Grab irresistible $0.57 e-deals on the M Malls Mobile App daily from 8 to 14 August. Simply purchase the $0.57 e-deal from any of the participating retailers on the M Malls App and present the e-coupon at the participating retailer for redemption. Limited to 1 purchase per deal per M Malls Account.
$0.57 e-deals you can look forward to at AMK Hub include CHICHA San Chen Bubble Milk Tea (U.P. $6.30), Auntie Anne's Cinnamon Sugar Pretzel (U.P. $3.60), ARTEA's Avocado Milkshake (U.P. $5.80), and more. At Swing By @ Thomson Plaza, look forward to tasty $0.57 e-deals from Duke Bakery, Fragrance, Tamago-EN, and more!
Kindly refer to Appendix A for the full list of deals.
Appendix A
$0.57 Deals (AMK Hub)
ARTEA
#B1-66 to 68
Avocado Milkshake (U.P. $5.80)
Auntie Anne's
#01-09/10
Cinnamon Sugar Pretzel (U.P. $3.60)
CHICHA San Chen
#B1-65A/B
Bubble Milk Tea (U.P. $6.30)
CROLO by Swee Heng
#B1-18
Savoury Croissants/Croffles (U.P. $2.70)
CROLO by Swee Heng
#B1-18
Sweet Croissants/Croffles (U.P. $2.70)
Cube-i
#02-43
Character Balloons on Stick (U.P. $4.90)
Dunkin' Donuts
#01-14 to 16
Ice Chocolate with 1 Donut (U.P. $5.70)
Fragrance Bak Kwa
#B2-20
Crispy Bak Kwa with Almonds (U.P. $6.80)
Kahuna Acai
#01-03A
Almond Butter/Cashew Butter (Regular size) (U.P. $6)
Kskin
#02-46
$10 e-voucher (U.P. $10)
Kuriya Japanese Market
#B2-52
Onigiri (U.P. $2.50)
PeekaBox
#02-25
Singlets Notebook (U.P. $5.90)
Potato Corner
#B2-19
Jumbo Fries (U.P. $4.30)
Shake Shake in a Tub
#B2-47
Popcorn Chicken Combo (Medium size) (U.P. $6.70)
Shan Cheng (Express)
#B2-45
Ipoh Chu Cheong Fun (Curry/Special Sauce) (U.P. $5.70)
SMASH
#B2-48
Soto Ayam (U.P. $5.50)
SMASH
#B2-48
Nasi Dory Penyet (U.P. $8.90)
U@GX
#02-50
Fast Charge Cable (Micro USB, Type-C, Lightning) (U.P. $12)
WALAH
#01-25/26
Dessert Cutlery Set (U.P. $9.90)
Yu Ba Fang
#B2-32
YBF Special Minced Pork Rice (U.P. $7.90)
Yu Ba Fang
#B2-32
YBF Classic Signature Pan-Fried Dumplings (4 pcs) (U.P. $5.90)
$0.57 Deals (Swing By @ Thomson Plaza)
Duke Bakery
#01-K2
Cake Slice (U.P. $6.20)
Duke Bakery
#01-K2
Handmade Cookies (U.P. $7.60)
Fragrance
#01-K10
Crispy Bak Kwa with Almonds (U.P. $6.80)
Fragrance
#01-K10
Salted Egg Fish Skin (70g) (U.P. $7.60)
Hajime Tonkatsu & Ramen
#01-110
Roasted Edamame (U.P. $5.80)
Hajime Tonkatsu & Ramen
#01-110
Black Coffee (100% Arabica Beans) (U.P. $3)
Huggs Collective
#03-46/47
Iced Pandan Kopi/Teh (16 oz) (U.P. $4.50)
Le Tian Tian
#01-K8
Grass Jelly with Longan (U.P. $3.20)
Le Tian Tian
#01-K8
Ice Jelly with Longan (U.P. $3.20)
Tai Chong Kok
#01-K1
Bamboo Basket Piglets (U.P. $5)
Tamago-EN
#01-108
Homemade Egg Pudding (U.P. $6.50)
Tamago-EN
#01-108
Matcha Homemade Egg Pudding (U.P. $6.50)
Tingkat PeraMakan
#03-43
Nyonya Chap Chye (U.P. $7.20)
Tingkat PeraMakan
#03-43
Sago Gula Melaka (U.P. $2.90)