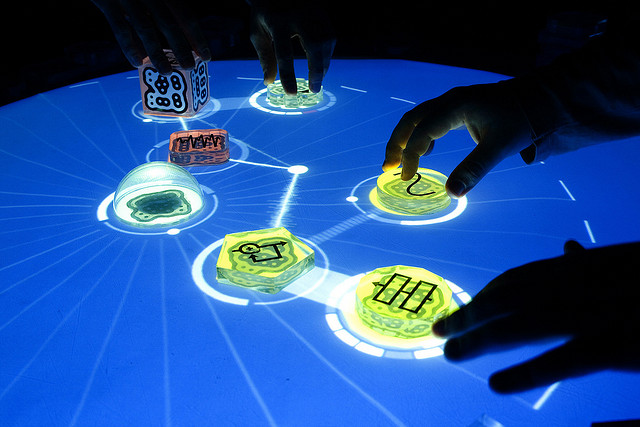 (Image credit: Ars Electronica, via Flickr)
Wouldn't you want to know where to put your hard-earned money, so it can work by itself? Don't you want a secure and profitable investment that will bring money in the long run? Well, who doesn't? But if it was so easy, why isn't everybody doing it. Because it isn't that easy and the markets become increasingly unsteady. However, there are certain areas that come close to what you would want to call a safe investment.
Those are areas that are less dependent on the fluctuations of the market. For example – as the world tries to stir towards renewable energy resources, an increasing number of governments are subsidising this particular industry. Hence, the industry grows and becomes more profitable – no matter whether another financial crisis will hit or not. Although nothing is even 100% secure, certain areas of investment are very likely to create profit. Not all are in Europe and North America though.
Investing in Asian markets is nothing new. However, some markets are booming and won't stop for another decade at least. Singapore is one these markets. This sovereign city-state has the highest concentration of millionaires in the world and therefore plenty of investment power within the country. The construction industry is already booming for over a decade and there isn't a sign for a halt. Property agents have turned wealthy, as land is being reclaimed and developed with the speed of light.
But there isn't only property. The government and the Singapore Economic Development Board have opened up the country for foreign investors. The economy is not limited to construction and property, but excels in trade and shipping as Singapore has the busiest port in Asia. Also other sectors, such as technology, tourism and financial services, are welcoming and prosperous. As Singapore's government stirs the economy towards further development and growth, there isn't any end in sight for long-term investments.
Another interesting location for investments is Qatar. With the FIFA World Cup 2022 coming up, the investments from within the country are enormous. Qatar is not only investing stadiums and infrastructure, but aims to create a wonderland for tourists, just like Dubai has done. Stocks are being predicted to rise, if not triple within a decade. Different sources recommend the Qatar investment fund. However, there is a bitter taste to the bite. The Arab country has recently been criticised for the unfavourable treatment of their foreign workers. Furthermore, the FIFA is under pressure, due to accusations of bribery during the bidding process and allegations of slave labour. Although the FIFA says a reallocation of the World Cup 2022 will not happen, one should keep it in mind when investing in the Gulf country.
Properties can be in another sense an interesting investment. As certain cities loose their population, others are becoming increasingly popular. Detroit for example has lost half of its inhabitants in forty years. However, there are other urban centres that are already experiencing a scarcity of housing. Berlin for example has a rising demand for housing for ten years straight. The German capital has once been cheap with plenty of living space. Investors have renovated entire neighbourhoods and created upscale living. As the popularity of Berlin isn't declining, the rents have not only increased, but property has become the hottest commodity in the city. Those who have invested in property early enough have made significant financial benefits.
Similar developments can be seen in various cities around the world. Brooklyn, London, Paris and Amsterdam are only a few examples. Furthermore, due to the housing crisis and the collapse of the international market in 2008 and 2009, the prices for houses and properties broke down. Five years later the prices are slowing picking up speed with the tendency to rise rather than to fall again. An investment in inner city housing and urban property will in many cases be a profitable one.
Barcelona, Madrid, Austin and other cities are becoming increasingly attractive. As the rents there are down at the moment, these cities provide investors with interesting prospects. The prices on the international housing market were terribly bad for a couple of years. As the crisis is passing and most countries are recovering, the prices will go nowhere but up. While the market in some cities might take some time, other city markets are already starting to boom. Furthermore, the trend of urbanisation is speeding up the process. London, however, is no longer interesting, as the rents have become too expensive which minimises the profit margin dramatically.
Up and rising are also leisure and entertainment. Never before have we consumed such a quantity of entertainment. Hence, the technology sector will not just be interesting, but also offer itself as a profitable investment opportunity. Social Media brands and small start-ups, such as Facebook and Whatsapp have in an extremely short period of time generated a large amount of value and money. Many others are following the example. The technology market has grown tight links to the entertainment and leisure industry. Therefore, it will be interesting to watch what is coming.
Surely there are people that keep reminding us constantly of the bursting dotcom bubble. However, investments in technology are profitable now and in the future. The dotcom bubble was an entity in itself – complex and difficult to understand for investors at the time. Through smart phones, iPads and HD gadgets the world has become more receptive towards this kind of technology. All these devices seem to be irreplaceable already – just imagine where the industry will be in only five years.
Furthermore, it is not only leisure and entertainment, but the finance and business world that aim to catch up with the speed of the technology. Entire industries are upgrading – no matter whether medicine, manufacturing or construction. The technology industry offers a wide range of investing possibilities. Brands like Facebook, Google and Apple are one option. However, there are also special technology funds that offer themselves ideally to long-term investors. These are a perfect alternative for those who don't want to bother with daily fluctuations.