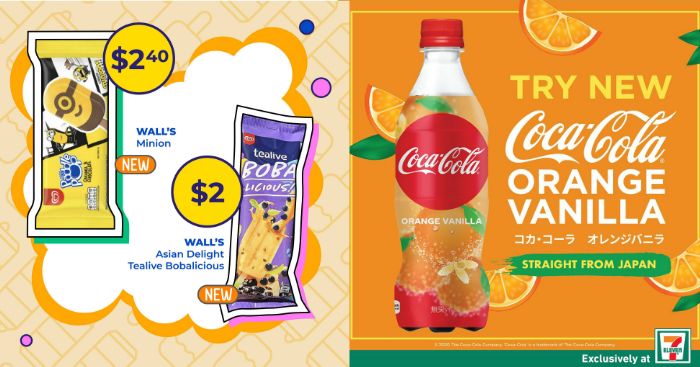 More reasons to visit 7-Eleven
7-Eleven Singapore has launches new products in their stores and we can't wait to try it. The Coca-Cola Orange Vanilla is now available and will be on sale at 7-Eleven stores progressively.
There is also a new Boba ice cream from Wall's selling for $2.
Coca-Cola Orange Vanilla
Imported from Japan, the Coca Cola Orange Vanilla launches today at 7-Eleven Singapore. Variety-seeking Coca-Cola fans will soon have a new fun-yet-familiar flavor to reach for. Its flavor is the same as regular Coca-Cola but with added Orange-Vanilla Creamsicle flavor.
Tealive Bobalicious Ice Cream
7-Eleven has just brought in the Wall's Asian Delight Tealive Bobalicious Ice Cream and will be on sale at participating outlets for $2.
According to a Facebook user who tried it, the pearls are not hard and tastes a little sweet.