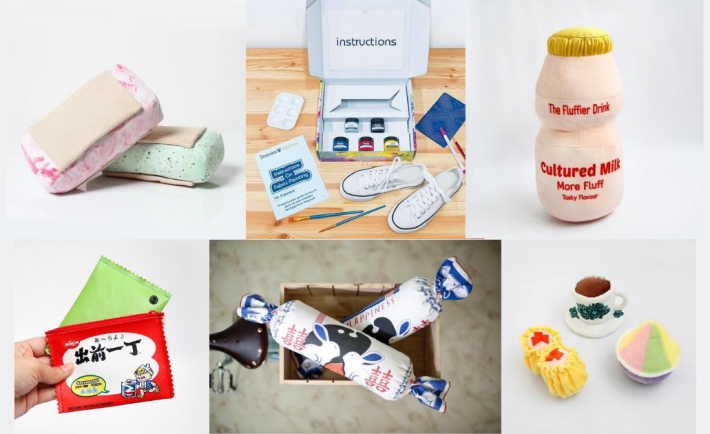 Founded in 2013 in Singapore, Naiise is an online and offline platform that allows creatives and makers to offer their products to the public like you and me. They are currently running a up to 70% sale off some of its really Naiise things.
We took a look at their sale section and here's what we found:
#1: PET CHEW TOYS
Usual Price: 10.90 SGD
Sale Price: 9.27 SGD
Is it mine or do dogs generally get excited when they see a chew toy? Especially one designed in ice kachang or siew mai? Must have reminded them of food, I guess. This hawker centre series' pet chew toys are running out of stock very soon! Fastest fingers first.
#2: ICE CREAM CUSHION
Usual Price: 24 SGD
Sale Price: 20.40 SGD
Since you're bagging the chew toys home for your furry family members, why not add on a comfortable cute-looking ice cream cushion? It's available in the raspberry swirl and mint choco-chip. And no, they aren't edible. For your viewing and cuddling pleasure!
#3: CULTURED MILK CUSHION
Usual Price: 29.90 SGD
Sale Price: 25.41 SGD
And this adorable design reminds me of Vitagen, one my grandma used to offer me on our family's weekend trips to her house. Let's not forget the aunties who knock on our doors selling these bottled drinks. Now, you can have them in a fluffier version with no expiry date.
#4: KUEH BAHULU COIN POUCH
Usual Price: 10.90 SGD
Sale Price: 9.27 SGD
Where do you store your coins? In the piggy bank? Time to start using them. If so, you will need a coin pouch. How about one in a kueh bahulu design? The coin pouches by Meykrs are also available in the iconic gem biscuit and ang ku kueh version.
#5: NISSIN 出前一丁 (CHU QIAN YI DING) TISSUE + COIN POUCH
Usual Price: 16.80 SGD
Sale Price: 14.28 SGD
The collaboration with Nissin 出前一丁 (Chu Qian Yi Ding) brings you this practical 2-in-1 tissue and coin pouch. Dining out more often and need to chope seats? This product would come in handy. The tissue and coin pouch are attached together via buttons which can be removed and used separately.
#6: POKEMON FACE MASKS
Usual Price: 7.90 SGD
Sale Price: 6.71 SGD
Any Pokémon fans out there? Grab your limited edition face masks of characters like Pikachu, Litten, Popplio, and Rowlet! The masks contain tropical fruits extract that contributes to skin whitening and helps to moisturize your skin. Bag these for your upcoming staycation!
#7: WHITE RABBIT CANDY CUSHION
Usual Price: 56.90 SGD
Sale Price: 51.21 SGD
Newly-weds might appreciate their favourite White Rabbit childhood candy in life-size! There's also the png kueh version. To avoid potential arguments, buy two – one for the bride and one for the groom.
#8: TRUFFLE TRIPLE MUSHROOM PASTA KIT
Usual Price: 70 SGD
Sale Price: 63 SGD
This is perfect for someone who wants to impress their significant other but not sure how to go about with the shopping of ingredients. If that is you, this pasta kit has come to your rescue!
The pasta kit contains:
Instruction sheet with QR code for the cooking playlist

Handmade egg tagliatelle (approx 250g)

Truffle paste

Mixed mushrooms (Porcini, Cèpes, Brown)

Garlic

Parsley

Grana Padano

Cocktail OR non-alcoholic beverage

Option to add fresh burrata +$15
Fret not if you're not into mushrooms. There's also the Miso Triple Carbonara Pasta Kit available for purchase at 45 SGD (sale price).
What's in it:
Instruction sheet with QR code with cooking playlist

Handmade egg linguine (approx 250g)

Miso paste

Guanciale

Triple cheese (Pecorino Romano, Parmigiano Reggiano, Grana Padano)

Fresh eggs x 2

Spring onion

Cocktail OR non-alcoholic beverage
#9: DIY BASIC SNEAKER PAINTING KIT
Usual Price: 71.30 SGD
Sale Price: 59.90 SGD
We love how this sneaker painting kit even comes with a pair of sneakers. The sneaker size ranges from EU 35 to 44. It's beginner-friendly so even if you think you're not talented in art, you may still give it a try. In fact, you will get a magic pen with vanishing ink to draw freehand on your sneakers before painting. Now, you can freely make mistakes!
Streaks N Strokes, the seller of the kit, also has various DIY paint kits for all skill levels and ages (even for kids). You may view more of their products here.
#10: HUNGRY LIAO TEE
Usual Price: 29.90 SGD
Sale Price: 26.91 SGD
For my forever-hungry squad, this 100% ringspun cotton t-shirt was made just for you and me. They are unisex and available from size S to XL. There's also a fast-food t-shirt version that's extremely localized.
We also clicked into the seller's profile and found several other interesting products. Their Singaporean Punny Pouches Series really had us laughing out loud. Click through the links to get to the product page right away:
Sale ends on 15 August. Shop now!