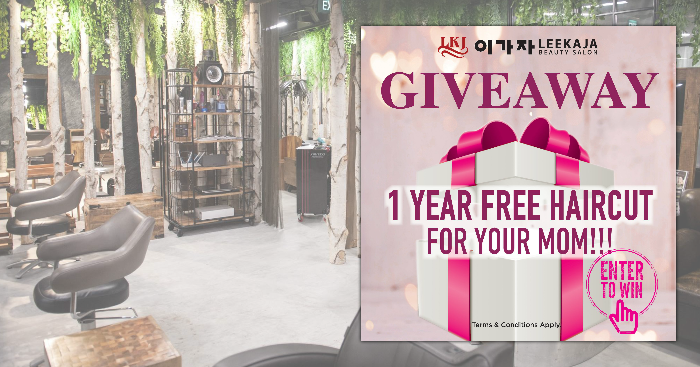 MOTHER'S DAY GIVEAWAY
As many parts of the world prepare to celebrate Mother's Day, LeeKaJa Beauty Salon, is celebrating mothers' strength and courage by having an awesome GIVEAWAY!
From now till 18 May 2018, 23:59 hrs, LIKE and FOLLOW their Facebook Page and SHARE the post. COMMENT why you would like your mom to win this awesome gift.
Leekaja Hair Salon was established by Madame Leekaja back in 1972 in South Korea and was the first franchised hair dressing brand. Since then, LKJ Hair Salon has been the most stylish and prestigious hair salon brand in Korea and have branched out overseas with 130 shops in Korea, 15 in USA, 33 in China and most recently launched the first LKJ hair salon in Australia.
HOW TO WIN :
1. LIKE & FOLLOW their Facebook Page @leekaja.sg
2. SHARE this post. Be sure to set your settings to "PUBLIC", so we can see.
3. COMMENT why you would like your MOM to receive this awesome gift from them!
Terms & Conditions
All Entries must be received by 18 May 2018, 11:59PM

Three lucky winners will get 1 year FREE Haircut at LeeKaJa Beauty Salon. Maximum of one haircut each month.

Valid only for a haircut. Any other additional services will be charged accordingly.

Not valid in conjunction with other promotions and offers.

The prize is non-transferable and cannot be redeemed for cash or any other equivalent. Can only be redeemed by the winning MOM.

Redemption is strictly by appointment and will only be available on Mondays-Thursdays

FREE Haircut can be redeemed with selected stylists only.

Redemption cannot be accumulated and will be forfeited if it's not redeemed within the month. NRIC has to be presented for verification purposes

The winners will be notified via email or Facebook.

The winning entry will be selected by LKJ Management based on the comments.

The Company reserves the right to publish any materials (eg. photos, videos) as the company deems fit without having to pay any fee to the participants.

Company reserves the right to withdraw or cancel the promotion and to amend these terms and conditions at any time for whatever reasons without giving prior notice.

By taking part in this giveaway, participants have also agreed to allow the Company to use their personal information for marketing and publicity purposes.