Here's another excuse to drag your partners, friends and family members for a short getaway trip!
Check out the 1 for 1 'Fares in Pair' deal by Jetstar!
Sales end on 2 February 2015, 6pm.
Don't miss out and don't forget to share this deal with your friends!
*All fares are one way economy Starter fares with carry-on baggage only. A minimum of 2 passengers must travel together on the same itinerary for the fare to apply. You must include all travelling passengers in the same booking for travel on the same flight. Sale fares are only applicable when booked in pairs.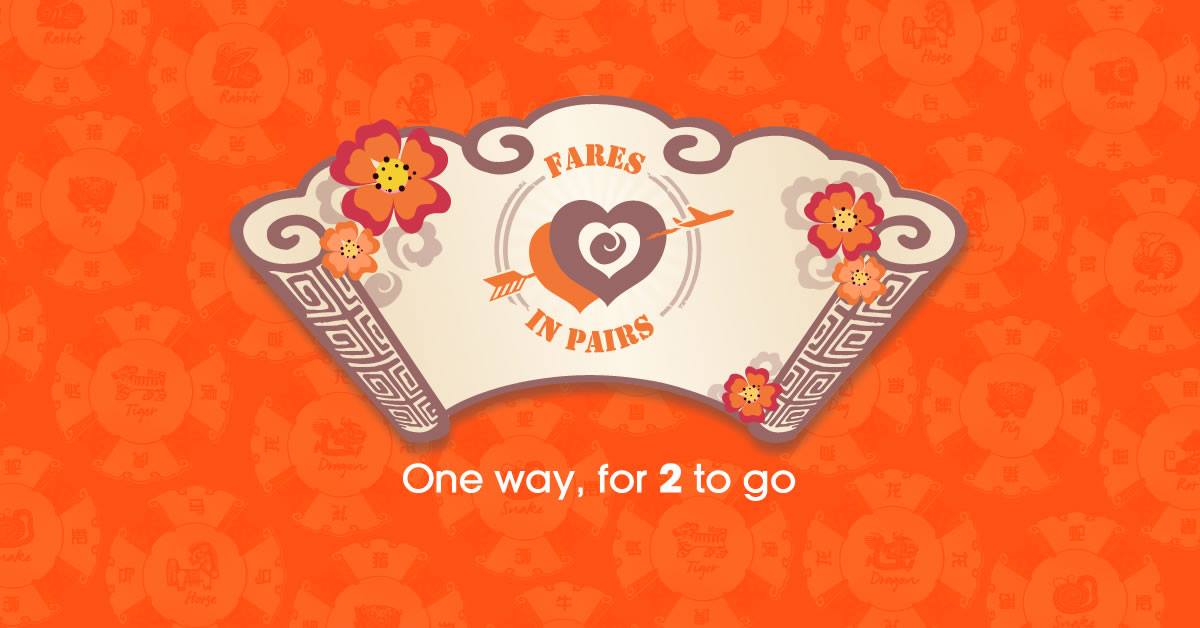 Departs from Singapore: (Prices from Jetstar)
| Destinations | Travel Period | Price |
| --- | --- | --- |
| Bali | 24 Feb – 1 Apr 2015 | $125 for 2 people |
| Bali |  7 Apr – 28 May 2015 | $125 for 2 people |
| Bali | 21 Jul – 22 Oct 2015 | $125 for 2 people |
| Bangkok | 5 May – 28 May 2015 | $125 for 2 people |
| Bangkok | 5 Jul – 22 Oct 2015 | $125 for 2 people |
| Darwin | 5 May – 18 Jun 2015 | $200 for 2 people |
| Darwin | 5 Aug – 24 Sep 2015 | $200 for 2 people |
| Darwin | 6 Oct – 22 Oct 2015  | $200 for 2 people |
| Haikou | 5 May – 9 Jul 2015  | $200 for 2 people |
| Haikou | 18 Aug – 24 Sep 2015 | $200 for 2 people |
| Hangzhou | 7 Apr – 9 Jul 2015  | $300 for 2 people |
| Hangzhou |  18 Aug – 24 Sep 2015 | $300 for 2 people |
| Hangzhou | 13 Oct – 22 Oct 2015 | $300 for 2 people |
| Ho Chi Minh City | 3 Mar – 28 May 2015 | $106 for 2 people |
| Ho Chi Minh City | 21 Jul – 22 Oct 2015 | $106 for 2 people |
| Hong Kong | 3 Mar – 25 Mar 2015 | $200 for 2 people |
| Hong Kong | 14 Apr – 28 May 2015 | $200 for 2 people |
| Hong Kong | 18 Aug – 24 Sep 2015 | $200 for 2 people |
| Hong Kong | 6 Oct – 22 Oct 2015 | $200 for 2 people |
| Jakarta | 24 Feb – 1 Apr 2015  | $100 for 2 people |
| Jakarta |  7 Apr – 28 May 2015 | $100 for 2 people |
| Jakarta |  28 Jul – 17 Sep 2015 | $100 for 2 people |
| Jakarta | 29 Sep – 22 Oct 2015 | $100 for 2 people |
| Kuala Lumpur | 24 Feb – 1 Apr 2015 | $84 for 2 people |
| Kuala Lumpur | 14 Apr – 28 May 2015 | $84 for 2 people |
| Kuala Lumpur | 21 Jul – 22 Oct 2015 | $84 for 2 people |
| Manila | 24 Feb – 12 Mar 2015 | $200 for 2 people |
| Manila | 16 Jun – 22 Oct 2015 | $200 for 2 people |
| Medan | 24 Feb – 1 Apr 2015 | $100 for 2 people |
| Medan | 14 Apr – 28 May 2015 | $100 for 2 people |
| Medan | 28 Jul – 17 Sep 2015 | $100 for 2 people |
| Medan | 29 Sep – 22 Oct 2015 | $100 for 2 people |
| Penang |  24 Feb – 1 Apr 2015 | $100 for 2 people |
| Penang | 14 Apr – 28 May 2015 | $100 for 2 people |
| Penang | 5 Jul – 22 Oct 2015 | $100 for 2 people |
| Perth | 29 Apr – 1 Jul 2015 | $300 for 2 people |
| Perth | 21 Jul – 23 Sep 2015 | $300 for 2 people |
| Perth | 13 Oct – 22 Oct 2015  | $300 for 2 people |
| Phnom Penh | 24 Feb – 1 Apr 2015 | $175 for 2 people |
| Phnom Penh |  21 Jul – 22 Oct 2015 | $175 for 2 people |
| Phuket | 24 Feb – 1 Apr 2015 | $125 for 2 people |
| Phuket | 5 May – 28 May 2015 | $125 for 2 people |
| Phuket | 5 Jul – 22 Oct 2015   | $125 for 2 people |
| Shantou |  7 Apr – 9 Jul 2015 | $300 for 2 people |
| Shantou | 18 Aug – 24 Sep 2015 | $300 for 2 people |
| Shantou | 13 Oct – 22 Oct 2015 | $300 for 2 people |
| Siam Reap | 24 Feb – 1 Apr 2015 | $200 for 2 people |
| Siam Reap | 5 May – 28 May 2015 | $200 for 2 people |
| Siam Reap | 21 Jul – 22 Oct 2015 | $200 for 2 people |
| Taipei | 24 Feb – 1 Apr 2015 | $300 for 2 people |
| Taipei | 7 Apr – 28 May 2015 | $300 for 2 people |
| Taipei | 18 Aug – 24 Sep 2015 | $300 for 2 people |
| Taipei | 13 Oct – 22 Oct 2015 | $300 for 2 people |
| Yangon | 21 Jul – 22 Oct 2015 | $150 for 2 people |
Visit Jetstar's official website for more details and booking: www.jetstar.com/sg/en/special-offers/fares-in-pairs
For hotels booking, check out our hotels page. Compare across thousands of sites including Expedia, Hotels.com, Venere.com and more. (Best Price Guaranteed – Find a cheaper price and get refunded the difference within 30 days)