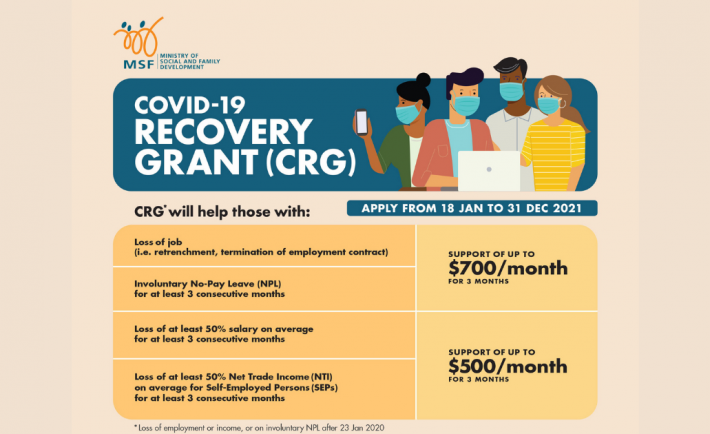 The Ministry of Social and Family Development (MSF) first announced the new COVID-19 grant last December. It's been a month and a long wait for some Singaporeans and permanent residents badly affected by the pandemic.
Good news! The wait is almost over, and applications for the COVID-19 Recovery Grant will start tomorrow (18 January). This new scheme targets lower- to middle-income workers and self-employed people. Up to $700 per month for three months can be provided for successful applicants.
Here's a quick look at what you need to know.
Eligibility Criteria
Applicants should fulfil specific requirements, including being 21 years old and above. They must also be living in an annual value home that's less than $21,000 and not own more than one property.
Before work or income loss or involuntary no-pay leave (NPL), individuals should have a household income of not more than $7,800 or per capita household income of less than $2,600.
They must have engaged actively in career hunts or training. Also, there's a need to demonstrate evidence of any of the following activities within two months before the submission:
Applied at least two times for jobs, traineeships, or attachments via platforms like the MyCareersFuture

portal

or the Professional Conversion Programme

portal

; or

Have been to at least two job interviews; or

Regularly attending career coaching services at WSG's Careers Connect, WSG-appointed Career Matching Providers (Ingeus or MAXIMUS), or NTUC-e2i career centres; or

Signed up for at least one training programme listed on MySkillsFuture (MySF)

portal

.
Those currently receiving monetary support from these schemes are not eligible:
Seafarers Relief Package;

COVID-19 Driver Relief Fund;

SGUnited Mid-Career Pathways Programme – Company Training; or

SGUnited Skills Programme
How to Apply
Applications will open from tomorrow (18 January) to 31 December 2021 between 9am to 10pm daily. You may also apply on weekends or public holidays.
Those who require assistance in filling the online application form can dial the ComCare Call hotline at 1800-222-0000. Or you may send an enquiry to [email protected]. Alternatively, one can also visit their nearest Social Service Office for help.
Processing Time
Applicants will be notified by SMS of the result of their application within approximately two weeks, upon receipt of all the necessary information needed.
The authorities foresee a flood of applications at the start and request your understanding if the turnaround period is slower than expected.
Payout Date
Usually, the first month's payment is remitted seven calendar days from the day the application is accepted. For the next two months, it would generally be paid by every 4th of the month.
For the full details, please head to the COVID-19 Recovery Grant webpage.