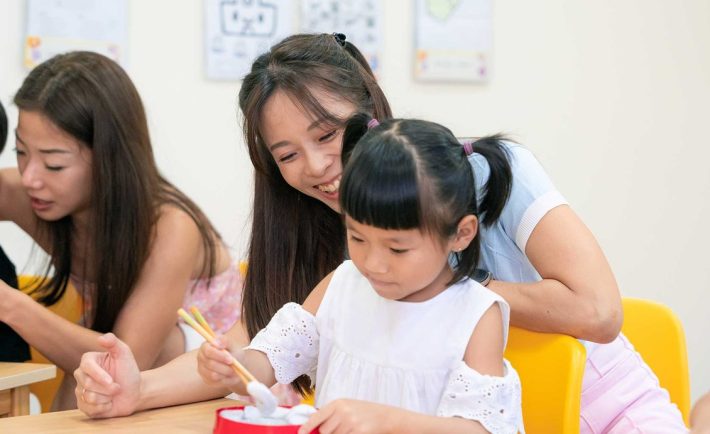 Image Credits: happytrain.com.sg
When asked about brain training, the majority of parents would suggest trying Heguru and Shichida, right?
Well, we're not talking badly behind their backs but our little red dot has other options too. There are power brain training centers for your little ones that are not just those two well-known names.
And we're about to share with you 3 in this post. Keep reading!
Brainy Moves
Website: brainymoves.org
Address: 90 Goodman Road, #02-53, Block M, Singapore 439053
Founded by James Tang, a formally trained PE and mathematics educator, Brainy Moves utilizes a pedagogy founded on principles of neuroscience, psychology, behavioral, and sports science to help students through novel activities and movements. 
Keeping a structured curriculum with low student-to-trainer ratios, Brainy Moves has successfully helped thousands since 2013 experience improvements enhancing academic results and quality of life, for those with different brain types or medical conditions.
Endorsed by Dr. John Ratey from Harvard Medical School, this program utilizes purposeful activities at a maximum 8 students to 1 coach ratio, for individualized training tailored to each student's needs. Now in its 10th year, Brainy Moves continues empowering students through specialized exercises grounded in the latest research.
ThinkersBox
View this post on Instagram
Website: thinkersbox.com
Address: North Bridge Centre & Tampines SAFRA
ThinkersBox takes a revolutionary approach to developing young minds. This isn't your typical cram-and-memorize learning—it's fun, ingenious brain training designed by experts. Kids work with an actual brain coach to build cognitive skills through engaging modules and activities, not repetitive drills.
Whether your child needs an attention boost or simply thrives on challenging the status quo, ThinkersBox offers programs to match. From their online brain booster to attention-boosting classes and more, they make learning exciting.
Not sure whether to commit the money? Why not give your child a 1.5-hour trial session and see their eyes light up as they strengthen neural connections in new ways? At ThinkersBox, kids don't just get smarter—they become thinkers.
Don't settle for the average when you can ignite your child's mind. This is learning as it should be: challenging, rewarding, and designed to foster a lifelong love of thinking outside the box.
Happy Train
View this post on Instagram
Website: happytrain.com.sg
Address: Chye Sing Building (Bugis) & CPF Tampines Building
Give your little one a head start on the road to success with Happy Train's enriching early childhood programs. This premier learning center boosts the development of the right brain in young children, building the cognitive and social skills that will serve them well in life. 
Happy Train's carefully crafted curriculum engages memory, attention, motor skills, and more through fun, hands-on activities. Their bilingual and immersion programs unlock the benefits of multilingualism, while specialized programs—including a pure Japanese enrichment course—promote learning in a stimulating, culturally rich environment.
With experienced teachers and a proven approach, Happy Train is your trusted partner in giving your child the developmental tools to thrive. Trial lessons are available at $70 to experience the magic of Happy Train firsthand. Why wait? Early childhood is a joyous journey, and Happy Train will guide your child to a brighter future.
As we close, we hope this post gave you more clarity on the other brain training centers in Singapore that are not Heguru or Shichida. Now, you've got a couple of more options to make your little ones even more garang in their studies, yeah? So check out those names mentioned above and see which one best suits your kid. It's time to step up your parenting game.