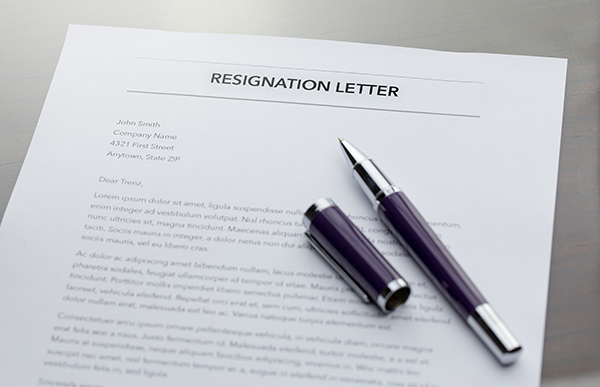 Image Credits: michaelpage.co.uk
Writing a letter of resignation is just one more barrier to overcome before moving on to the next stage of your vocation journey.
But, before you become too excited to call it quits, it's critical to keep a professional demeanor. The goal is to maintain a polite approach. Make sure your resignation letter isn't a lengthy list of complaints. You may end up working for the company again in the future, or you might run into your direct supervisor in a formal setting. As a result, keep your letter positive, if not, neutral.
Read for tips on how to write a proper resignation letter.
Say thank you
Thanking your boss for the chance and expressing some of the important skills you've learned and appreciated is always a smart approach. Even if you're delighted to be quitting, just do so anyway. Understand that you may need these folks as references in the future, and ending on a nice note will bring about a lasting impression.
Don't complain
Concerns or criticisms of the organization or your teammates should not be included in resignation letters. Don't whine, stick to the truth, and keep it straightforward. As mentioned earlier, you might need a recommendation from the company, hence, it's critical to leave on a good note. Furthermore, since you've already decided to resign, it's pointless to bring up the nitty-gritty.
Provide timestamps
In formal writing, timestamps are usually provided by including the time and date. Provide this information at the top of the page if you want to draft a letter and print a hard copy to submit to your HR manager. In addition, while most employers require a month's notice, your supervisor may have specific instructions regarding when you should leave. First, ask your boss, then write down the exact date of your final day at work.
Before you go… Cooperate with the handover.
You must take an active stance in aiding in any leave protocols and obligations, as your exit can be stressful for your bosses and current colleagues, especially if you're departing during peak season. Exit interviews, comprehensive handovers, and punctual project fulfillment are just a few examples. Before you change jobs, you may also volunteer to train a successor if the company can recruit one in time.
Now, all that stands between you and your next career venture is sending your current employer your resignation letter. The official letter you send to your bosses will set the standard for your remaining days as well as your relationship in the future. So it's wise to spend the effort polishing up this one-month notice letter. And last but not least, congrats on finding a new job!