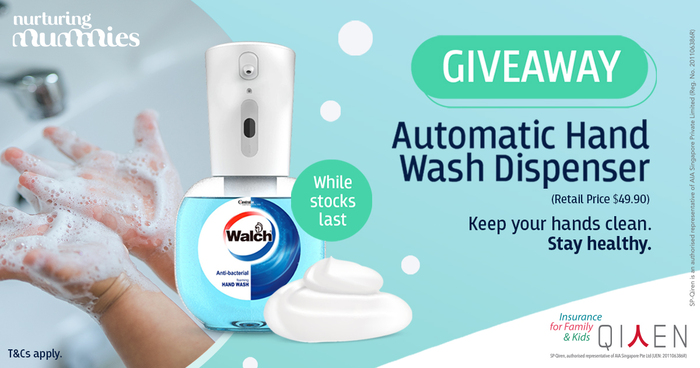 Our hands touch countless things on a daily basis, even when we're at home. An automatic hand wash dispenser would make a great addition to your kitchen, bathroom or laundry area to minimise the spread of germs around your living space. You can dispense soap while minimising surface contact between family members or guests, making each hand washing more hygienic, more convenient and safer for everyone.
To continue doing their part in ensuring households remain protected as we continue to fight against COVID-19, Nurturing Mummies is giving away 5,000 Walch® Speed Foaming Automatic Hand Wash Dispenser.
The Walch® Speed Foaming Automatic Hand Wash Dispenser uses German Technology by Centralin protects you from 99.9% germs and bacteria:
100% contactless to minimise the spread of germs
Dispenses in just 0.25 seconds
Easy to use and gentle on the skin
Adjustable dispensing volume
Sleek and minimalist design
Click here to redeem yours now. To ensure everyone's health and safety, a staff member will contact you upon registration to arrange a collection.
Disclaimer: *Terms and conditions apply. In registering for this giveaway, your contact details will be disclosed to AIA Singapore Private Limited (Reg No: 201106386R) and its insurance representatives including those under the SP-Qiren, for an AIA Financial Services Consultant to conduct a financial planning session of 20 minutes with you, after which you may redeem the applicable gift.