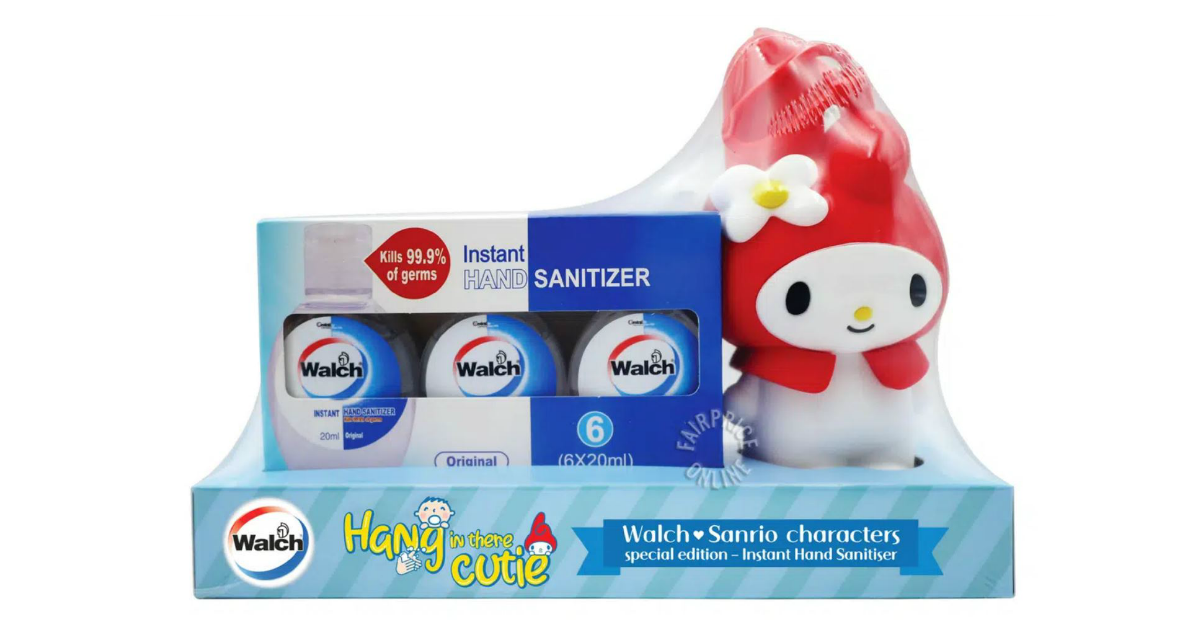 With Singaporeans currently adhering to the Phase 2 Heightened Alert protocols put in place by the government, great hygiene practices, and keeping yourself and your loved ones protected and safe are still of paramount importance. But who says you cannot keep yourself well protected in style – a really cute style? Walch® Singapore is happy to introduce the My Melody Special Edition Hand Sanitisers.
Now available at all FairPrice supermarkets, this exclusive bundle comes with one 20ml Walch® Hand Sanitiser, six refill bottles and the lovely My Melody bottle holder. Retailing at a promotional price of $13.90, consumers can make their purchases online via FairPrice Online as well as in-store.
By simply inserting the 20ml Walch® Hand Sanitiser into the My Melody holder, consumers can easily and conveniently access their hand sanitising needs on the go. Whether it is for their kids or themselves, consumers can simply attach the bottle holder to their bags or any other apparel, so say goodbye to rummaging through your bags looking for your hand sanitiser when you need it.
Apart from looking cute and chic in its bottle holder, the 20ml Walch® Hand Sanitiser remains incredibly effective when it comes to sanitisation purposes. Proven to kill 99.9% of germs and remaining a strong deterrent against the COVID-19 disease, the cultivation of proper hand hygiene practices has never been easier.
Practicing good hand hygiene and maintaining social distancing measures are things that everyone should be doing as we work together to limit the spread of the global pandemic. Remember to look out for one another and protect your family and your loved ones during this period. Stay safe with Walch®.
---
This is a press release by Whealthfields Lohmann, the brand owner of Walch®.