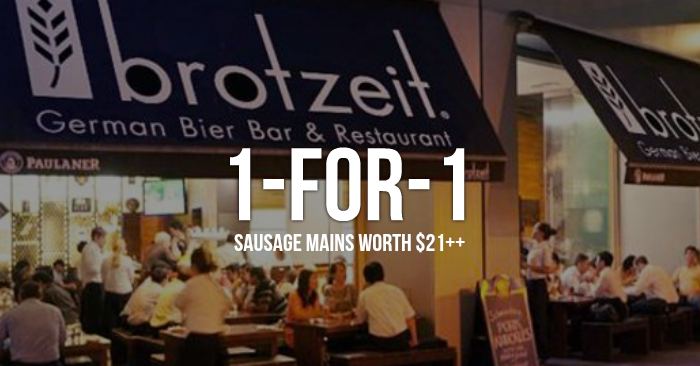 Indulge in 1-for-1 Sausage Mains at Brozeit
From now till 11 Apr, Singtel's customers enjoy 1-for-1 sausage mains at Brozeit when they make their reservation with HungyGoWhere in the links below.
Choose from the following:
Nürnberger (Grilled Pork Sausages) at $20++
Every German's favourite. Hearty, delicious pork sausages deftly grilled to perfection, served with mashed potatoes and sauerkraut. Best enjoyed with a few pints of beer
Hühnerwurst (Spicy Chicken Sausages) at $19++ 
Spicy is good, spicier is better! These sausages pack a punch, and are served with potato salad and sauerkraut.
Käsekrainer (Pork Cheese Sausages) at $20++ 
Pork sausages stuffed with cheese, and a seductive hint of smokiness. Served with potato salad and sauerkraut.
Currywurst (Pork Curry Sausage) at $20++ 
The famous pork sausage from Berlin, served with chilli-curry sauce and potatoes wedges on the side.
Thüringer Rostbratwurst (Thüringer Pork Sausage) at $21++ 
The original rolled sausage, served with mashed potatoes, sauerkraut and onion sauce.
Make your reservation here:
Not a Singtel's customer? Share this news with someone you know and tag along!
Terms & Conditions
Reservations must be made through HungyGoWhere links & Singtel customers must select "Singtel Exclusive" promotion.
Customers must show Singtel operator logo on their mobile phones to redeem offer upon billing.
Promotion is valid from 9 March to 11 April 2017, Sundays to Thursdays only.
Booking size of 2 – 10 persons only.
Redemption will be rounded down for party size in odd numbers e.g. 5 person gets 2 redemptions.
No splitting of bill allowed.
Valid for dine-in only.
Customer whom buy any of our following sausage mains, Spicy Chicken Sausage, Thuringer Pork Sausage, Pork Cheese Sausage, Pork Curry Sausage and Grilled Pork Sausage gets to claim another of the mention sausage main for free.
The free sausage main awarded will be of equal or lower value.
Limited sets only, while stocks last.
Not valid with other discounts, promotions, vouchers.
The restaurant reserves the rights to amend any T&Cs without prior notice.
Price is subjected to service charge and GST.
In the event of any dispute, the decision of Singtel is final. No correspondence will be entertained.
Singtel shall not be liable in any way whatsoever for any matter arising from, relating to and/or attributable to such products and/or services.
Singtel reserves the right to terminate, suspend or cancel (in whole or in part) this promotion.
Singtel reserves the right to replace this promotion/redemption with items of similar value at its own discretion without prior notice.
Singtel reserves the right to amend these terms and conditions of redemption from time to time without prior notice and without any liability.
Terms and conditions of Singtel and/or any other third parties may apply in addition to these terms.
Singtel's General Terms and Conditions of Service(s) shall apply. It can be found at www.singtel.com ("General Terms") and may be amended from time to time.