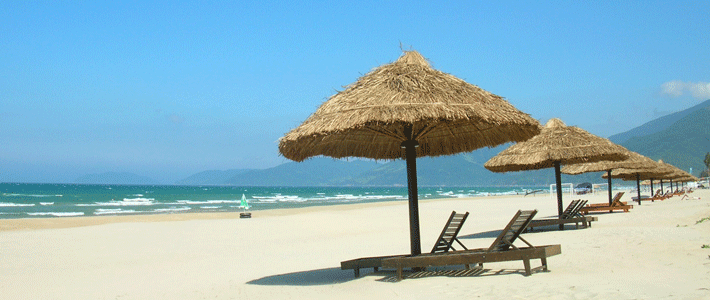 Da Nang Beach (Image Credit: http://danangbeaches.visitwonders.com)
Many people love going to the beach to relax, swim, and sunbathe. However, some people get bored easily with these ordinary activities. There are numerous exciting activities you can enjoy at the beach.
What's more, you can even take your entire family for a fun day out at the beach, and enjoy more than just resting and relaxing. Here are 7 activities you can engage in with your family at the beach.
1.     Collecting Seashells
Seashells are available in almost all beaches. While this activity sounds easy, you should prepare for your adventure adequately for maximum experience. Get a container to put your shells. You can choose a bag, a pail, or even a bowl depending on how much shells you plan to collect. Ensure your shells do not have live animals inside.
Remember, collecting live shells is against the law in various beaches across the world. Adhere to the laws of the country you are visiting when on holiday. Clean your shells once you get back home or to your hotel. You can make the activity more fun by identifying the shells and naming each type of shell you collect. Make it an exciting and learning activity for the children.
2.     Splash the Water
Young children get excited at the sound of splashing water, an activity which has been practiced for ages. Adults can also participate in water splashing, an activity which is not as simple as it may sound. What you need is have everyone hold as much flat and smooth stones as their arms can hold. Head over to the shoreline and throw the stones one by one. The aim of this activity is getting the least bounces before the stones drift down the bottom of the ocean.
3.     Enjoy a Beach Barbecue Party
The beach is an ideal place to enjoy your barbecue sausages and chicken wings while marveling at the rolling waves. Besides, it is a perfect time to bond with your family and enjoying the cool sea breeze.
However, not all places allow barbecue parties. If you are staying at a beach club Bali, talk to the management and have them organize a party for you and your family. You will find it more fun. After all, all you will need to do is pay for the service and get served at your convenience.
4.     Go Crab Catching
With a bucket of water and a net in hand, proceed to the rock pool and allow your children to enjoy catching crabs. Join them and catch as many as possible. You can use this as a learning activity as well. Once you are done, return the crabs back to the sea.
5.     Make a Raft
Outdoor activities give children an opportunity to think and be creative. Excite their adventure feelings by constructing a raft. You will require an object that can float such as driftwood, which you can easily find at almost any beach. Get a string. You can search for a strong seaweed and execute the plan. Your children will not only love it, but they may just give you the captain of the sea title.
6.     Enjoy a Picnic
While you can easily find different types of food beside the beaches, they can be quite expensive. Rather than buying expensive food, you can organize a picnic and pack home prepared food and drinks. What's more, your own food is much healthier and filling.
Your children will also enjoy eating while having fun. Remember, some beaches discourage alcoholic drinks. Carry water or juice instead just to be on the safe side. Ensure to store your food in a properly insulated cooler and eat fast to avoid contamination and food poisoning.
7.     Listen to Music or Read Your Favorite Book
Reading a book or listening to music while at the beach can be exciting. What with the lovely sunset, amazing waves, lovely environment, and the soft sand beneath your feet? The beach is the perfect place to listen to some lovely songs while you chill and relax away from the hustles and bustles of the city. Carry your earphones and get lost in a momentary world of your own.
Finally
Enjoying fun times with your family at the beach can be both exciting and adventurers. Head to the beach and watch your kids engage in exciting activities. You can choose to relax, go swimming, or join them in performing their fun activities.