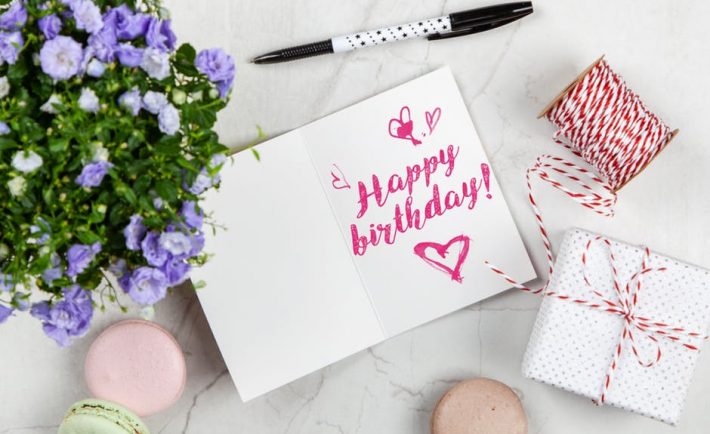 While it's always nice to receive a card it's the DIY birthday cards that everyone remembers and cherishes the most. So if you want to do something special and unique with a personal touch then you should make your next birthday card.
We've got some unique and cute ideas for DIY birthday cards to get your creative juices flowing before the next day of celebration arrives.
Check out these ideas for DIY birthday cards!
Hobby Theme Cards
One of the most touching ways to make a card special is to really think about a personal theme for them.
If they are into music, you may want to make a card with their favorite instrument or in the shape of a musical note.
A sports lover could get quite the kick out of a ball-shaped card or something associated with another enjoyed hobby.
The dollar store or even stock photos online can be a great resource for any images and supplies you may need to create your masterpiece. Check the arts and crafts aisle at the dollar store to find stickers in the theme you've chosen.
Pinterest is a great place to find ideas if you are having trouble figuring out what you want to make.
DIY Birthday Cards with Personalized Poems
Who doesn't love a thoughtful verse written just for them? It doesn't have to be anything extravagant, just something to let them know how important they are to you.
Something to put a smile on their face and let them feel loved will be a hit. Incorporate some inside jokes or fun memories and your favorite qualities about them to give it a personal feel.
Coupon Book DIY Birthday Cards
Why not give a card that keeps on giving? Make a coupon book card that offers personal favors and services throughout the year.
It could be something like helping plant their garden in May or shoveling the walkway in December. If its a card for a child perhaps you could offer to do a fun activity on each coupon. One could be playing a board game while another is going to the local park for a picnic.
Electronic Birthday Cards
Many of our connections in the world are in cyberspace these days so you may not have the mailing address to send birthday greetings to. That doesn't mean you have to skip sending your wishes!
Why not consider a birthday ecard to let them know you care? You can send beautiful or funny sentiments with animation and music or a simple picture and message to mark the day.
Memory Photo Album Card
You could take them for a walk down memory lane with your card. Find some great photos of memories you've shared over the years and make them into a small photo album card for them to enjoy.
An arts and craft store, photography shop or stationery store will have photo sleeves that you can easily turn into an adorable memory card.
DIY Birthday Cards From the Heart
The most important aspect of all DIY birthday cards is that they come from the heart. The fact that you take the time to share your thoughts and wish them a happy birthday will be sure to touch their heart.
Be sure to bookmark our site for all the great tips and resources we have to offer.