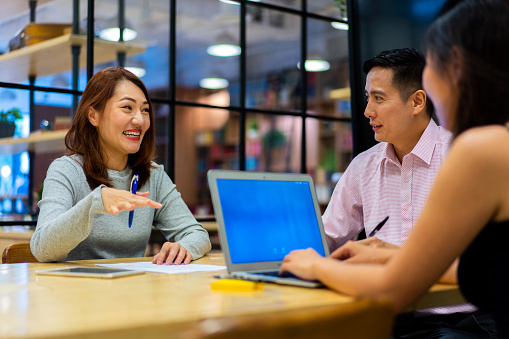 Image Credits: iStock
Over the years, Singapore has been recognised by multiple international organisations as one of the easiest places in the world to run a business. Singapore has consistently placed at or near the top of the World Bank's ease of doing business rankings, taking the number 2 spot behind New Zealand in 2019. The 2020 Global Business Complexity Index ranked Singapore as the second most business-friendly country in Asia and the 18th worldwide, placing it ahead of other major players from the region such as China, India, and Korea.
Singapore's large and multifaceted business ecosystem clearly confirms its status as a centre for entrepreneurship in Asia. Thousands of multinational corporations, among them major names like Facebook, Google and Uber, have established their Asia Pacific headquarters in the Lion City. The city is also home to one of the most vibrant and rapidly growing start-up communities in the world, with an estimated 55,000 start-up businesses currently operational.
But what exactly makes Singapore an ideal place for both local and foreign entrepreneurs to operate successful businesses? Read on for an in-depth look into five major contributing factors to the city's exceptional business-friendliness.
Abundant Support for New Businesses
The Singapore government consistently puts forward policies that encourage business growth and innovation. Hence, small business owners who are curious about the availability of Singapore startup grants, tax incentives, and other assistance schemes will find themselves with a plethora of options when it comes to government support. Within certain preferred industries, the government may also subsidise labour costs for new businesses. It's also worth noting that all these offered benefits are available equally to both local and foreign organisations.
In addition to government support, business owners seeking to open in Singapore can tap into the city's vibrant venture funding community. At present, over 150 venture capital funds operate out of Singapore. Start-ups in industries with promising growth potential are deemed especially attractive targets for venture capital investments. Examples of these favoured sectors include financial technology, e-commerce, biotechnology and advanced manufacturing.
Fast and Efficient Business Setup
Singapore's business regulations and setup processes are among the most efficient, streamlined, and transparent in the world. These processes are fully digitised and can be completed in no more than one or two working days in most cases, making it easy for business owners to begin setting up their operations even if they are not yet in Singapore. Company setup costs, registration fees, and the required minimum issued capital are likewise fairly low as compared to other locations in the region.
Business owners can also be assured that the regular compliance requirements they will have to submit annually are equally streamlined and easy to complete.
Highly Productive Workforce
The top-class quality of Singaporean education is well-known all over the world, reinforced by generations of high-performing, high-achieving graduates. Singaporean students are trained to apply themselves to their work with discipline and diligence, qualities which go on to serve them well throughout their professional lives. Whether they're stationed at home or abroad, workers from Singapore are known to make cooperative, productive, and highly competent employees.
Singapore's liberal, inclusive, and meritocratic immigration policies also bring in a large pool of talent from overseas. Foreign professionals should have no difficulty acquiring and maintaining the necessary work visas or applying for permanent residence (PR) status. In fact, the country's thriving expatriate community currently accounts for almost one-third of its workforce. 
One major contributing factor to the productivity of the Singaporean workforce is the fact that English is the lingua franca in most business settings. This facilitates easy and productive communication between individuals from a variety of cultural and professional backgrounds. Workers are thus primed to approach their jobs with a far-reaching, global perspective. An all-inclusive culture that prioritises interpersonal harmony and collaboration also helps to boost company productivity on the whole.
Major Centre for Innovation in Asia
Organisations and companies seeking to develop innovative solutions to pressing, contemporary problems will find a welcoming home in Singapore. The Lion City has grown over the years into one of the most innovative cities in the world, now hosting a diverse business environment that embraces every kind of company from small start-ups to booming multinationals. 
Many global R&D labs for leading Fortune 500 companies are based in Singapore, and spaces like business parks and innovation centres are also abundant in the city. This environment allows businesses of different sizes to collaboratively create, test, and commercialise innovative products and solutions on a global scale.
Gateway to Southeast Asia
Business experts today see Asia as a global centre of opportunity and a major driver of global economic growth. Many estimate that by 2030 the region will account for over half of the world's middle-class population and drive the majority of demand for consumer goods. Hence, companies all over the world are looking for ways to expand into the region and tap into the immense profitability of Asian markets.
Singapore is strategically located in the middle of Southeast Asia, making it an ideal gateway for businesses seeking to deepen their Asian presence. The city also boasts superior connectivity and infrastructure, allowing businesses to form meaningful connections both in the region and across the rest of the world.
Whatever your particular industry, offerings, and business goals, you'll surely do well to consider Singapore as a business destination. The country's inclusive business environment and innovation-friendly policies could make the Singaporean government a trustworthy and productive partner for your company in the long term.