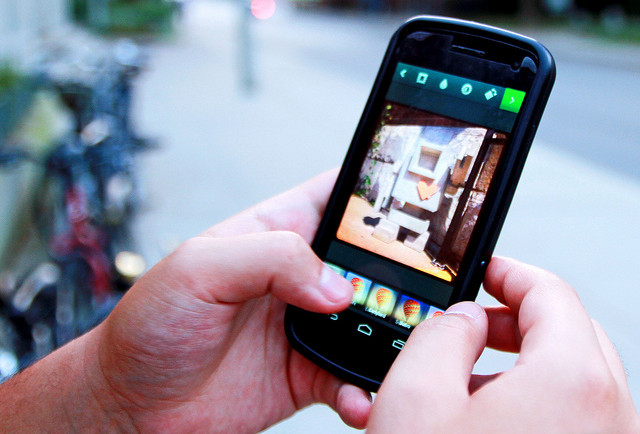 Image Credits: Joseph Morris via Flickr with Creative Commons License Attribution-NoDerivs
Do you want to share your beautiful memories captured on portraits but think that it needs extra filters or finishing touches? Fret not because many Photo Editing Apps that have near-professional quality are available for free on iTunes and Google Play Store. Check these 4 Free Photo Editing Apps to add the personal glamour to your photos…
Available on Android and iOS
Being an avid fan of Instagram, I can attest to seeing an abundance of VSCOCam and VSCO hash tags. What makes this photo-editing app so popular? For starters, it gives you a wide range of filters and a complete set of editing tools. The filters are coded in the format of letter and number such as X1, G3, B1, and my favorite C1. Its editing tools include contrast, brightness, fade, tint, crop, rotate, highlights, shadows, sharpness, and so much more. Certainly, these tools may be as efficient as paid studio editing! Not bad for something that is free. Lastly, what separates VSCO Cam from the most is that they have a community where you can share your portraits.
Available on Android, iOS, and Windows
If you own a Smartphone that operates on Windows then, this is one of the best editors you will meet! Photo Editor by Aviary includes a comprehensive set of basic editing tools such as crop and rotate as well as a set of lovely filters such as Arizona and Lucky. Unique features of this app include adding drawings, stickers, and text.
Available on Android and iOS
Bring out your creative side with the Repix app. One of the editor's choices, Repix allows you to artistically edit your photos by using filters, frames, and adjustment tools. Special effects can be added to your portrait by using the brushes. Furthermore, it supports the motion of Samsung's S-Pen.
Available on Android and iOS
Google, one of the smartest companies in our generation, is the proud owner of the Snapseed app. Snapseed allows its users to beautify their photos by applying filters and tools. After adding images, select manual tuning to enable swiping upwards for increase in value or downwards for decrease in value. Value is in terms of several variables such as saturation and contrast. It is very user-friendly, especially for beginners!