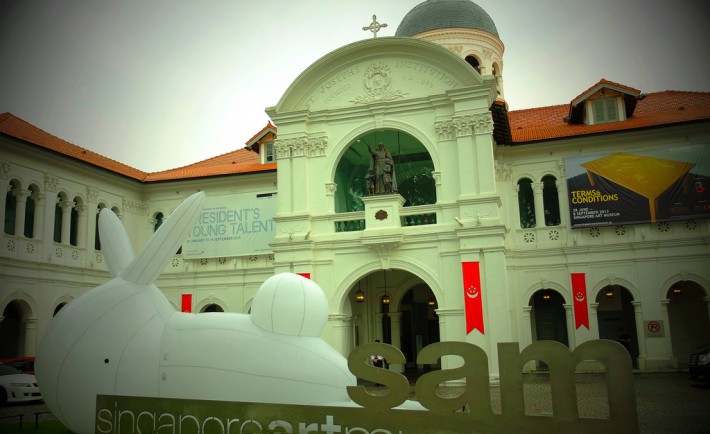 Image Credits: lifetoreset.wordpress.com
When I was an adolescent, I perceived museums as fancy institutions which superior intellects frequented. The only time I get to visit one is when the school requires us to go on educational trips. However, times have changed. Technological advances paved way for museum to share their unique pictures on social media. The public interest for art has risen. Let us be honest, you probably saw those hippie youths taking their #OOTD snaps at the famous local museums.
Aside from the picturesque interiors, museums are places in which cultural, scientific, and artistic treasures are displayed. Each one has its own characteristics and values. Personally I find these local museums to be worth my time:
1. ASIAN CIVILISATIONS MUSEUM
Website: acm.org.sg
Asian Civilisations Museum (ACM) is my favorite local museum. Nestled at the mouth of the Singapore River, ACM will take you on a journey of historical discovery as they preserve the heritage of Asia. ACM's 14,000 square meters space are filled with 11 thematic galleries that boasts with about 1,300 artifacts from China, South Asia, Southeast Asia, and West Asia. During my visit there, I was amazed the abundance and diversity of the Buddha statues as well as the 12 zodiac animal heads donated by Jackie Chan.
To shake things up, they accompany the permanent exhibits with special exhibits that are changing throughout the year. In fact, the current exhibit now is called "Once Upon a Time in Asia: The Missing Mouse". It is a free exhibit that is recommended for children and the young at heart.
Rates:
Citizens & Permanent Residents: FREE
Visitors aged 6 and below: FREE
Foreign students, seniors, and PWDs: S$4
Others: S$8
2. SINGAPORE ART MUSEUM
Website: singaporeartmuseum.sg
Probably the most popular museum among the youths is the Singapore Art Museum (SAM). SAM houses a great collection of contemporary Southeast Asian art ranging from sculptures and paintings to installation art and moving media. They regularly collaborate with the leading international museums to cover both the local and international art practices.
Exhibitions change every few months. At the time of my first visit, I got to enjoy an interesting exhibition called Medium At Large. Now, they are showing the 5 Stars (Art Reflects on Peace, Justice, Equality, Democracy and Progress) exhibit. In this exhibit, I was particularly amazed with their larger than life art installation called the "Bloodline of Peace".
Rates:
Citizens & Permanent Residents: FREE
Visitors under 6 years old: FREE
Foreign students, seniors, and PWDs: S$5
Others: S$10
*Everyone gets to enter for free every Friday from 6pm – 9pm.
3. NATIONAL MUSEUM OF SINGAPORE
Website: nationalmuseum.sg/
What do you expect from Singapore's oldest museum? Nothing but prime history and culture of course. If you are interested in Singapore's rich history, this museum shall be on the top of your list. Established in 1887, the National Museum of Singapore fuses the elegant neo-classical building with the new additions of glass and metal.
While visiting National Museum of Singapore I greatly enjoyed the "Singapura: 700 years" Exhibition. It consisted of six nostalgic sections from the Archaeology in Singapore to the Independent Singapore. Currently, they are displaying the "Celebrating Radio: Sounds" until July 17, 2016.
After indulging on art and history, satisfy your tummy with their selection of cafes and restaurants. Or, visit their retail space to pick up a cultural souvenir.
Rates:
Citizens & Permanent Residents: FREE
Visitors aged 6 and below: FREE
Foreign students,seniors, and PWDs: S$5
Others: S$10