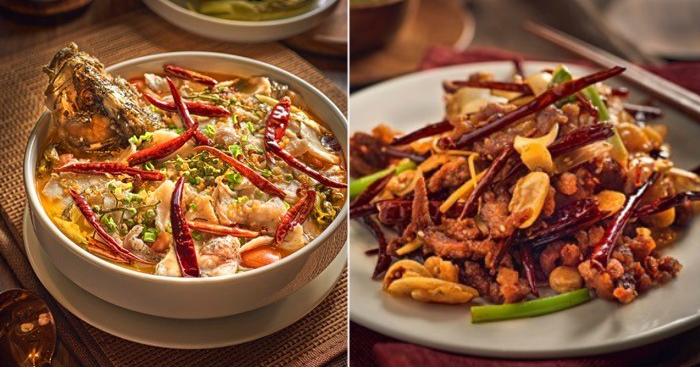 The outlet will now offer the 10 dishes previously exclusive at NEX outlet
YUN NANS Westgate is celebrating its first anniversary, and to commemorate this special occasion, it is holding a not-to-be-missed promotion — enjoy 50% off* total dine-in food bill on 24 and 25 November 2020, Tuesday and Wednesday! In addition, the Westgate outlet will now offer the 10 exclusive dishes that NEX outlet first launched in September. This is the perfect time to enjoy the new dishes at a great discount!
The ten dishes are as follows:
The Crispy Duck with Dried Chillies 香酥鸭 (S$15.90) is made using fresh duck, which is deboned by hand in the kitchen. This ensures that the flesh remains tender and is convenient to eat. The meat is cut into strips, then deep-fried until crispy before it is stir-fried with chillies from Yunnan's Qiubei county and crispy broad beans. Broad beans are a speciality produce from Yunnan. This dish is fragrant, spicy and extremely appetising, and marks the first time YUNNANS is offering a duck mainstay.
The Poached Seabass in Spicy Pickled Vegetable Broth 老坛酸菜鱼(S$28.90) showcases Yunnan's mustard greens. A duo of pickled vegetables is used to achieve a winning combination of flavours. The pickled vegetables are fried with pickled chillies and freshly ground fresh chillies for a piquant soup base, then cooked with ingredients such as seabass, sweet potato flour sticks and tofu. This is a very moreish dish that goes well with rice.
Beancurd skin is a speciality of Yunnan, and there it is made with Shiping County's well water without any additives. Enjoy the beancurd skin in its most natural state with the Stir Fried Dragon Chives with Yunnan Beancurd Skin 云南豆皮炒青龙菜 (S$12.90). The delicateness of the beancurd sheet is enlivened by the natural sweetness of the dragon chives. Next is the Charcoal Grilled Wheat Pumpkin 烤云南小麦瓜 ($7.90) – wheat pumpkin is endemic to Yunnan, and it has a texture that is a cross between pumpkin's and gourd's. The wheat pumpkin is specially air-flown to Singapore. Grilling brings out its natural sweetness, and the fruit is served with a sprinkling of special Yunnan spice mix.

Its fragrance wafting through the air when served, the Stir Fried Yunnan Rice Noodles with Assorted Seafood 海鲜虾汤炒米线 (S$12.90) is made with YUN NANS' signature prawn broth. Yunnan's famous rice noodles are stir-fried with an assortment of fresh seafood such as squid and prawns. This dish is full of umami flavour. Nourishing and delicious, the Steam Pot Chicken Soup with Yunnan Red Mushrooms (Single Portion)大红菌汽锅鸡 (S$13.90) is brewed using a unique technique that does not require any drop of water. The black feet chicken, along with wild red mushrooms from Yunnan, are pressure-steamed for three hours. Clear with no hint of greasiness, the soup has a slightly red hue, and boasts the added fragrance of mushrooms.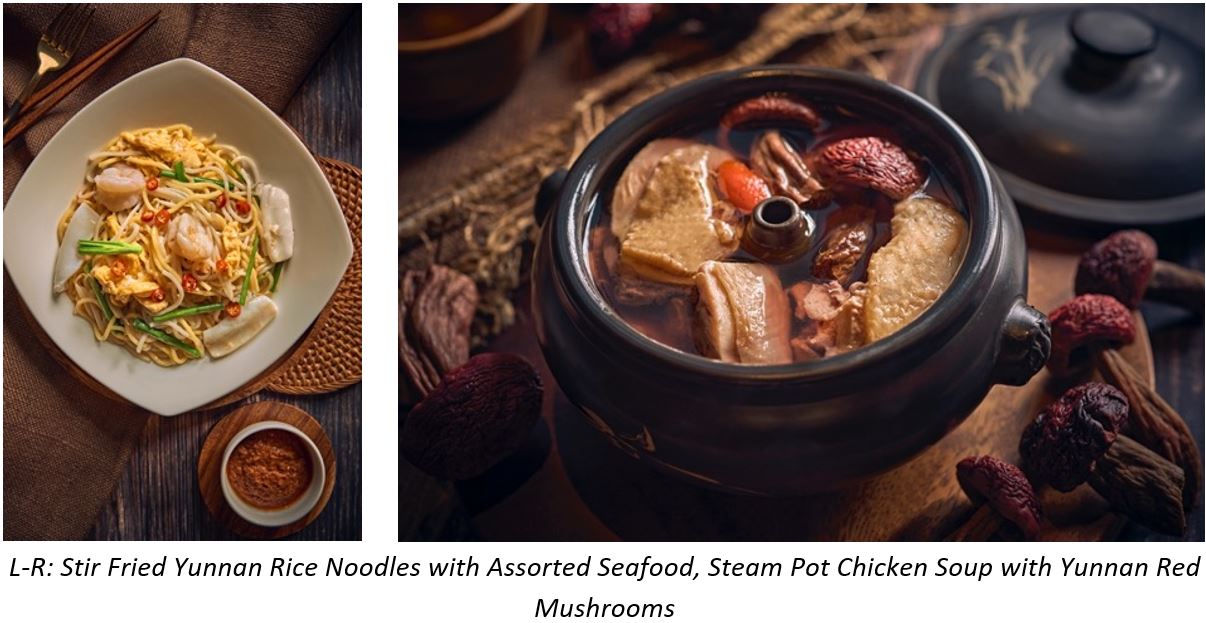 Pork lovers will certainly enjoy the next two dishes. A popular appetiser, the Deep Fried Pork Fillet with Homemade Spicy Dip 香炸小酥肉 (S$9.90) features marinated pork that is deep-fried till golden and crunchy. Each piece of meat pairs impeccably with a green dip that is widely enjoyed in Yunnan, which has a sour-spicy note. Another lip-smacking dish is the Stir Fried Pork Collar with Scallions 三葱猪颈肉 (S$16.90). Shallots, spring onions and leeks are flash fried under high heat to bring out their fragrance, before they are stir-fried with pork collar. All it needs is an accompaniment of hot, fluffy rice.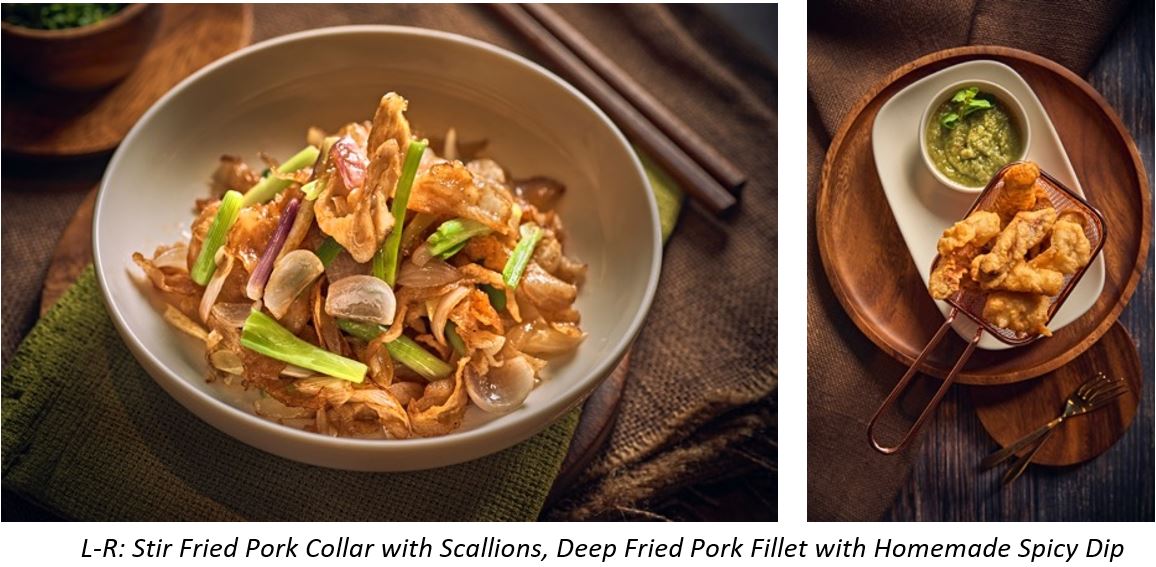 High in nutritional value and rich in collagen, the Sautéed Asparagus with Golden Fungus and Mushroom 金耳花菇炒芦笋 (S$14.90) pleases with the crunchiness of asparagus and silky chewiness of the mushrooms. Golden fungus is a wild fungus that is found in Yunnan highlands. This dish is good for complexion and helps to strengthen immunity.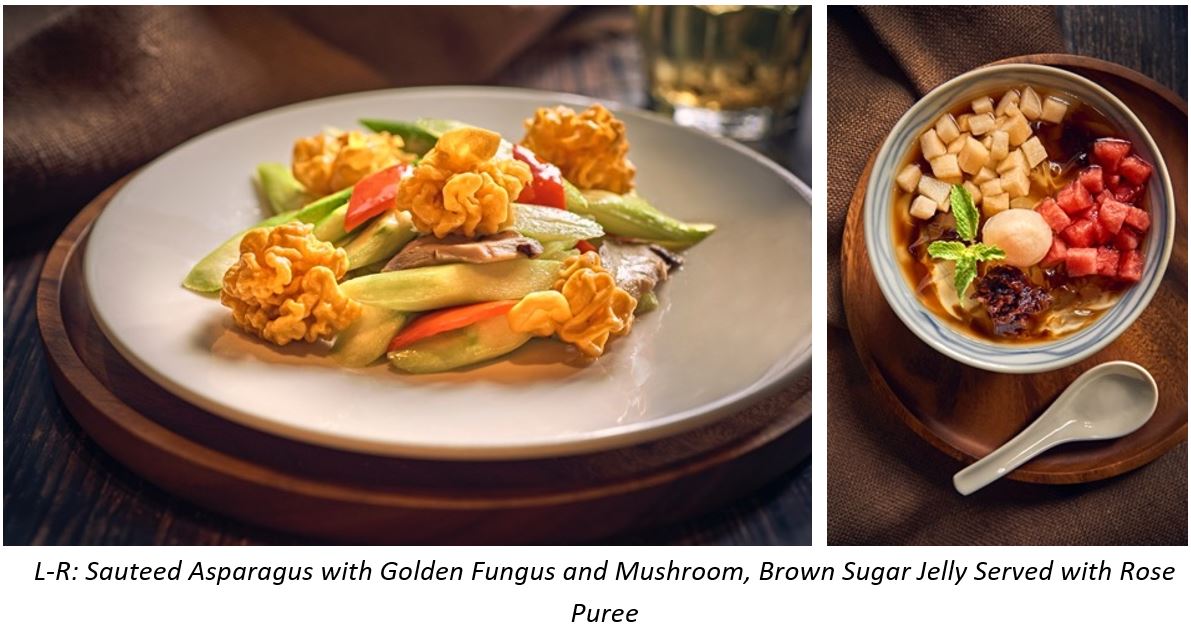 Cap off the session with the Brown Sugar Jelly Served with Rose Puree 玫瑰红糖冰粉 (S$6.90). This local street snack in Yunnan is a must-have every summer. The jelly is made in-house, and paired with YUN NANS's house-made rose petal puree and hand-fried brown sugar. The hand-fried brown sugar comes from Yunnan and is fried together with local gula melaka to give it a full-bodied caramelised flavour, then boiled down to make the brown sugar syrup that coats the jelly.
About YUN NANS
YUN NANS 云海肴 is the first overseas outpost of Yun Hai Yao, the largest casual Yunnan restaurant chain hailing from China. First established in Beijing in 2009, Yun Hai Yao now has over 200 outlets in China, specialising in Yunnan ethnic highland cuisines. The restaurant uses fresh ingredients procured from the highlands of the Yunnan Province, offering specialities such as Steamed Pot Chicken Soup, Braised Wild Porcini Mushrooms and many more. At the Singapore outlet, there are exclusive dishes to savour as well.
Venue: Jewel Changi Airport, #02-217 Singapore 819666
Contact number: +65 6908 3677
Opening hours: Monday to Friday (11:30am – 10:00pm), Saturday, Sunday and Public Holidays (11:00am – 10:00pm)
Seating Capacity: 78 pax (inclusive of 1 private room for 10 pax)
Venue: 3 Gateway Drive #03-07 Westgate Singapore 608532
Contact number: +65 6970 9891
Opening hours: Monday to Friday (11:30am – 10:00pm), Saturday, Sunday and Public Holidays (11:00am – 10:00pm)
Seating Capacity: 87 pax (inclusive of 1 private room for 10 pax)
Venue: 23 Serangoon Central #B1-15 NEX Singapore 556083
Contact number: +65 6970 7883
Opening hours: 11:30am – 10pm daily
Seating Capacity: 100 pax