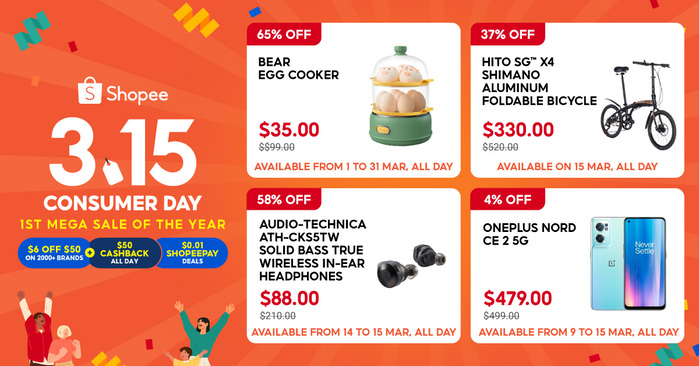 Those who missed out on Shopee's 3.3 Kick Off Sale are in luck because Shopee is running another big blowout sale for the month of March. Dubbed the Shopee 3.15 Consumer Day Sale, Shopee wants to reward YOU for your continued support. As the name suggests, Shopee will be dedicating this special sale period to celebrating its consumers, so get ready to be spoiled with a myriad of deals including $50 Cashback Available All Day For Everyone, $6 off $50 vouchers on over 2,000 brands, as well as $0.01 ShopeePay deals to enjoy discounts up to 99% off.
Don't miss out on deals from popular brands such as Wingstop, Boost, Nam Kee Pau and more! Shop deals near you via Shopee's Singapore Food Guide that curates food deals by location. Purchase Springleaf pratas for $0.10 as well as Proofer Parmesan Cheese Breads and Nam Kee Pau Tau Sar Paus for only $0.01, purchasable at participating partners' offline retail stores!
Worried that you missed out the hottest 3.3 deals? Fret not, there will be another round of Crazy Flash Sales taking place on 15 Mar across 11 time slots:
12am – 2am: Midnight Rush Hour

2am – 8am: Late Night Owl Deals

10am – 11am: $0.10 Flash Deals Relay

11am – 12pm: Great Deals, Happy You

12pm – 1pm: Lunchtime Rush Hour

1pm – 2pm: $0.10 Flash Deals Relay

2pm – 4pm: $0.01 Yummy Voucher Deals

4pm – 6pm: Brand Box Frenzy

6pm – 8pm: All Time Favourites You'll Love

8pm – 10pm: Happy Booze O'Clock

10pm – 12am: Last Chance Rush Hour
On top of that, you can look forward to Big Brand Discounts For You where you can shop branded items with discounts of up to 80% off plus 2x money-back guarantee on authenticity! It'll include $50 Super Deals For You! featuring must-haves like the Lenovo ThinkVision 23.8" Monitor (Original Price: $299), Kindle Paperwhite 4 (Original Price: $210) and Fresh Rose Deep Hydrating Set (Original Price: $280) – all priced at $50 dollars and will be released at 2pm, 4pm and 8pm on 15 Mar! What's more, top spenders will stand a chance to win grand prizes like the Nintendo Switch OLED Console (worth $579), Table Matter's Marble Dining Ware Set (worth $173.50) and Sand & Sky Major Multi Masking Kit (worth $147.80) via Big Brand Discounts For You's Top Spenders' Giveaway! Who knows? You might just get lucky!
Those who like to stay up at night to camp for the best savings should lookout for the 24H Non-stop Brands Flash Sale: Fan's Edition for upsized deals of up to 90% off, featuring over 315 Fan-Favourite Brands on Shopee Mall such as Samsung, Lego, Kinohimitsu and many more! You can also take part in the sale's Shopee Consumer Star Awards, happening from 5 to 14 Mar. Simply vote for your favorite brands and stand a chance to win an exclusive $15 no min. spend Shopee Voucher! Get up to 3 chances when you follow the brands and add any of your favourite items to cart! 
If you're an avid Shopee user that has attained Silver level and above, Shopee is extending a Members Secret Sale! Expect enticing limited quantity Spotlight Deals, Big Brand Discounts and Shopee Mall deals, only available for Gold and Platinum Shopee users, exciting deals from 8 featured brands, and more! 
Did you know that you can buy authentic luxury bags from Shopee? That's right, Shopee has every dream bag you covet in its Dream Bags Sale! Keep your eyes peeled for fashionable branded handbags with discounts of up to 40% off from brands like Fendi, MCM, Tory Burch and more! You can even take advantage of Shopee's interest-free 0% installment plans and enjoy monthly payments of as low as $100!
For the best shopping experience on 15 Mar, get ready to nab the best price reductions through Shopee's $0.10 & More Deals where you can take home dollar saving deals from $0.10 and $0.99 hourly flash sales, as well as special collections for under $1.15 and $3.15! Some highlights to lookout for are the Under $1.15 Consumer Favourites, Under $1.15 Foodie Deals, Under $3.15 Techies Choice, and Under $3.15 Beauty Faves!
Overwhelmed by the sheer number of deals? Fret not, we've shortlisted 8 of our favourites from the sale's wide range of categories, so everyone can have a smooth and rewarding shopping experience!
1. Nutra Botanics Omega 3 Wild Alaskan Salmon Fish Oil 1000mg – 300 Softgels – Halal Certified – EPA & DHA – Mercury Free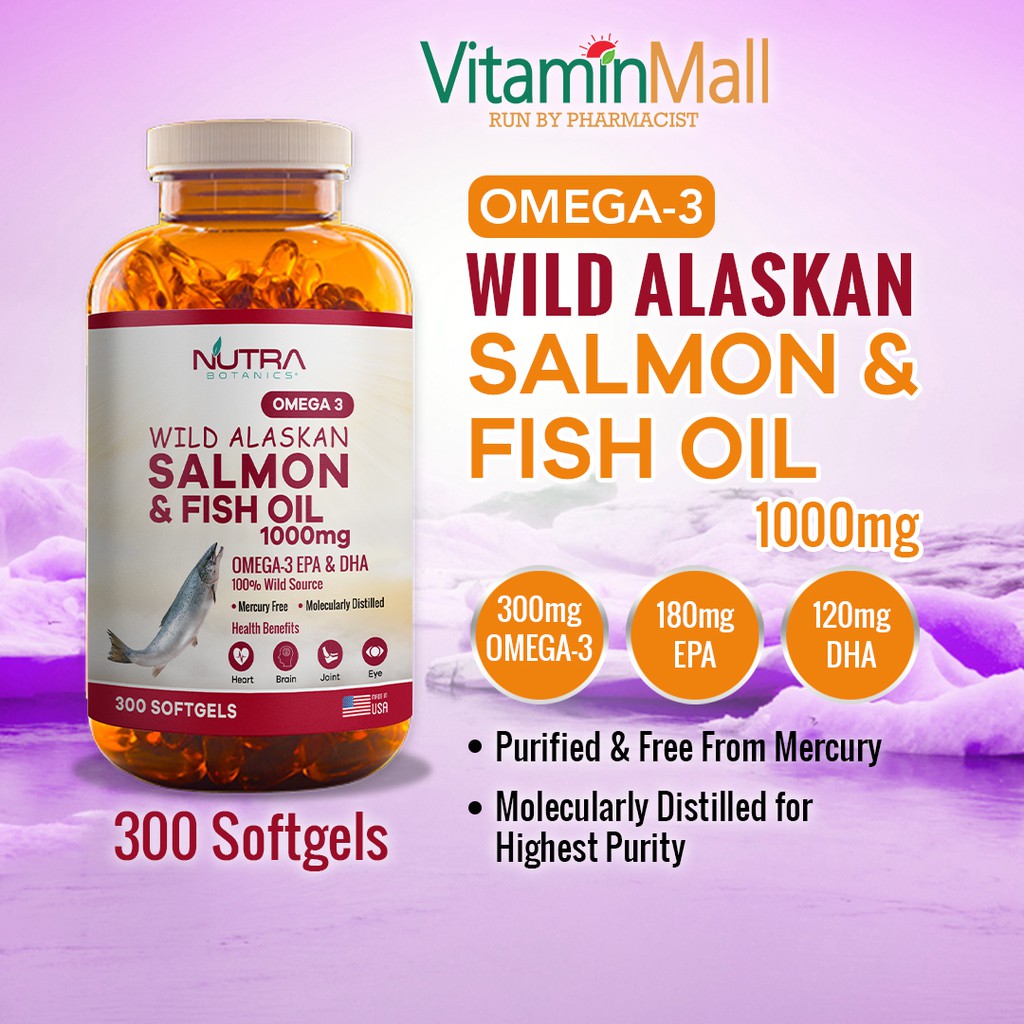 $99.90 $39.90
Improve your overall well-being with Nutra Botanics Omega 3 Wild Alaskan Salmon Fish Oil. Formulated with 100% Alaskan omega-3 fish oils from wild Alaskan Salmon and other cold water fishes, it's an excellent source of essential Omega-3 fatty acids EPA and DHA that support heart, brain, joint and eye health. Each bottle comes with 300 softgels so you can pop one each day for your daily dose of Omega 3!
2. BEAR Egg Cooker,7 or 14 Capacity Double-layer Egg Steamer, Rapid Electric Egg Boiler with Eggs Vegetables Dumplings, Green ZDQ-B14E8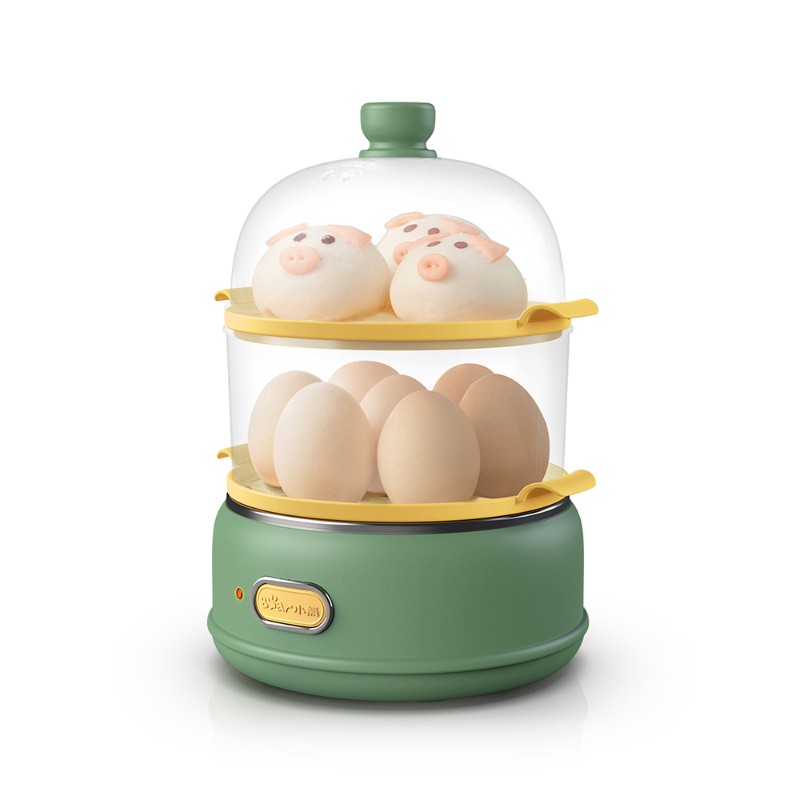 $99.00 $35.00
Cook eggs in a multitude of ways with the BEAR Egg Cooker. Now you can cook up to 14 eggs at a time and align their doneness to suit your preferences be it soft, medium or hard-boiled. More reasons to look forward to breakfast in the morning and definitely an egg-cellent way to start the day!
3.🔥Official HITO SG ™ DISTRIBUTOR🔥 ⭐Local Stocks⭐2022 Upgraded HITO SG ™ X4 Shimano Aluminum foldable Bicycle
$520.00 $330.00
Looking for an affordable foldable bicycle? HITO bikes are known for their good quality, lightweight and sturdiness, and on 15 Mar, you'll be able to purchase one of these amazing bikes for just $330 instead of $520. So, what are you waiting for? Embrace your inner cyclist and bring one of these bikes home!
4.WMF Atria 16pc Cutlery Set 1276849990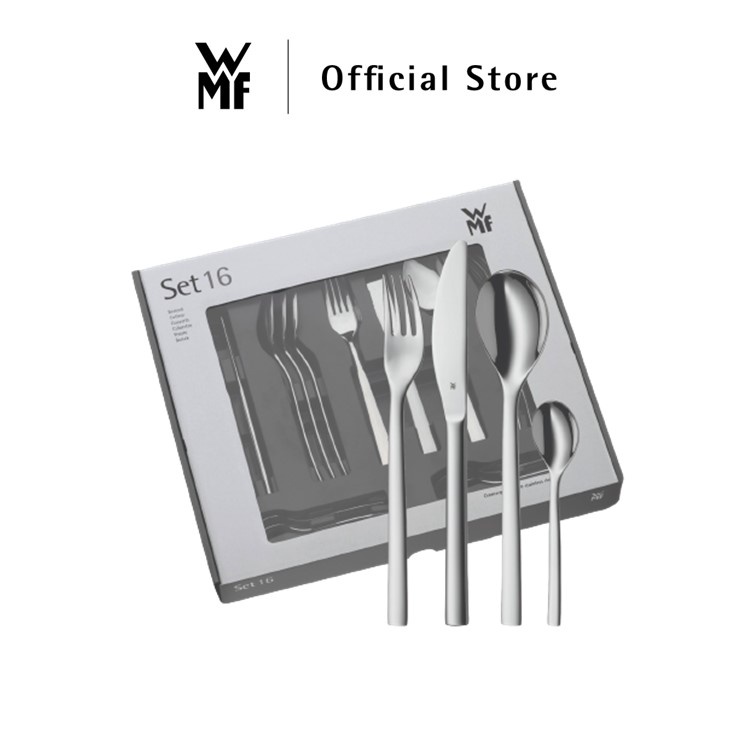 $78.00 $59.90
Add style to your table with the WMF Atria 16c Cutlery Set. Made from food-grade stainless steel, it is easy and safe to use. The set consists of 4 sets of tablespoons, table forks, table knives and teaspoons, and is perfect for a family of four.
5. Audio-Technica ATH-CKS5TW Solid Bass True Wireless In-Ear Headphone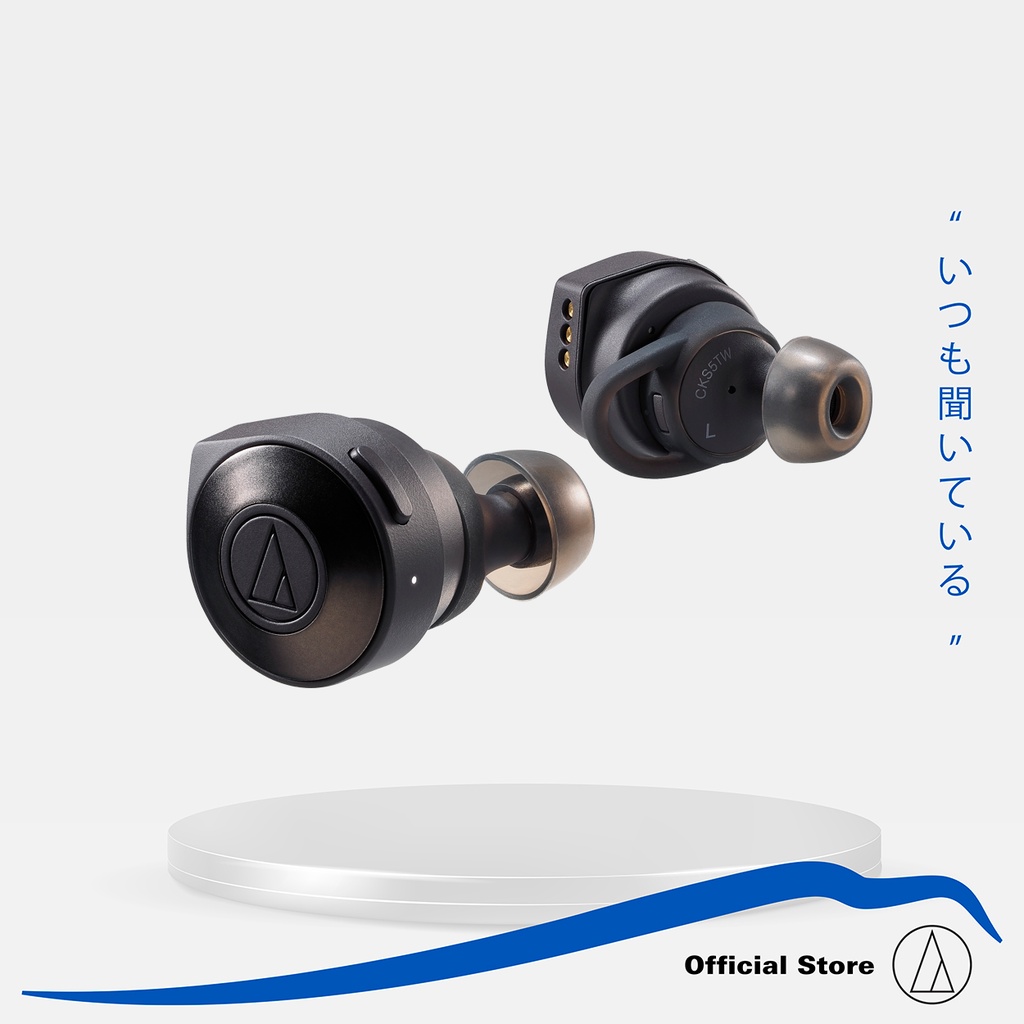 $218.00 $88.00
The ATH-CKS5TW in-ear headphones with Bluetooth® 5.0 technology pair powerful, high-fidelity sound with the convenience and freedom of a truly wireless design. They also provide ultimate comfort with a variety of silicone ear tips. With 15 hours of battery life on their own, and another 30 from their charging case, they have one of the longest battery lives available for true wireless earbuds.
$499.00 $479.00
Powered by the 6nm MediaTek Dimensity 900 octa-core chipset, the OnePlus NORD CE 2 5G comes with a 6.43-inch display that boasts a 2400 x 1080 pixel resolution and offers an AMOLED display panel with a 90Hz refresh rate. It also features a triple rear camera that comprises a 64-megapixel main camera with f/1.7 aperture, 8-megapixel ultra wide camera with 119-degree field of view and f/2.2 aperture, as well as 2-megapixel macro camera with f/2.4 aperture.
7. FOREO LUNA play smart 2 Smart Skin Analysis and Facial Cleansing Device, for All Skin Types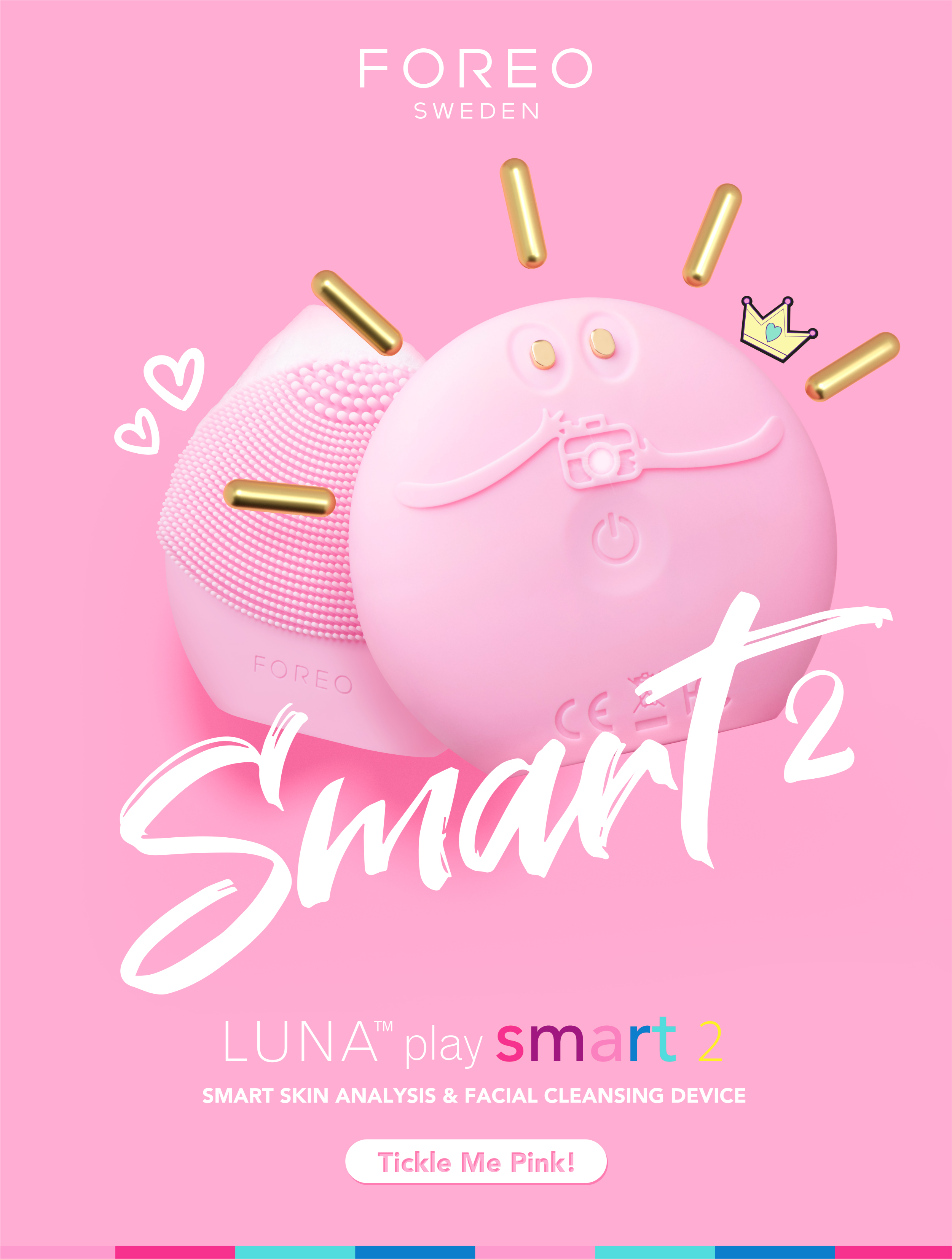 $145.00
No more excuses to not wash your face! Get your skin clean in a minute with the LUNA™ play smart 2. It delivers personalized spa-like massages and cleansing through one compact design. Its advanced sensors connect to the FOREO For You app to measure hydration, and provide an overview of your skin's health. With a touch of a button, past readings will be synced to the LUNA™ play smart 2 for a gentle, massage and cleansing blend comprising T-Sonic™ pulsations that are tailored to unique skin profiles.
8. Novelle 950 TC Silky Tex Embossed Satin Bedsheet Set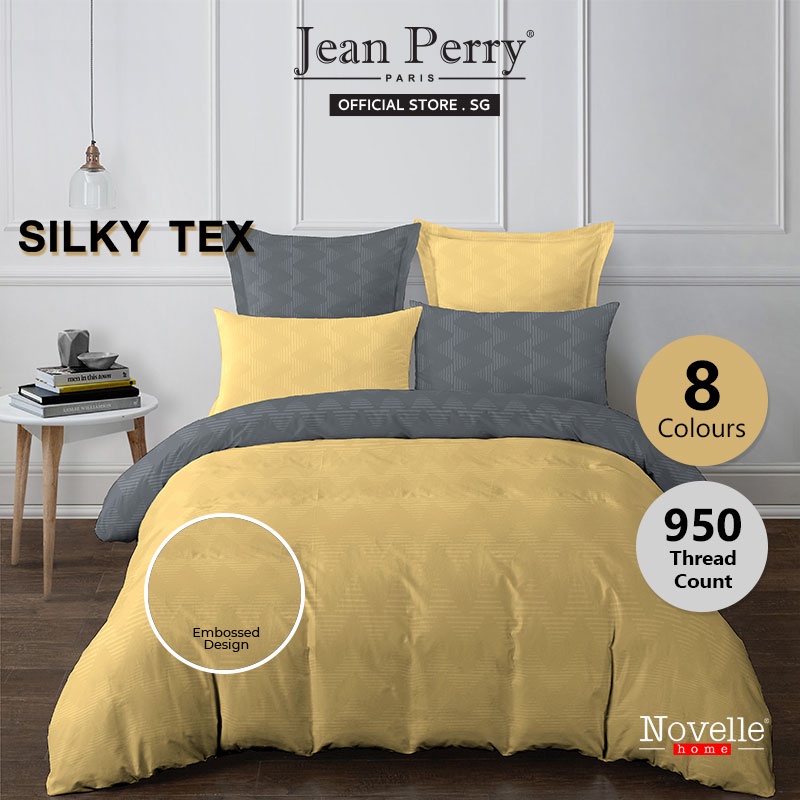 $114.50 – 139.50 $19.90 – $24.90
Get comfortable and uninterrupted sleep with the ultra-breathable and comfortable Novelle 950 TC Tex Embossed Satin Bedsheet Set. On top of being soft and smooth, the bedsheet set comes in 8 different colours for you to choose from. With 950 thread counts, the set ensures comfortable sleep.
If you're a new Shopee user, enjoy $10 off your purchases with no minimum spend with the promo code <SHOPEE315DAY>, limited redemptions only.