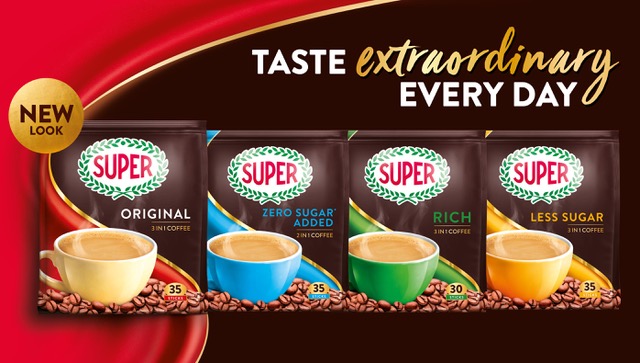 SUPER, a pioneer of coffee, tea and cereal instant mixes, has unveiled a new revamped look across its brand portfolio.
The new SUPER packs have a simplified design structure that makes it easier for shoppers to instantly recognize the brand and navigate the its different variants. With the revamped packaging, we can instantly recognise the brand and navigate the 8 different variants!
SUPER is also extending its product line-up, with new offerings that cater to emerging consumer trends for healthier –  SUPER Zero Sugar Coffee, Smooth & Aromatic Without Sugar Added.
Taste the extraordinary every day with SUPER's wide array of coffee products that caters to every palate!
SUPER Regular Coffee Range:
Original 3-in-1 Coffee
Rich 3-in-1 Coffee
Less Sugar 3-in-1 Coffee
SUPER Zero Sugar Added 2-in-1 Coffee (NEW)
SUPER White Coffee Range:
White Coffee Classic
White Coffee Hazelnut
White Coffee Brown Sugar
White Coffee – Coffee & Creamer!
In conjunction to the launch of this campaign, SUPER will be giving sampling kits nationwide so everyone get a chance to try the new SUPER products. The nation can request a FREE sample kit at this link http://bit.ly/SuperTasteTest2020 to join the SUPER taste test.