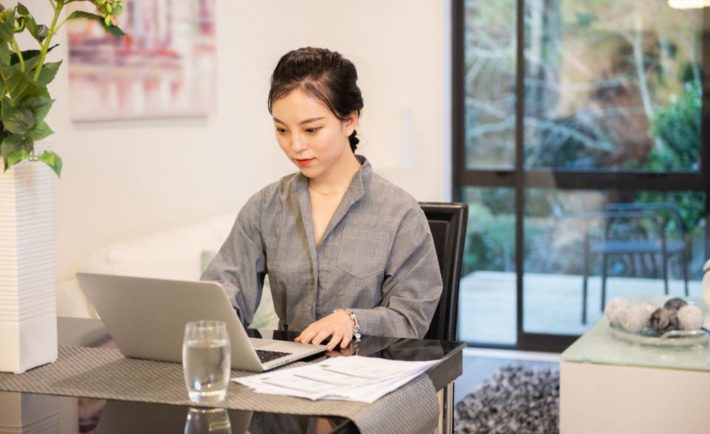 Image Credits: careerwise.ceric.ca
Do you know that OCBC has an investment platform that caters to a wide variety of investment objectives? Whether you are an investor who prefers to have your portfolio managed by professional fund managers, an investor who prefers accumulating stocks via a dollar-cost averaging approach or an investor who appreciates the discipline of algorithm-driven portfolio management, there is bound to be something suitable for you with OCBC's 3 main investment platforms. Here is a comparison of OCBC's Blue Chip Investment Plan (BCIP), RoboInvest and Unit Trust to show how they suit each investment profile.
Comparison of OCBC's BCIP, RoboInvest and Unit Trust Platforms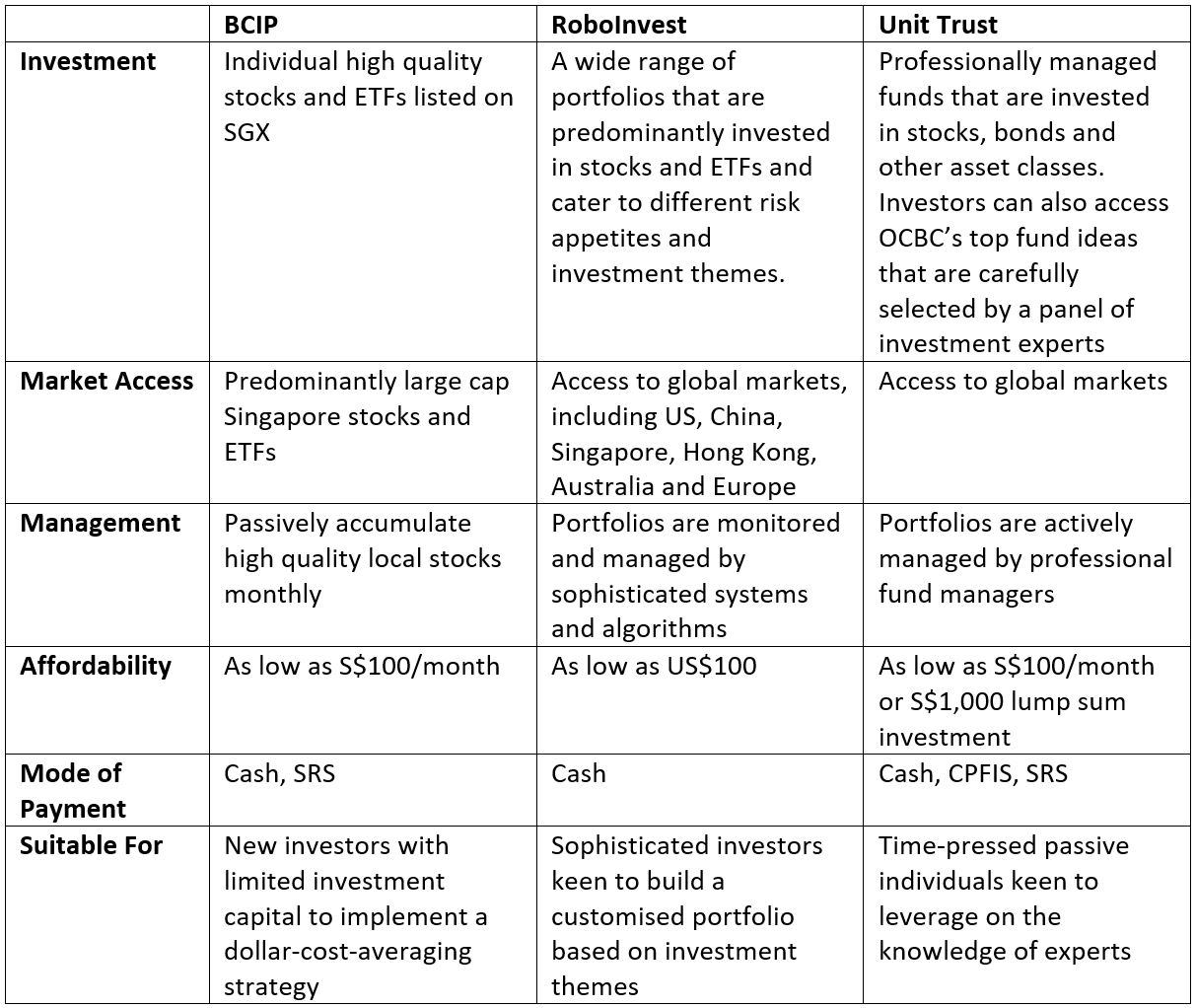 OCBC RoboInvest
OCBC's RoboInvest delivers the best elements of high-end investing services to a retail audience. Besides wide-ranging portfolios invested across 6 different geographical markets with interesting investment themes such as Future World, Impact Investing, Gen Z etc., it also boasts a seamless user experience:
No need to open a securities or custodian account
Top up and withdraw your investments easily by using your OCBC deposit account anytime without fees and charges
Be notified on portfolio rebalancing opportunities to help maximise your returns based on changing market conditions
More sophisticated investors such as PMETs, who are attuned to financial news and the latest developments of the global economy would appreciate the chance to invest in portfolios constructed around such broad and popular investment themes like US technology or the rise of China. RoboInvest is therefore the answer for investors who are keen to invest in a wide-range of investment themes and enjoy automated portfolio management service without paying excessive management fees.
Meanwhile, new investors can take advantage of RoboInvest's risk-based portfolios (defensive, conservative, balanced, growth, aggressive) to gain diversified exposure to various asset classes and geographical markets at relatively low cost. This can form the core of their investment portfolio, and they can build on it with time
OCBC Blue Chip Investment Plan (BCIP)
The BCIP allows investor to gain access to dividend-yielding stocks and ETFs listed on the Singapore stock exchange. By making monthly investments from as low as S$100 per month, an investor is able to purchase shares in amounts below the standard lot size. Full-time national servicemen or young investors would find the ability to buy below the standard lot size very attractive given that they might not have accumulated sufficient capital for investment yet. By investing consistently each month via a dollar cost averaging approach, the BCIP allows investors to reduce their average cost of purchase over time. A strict monthly investment plan also reduces the risks associated with market timing risks and allow investors to accumulate stocks in a disciplined manner.
In addition, there is great flexibility since there is no lock-in period while counter selection and monthly investment amount can be easily tweaked. The BCIP is therefore most suitable for new investors keen to implement a dollar-cost averaging strategy by starting small and staying invested while retaining flexibility and control on their portfolios.
Unit Trust
The OCBC Unit Trust Investment platform is one of ways to access the bank's top fund ideas that have been carefully selected by its panel of investment experts.
Through actively managed unit trusts, investors can simply leverage on the expertise of professional fund managers who possess the experience, skills and resources to manage the portfolio on your behalf. The OCBC online platform allows the user to compare, buy, sell and monitor unit trusts with ease.
This is perfect for time-pressed individuals who do not have the time to monitor markets and recognise their own limitations in investing. For instance, working parents might gain greater utility and satisfaction by spending precious time with their children while leaving their investments to professionals looking after their portfolios. The Unit Trust Investment platform would most appeal to long-term investors who are keen to access a diversified portfolio in a more cost-effective manner whilst having a professional fund manager at the helm, monitoring and managing their investments through different market conditions. This may go a long way to provide a peace of mind.
Whether you are a new investor just starting out, a busy parent with no time to mull over investing, or a sophisticated investor looking to invest in the latest investment themes, OCBC's various online investment platforms capably address these various investment objectives so that its clients are able to build a stable financial future with convenience and confidence.
Click here to find out more about the different investment products from OCBC.
---
Disclaimer:
All figures provided are for illustration purposes only. Actual figures may vary or differ depending on the actual circumstances.
This is for general information and does not take into account your particular investment and protection aims, financial situation or needs. You should seek advice from a financial adviser before committing to a purchase. Otherwise, you should consider the suitability of the product.
Investments are subject to investment risks, including the possible loss of the principal amount invested.
This advertisement has not been reviewed by the Monetary Authority of Singapore.