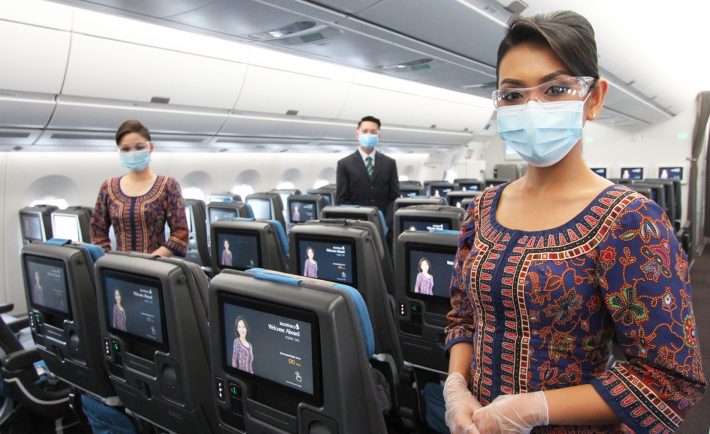 Image Credits: Mainly Miles
Were you anticipating Singapore Airlines' (SIA) 'flight to nowhere'? While some may treat it as a joke, others are dying to get on a plane, even if it means landing back on home ground. That's why earlier in August, Taiwan's EVA Airlines offered something similar on a Hello Kitty-themed plane. It was definitely a well-received 'getaway' for some grounded travellers.
But we've just received news that SIA will not go ahead with their 'flight to nowhere' plan following a review of factors. This includes environmental implications and financial viability.
"An idea for a one-off short tour flight, or a 'flight to nowhere', was also initially considered but not pursued after the review," said SIA.
With that said, the public can instead look forward to a range of new experiences launched by SIA. Discover Your Singapore Airlines is the theme behind the airline's latest curation with these activities:
Restaurant A380 @Changi

Inside Singapore Airlines

SIA@Home
Restaurant A380 @Changi
From Oct 24 to 25, SIA's A380 will be welcoming diners. If you're looking for a memorable dining experience on the world's largest passenger aircraft​, don't miss out on dining onboard with SIA. You may choose your cabin classes accordingly.
Try out the signature international Singapore Airlines dishes or enjoy the best dishes from their Peranakan menu, specially designed by local chef Shermay Lee. Your meals will come with two complimentary alcoholic drinks and free flow of other beverages.
If you want to get a rare behind-the-scenes look at private access areas and explore SIA's award-winning interiors furnished by renowned international designers, sign up for their exclusive pre-dining tour! Limited slots are available.
Other perks include limited-edition souvenirs and exclusive shopping discounts. For more information on Restaurant A380 @Changi, click through the link to view.
Inside Singapore Airlines
Just for two weekends, specifically Nov 21 to 22 and Nov 28 to 29, SIA will be opening their doors to give the public a rare inside look of its SIA Training Centre. You will gain insights over 70 years of SIA heritage. Also, here's your chance to witness for yourself how SIA's iconic cabin crew uniform and cabin products have evolved over the years.
Those who've always been curious about SIA's training program will be able to take a look at how their training is conducted. The tour will also feature the latest cabin products and flight simulators.
Peeps who are bringing kids along will be glad to know that there are complimentary craft activities. Engage with hands-on activities prepared for you like shaping balloons into animals and making your own batik roses.
Head over to this link for more details.
SIA@Home
Prefer to dine comfortably at home instead? SIA's got you with SIA@Home. You can order a home-dining experience for two created by world-renowned International Culinary Panel chefs. Pair it with your choice of wine or champagne.
For the perfect re-creation of SIA's First Class or Business Class experience at home, you may want to purchase the all-inclusive package. It comes with the exquisite tableware and luxurious amenities one can expect onboard SIA flights.
Click here to view their dining packages.