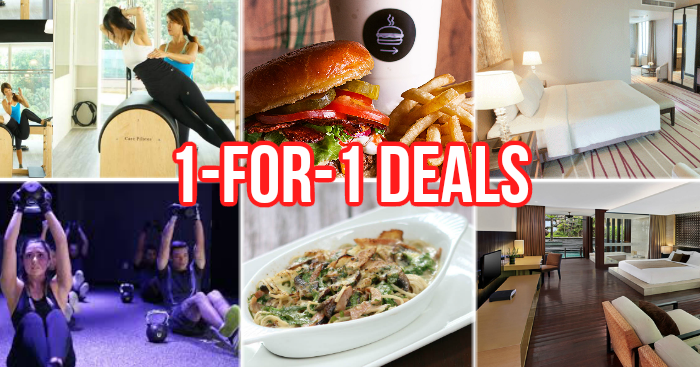 ENTERTAINER With HSBC
The ENTERTAINER with HSBC is an exclusive partnership between HSBC Credit Cards and The ENTERTAINER. It allows you to enjoy over 1,000 amazing 1-for-1 deals on dining, leisure, wellness and entertainment. With such savings galore, the best part is that the ENTERTAINER with HSBC App is complimentary to all main HSBC Credit Cardholders! They simply have to download from ITunes or Google Playstore, pay for the deals via their HSBC Credit Card and start enjoying savings all year round. There are deals of every kind to suit people of different lifestyles so that everyone can all save together!
Savings For The Foodie
If you are a foodie that is always on the lookout for the best gastronomy that Singapore has to offer, the ENTERTAINER with HSBC mobile app is a dream come true for your wallet. Whether it is celebrity chef restaurants or sampling the best burgers all the way from New York, the ENTERTAINER with HSBC app has got them well covered. Satisfy your hunger pangs at these merchant partners and enjoy massive savings with the 1-for-1 mains.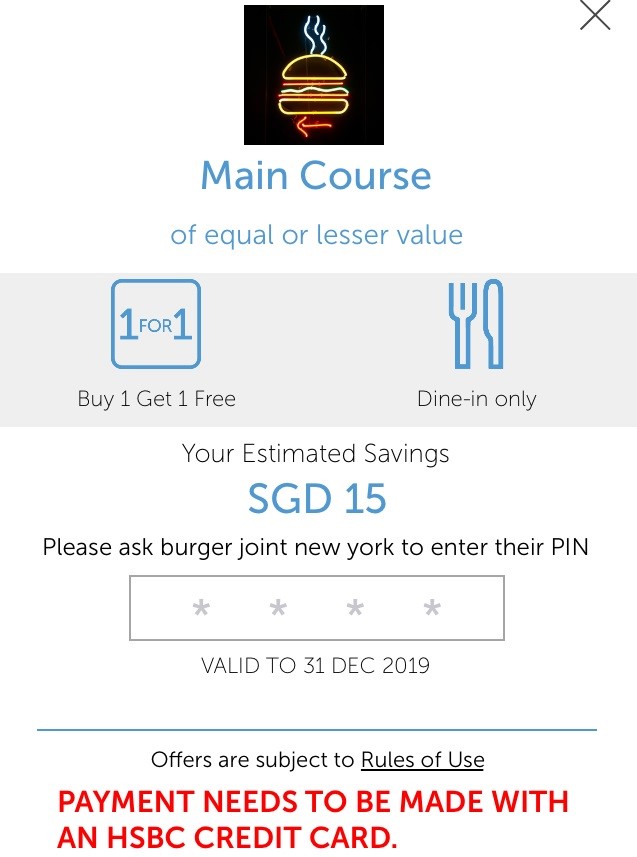 One of the merchant partners is Burger Joint New York where you can sink your teeth into the most trendy and tasty burgers that New York has to offer. If quixotic burgers are not your thing, why not head down for a romantic dinner with your partner at Rochester Park?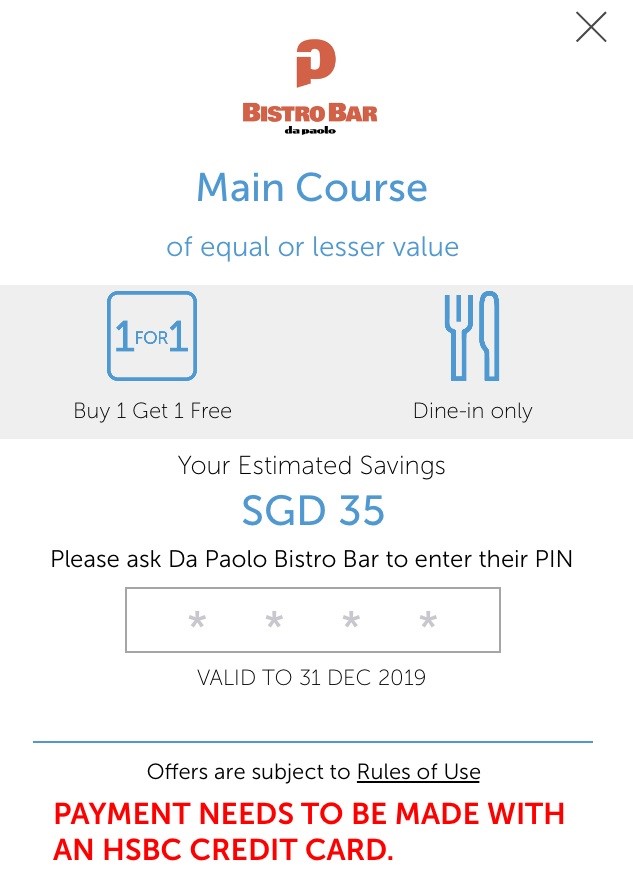 Enjoy delicious 1-for-1 main course under the moonlight at one of the preserved colonial bungalows that is bound to impress your date!
Savings For The Fitspo
If you are a Fitspo, you are in for a treat as well with the ENTERTAINER with HSBC app. There are plenty of fitness classes available where you can work off those calories at only half the price!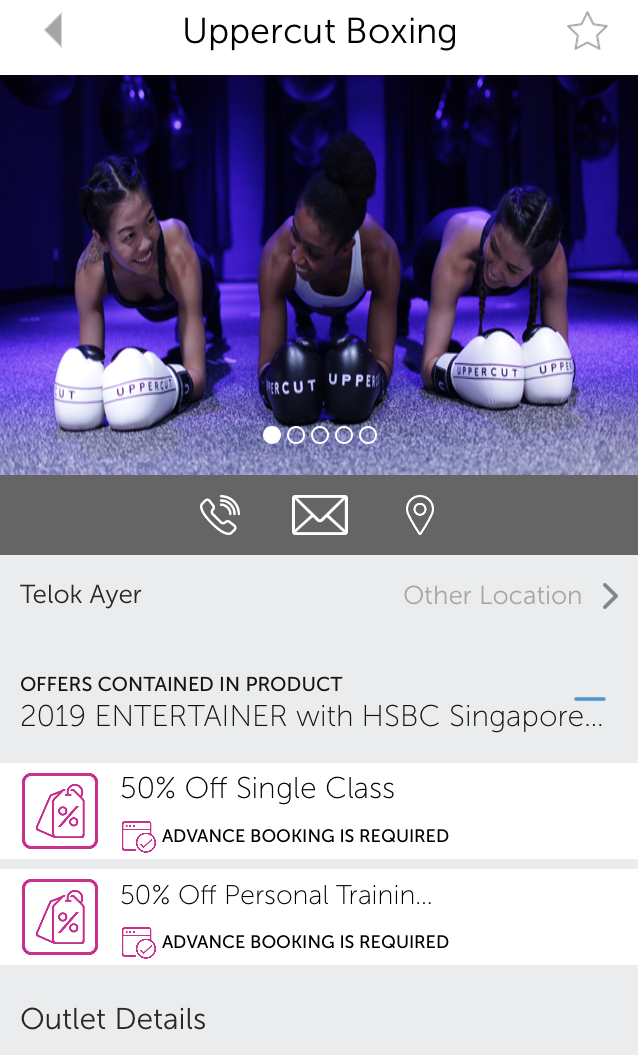 If you are looking for a high intensity workout, head down to Uppercut Boxing where you can also pick up some neat self-defence skills along the way. If you are looking to develop a strong core, why not book 5 Mat or Group Sessions at Line Pilates? Save $225 when you book with the ENTERTAINER with HSBC mobile app and pay with your HSBC credit card.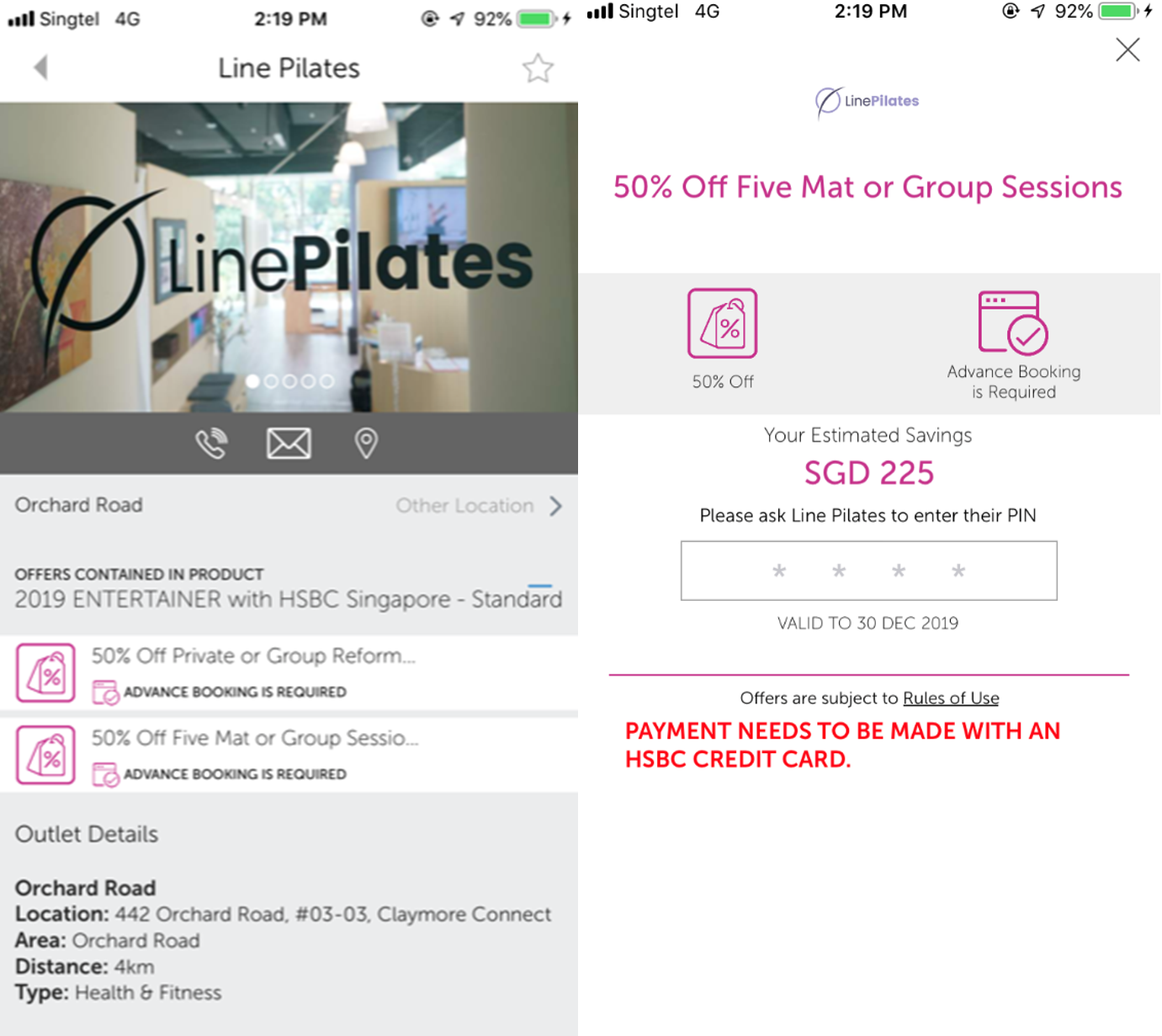 Savings For The Globetrotter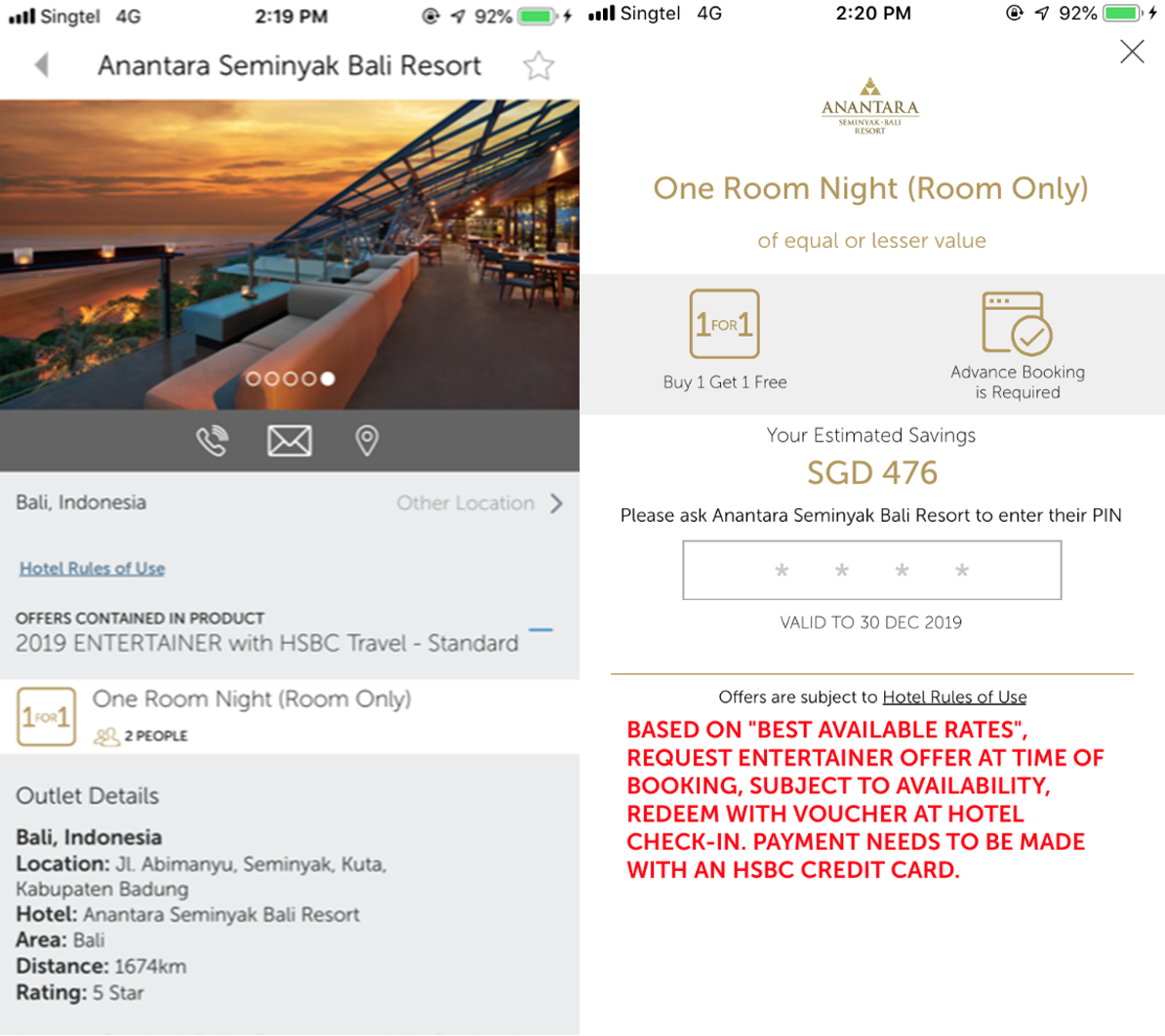 Globetrotters, rejoice! You can even save during your travels with the Entertainer with HSBC app. Gain immediate access to another 300 overseas deals in popular tourist destinations such as Bangkok and Maldives! Not to mention that your dream vacation at Anantara Seminyak Bali Resort has just gotten cheaper with the Entertainer with HSBC app. Make your trip even sweeter with delectable 1-for-1 main courses at cafes like Strawberry Fields.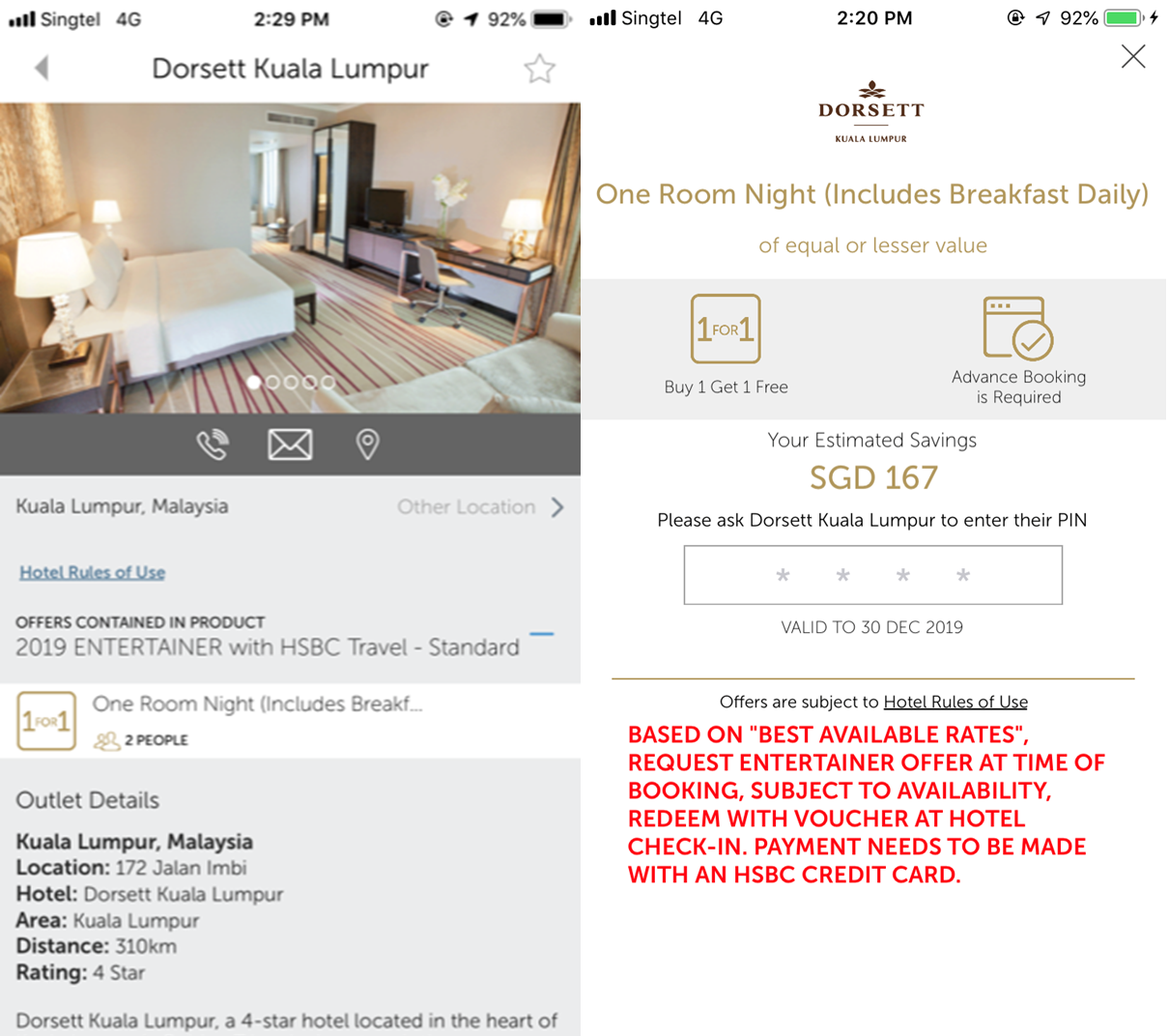 The mechanism is very simple- book 1 night and get the second night free with leading hotel brands. For instance, you can save $167 at Dorsett Kuala Lumpur if you book with the ENTERTAINER with HSBC app. On top of that, indulge in some 1-for-1 main course deals in Kuala Lumpur, at The Daily Grind or Delicious Restaurant & Bar!
Apply For HSBC Credit Cards Now
Here's how you can save a bit more by using the right HSBC Credit Card to pay for your expenses:
HSBC Visa Platinum Credit Card – Get 5% cash rebate when you use this card to pay for dining, groceries and fuel expenses. You also earn 1 Rewards points for every dollar spent. What's more, kids enjoy free trips, meals and activities.
HSBC Advance Credit Card – Get up to 3.5% cash back on all your purchases (across all spend categories), no minimum spend required.
HSBC Revolution Credit Card – Earn 5X Rewards points on local dining and entertainment, and online purchases (which is equivalent to 2 miles for every dollar!)
If you don't have any of these HSBC Credit Cards, you can easily apply for them here.
Ready to get 1-for-1 on your next meal, fitness class or hotel stay? Download the ENTERTAINER with HSBC app. Visit hsbc.com.sg/entertainer for more details. Terms and conditions apply.