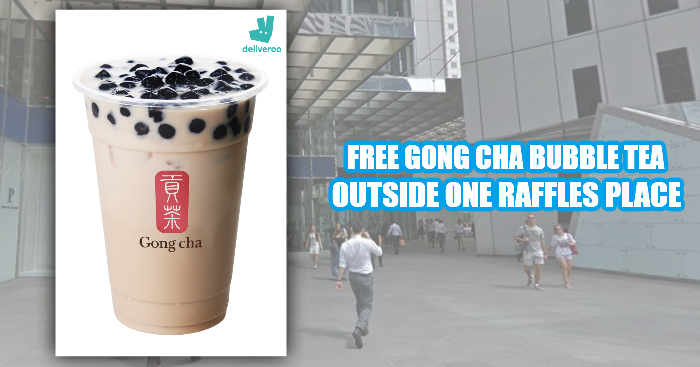 Image composite: Google Map, Gong Cha
Gong Cha and Deliveroo team up to celebrate National Bubble Tea Day with Singapore's biggest bubble tea giveaway
Free bubble tea will be given out for one-day only, on 30 April at One Raffles Place, while stocks last
Bubble tea-obsessed Singaporeans are in for a super sweet treat this National Bubble Tea Day (30April). For one day only, popular Bubble Tea chain, Gong Cha, and Singapore's sweetest food delivery service Deliveroo, are teaming up to mark this annual occasion by giving away free (yes, you read it right) milk tea with DIY toppings in the heart of the Central Business District (CBD).
We know Singaporeans love bubble tea, with data from Deliveroo revealing that Singaporeans ordered 385,000 cups in 2018, which comes down to over 1,000 cups each day! To celebrate National Bubble Tea Day, Gong Cha and Deliveroo crew will be handing out cups of this sweet treat, dispensed from – dare we say it – Singapore's largest bubble tea cup standing at over 3.5m tall (that's also conveniently oh-so-Instagrammable). All sugar levels are fixed at 30%, so you can indulge easy.
Whether as a midday sugar-rush or a post-dinner sweet treat, this much-loved beverage has indisputable reign over our taste buds. From Gong Cha's classic milk teas to its smoothie series and signature tapioca and jelly toppings, the possibilities are endless. Here at Deliveroo, we make it our mission to champion Food Freedom, because we know the joy that comes with having your favourite food (or bubble tea), any
time, anywhere and however you want it!
To get your Gong Cha fix, and be the Insta-envy of all your friends, you and your fellow bubble tea connoisseurs can head down to One Raffles Place (outside 1-Altitude) on Tuesday 30 April, between 11:30AM to 7PM. Customers can also stand to receive a Stojo collapsible cup (worth $30), to bring along for future bubble tea treats, while stocks last!
All you have to do is to follow these simple steps for a tea-rrific time:
Download the Deliveroo app (if you don't already have it in your phone).
Sanitise those hands!
Grab a cup and a straw from one of our friendly Deliveroo or Gong Cha crew!
Get creative with your toppings of choice, including Gong Cha's classic black pearls and its newest addition – strawberry pearls!
Get in line to get your cup filled with your 'flavourite' bubble tea treat
Snap a photo with the Gong Cha mascot at the trick-eye backdrop and upload it onto your social media page, with the hashtag and usertag #foodfreedom, #SGBubbleTeaDay, @deliveroo_sg and @gongchasgofficial.
Voila!
As a man once said, "A boba a day, keeps reali-tea away". We can't wait to show you a bubble tea-'rrific time!
---
This is a media release by Deliveroo & Gong Cha.