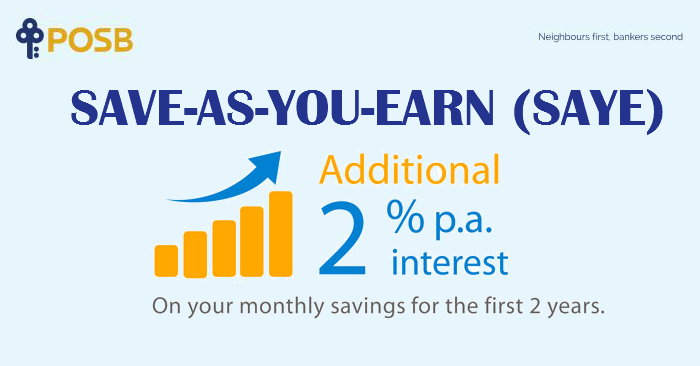 Programme from 1970s makes a comeback, providing a bonus interest rate of 2% p.a. on customers' monthly savings 
In the latest media release, POSB announced today (3 Aug) that the iconic POSB Save-As-You-Earn (SAYE) programme will be reintroduced.
First launched in 1974, the programme was introduced to encourage Singaporeans to cultivate a habit of setting aside a portion of their salary as savings.
In June this year, POSB offered this programme exclusively to full-time national servicemen (NSFs) to recognise their contribution towards national building under the POSB "Save As You Serve" (SAYS) programme. This special scheme allows full-time national servicemen, or NSFs, to enjoy a bonus interest rate of 2 per cent per annum.
In the lead up to the nation's 51st birthday, POSB, Singapore's oldest and most loved bank, announced that they will expand the savings programme to include all Singapore customers, effectively bringing back the POSB SAYE.
To participate, customers simply need to have a DBS/POSB savings account where their monthly salary is credited to. They can then sign up for a POSB SAYE account where a stipulated amount (between SGD 50 to SGD 3,000) is transferred every month from their DBS/POSB salary-crediting account. The bank will then provide a bonus interest rate of 2% per annum on their monthly contributions in their POSB SAYE account. For more information or to sign up for an account, visit www.posb.com.sg/saye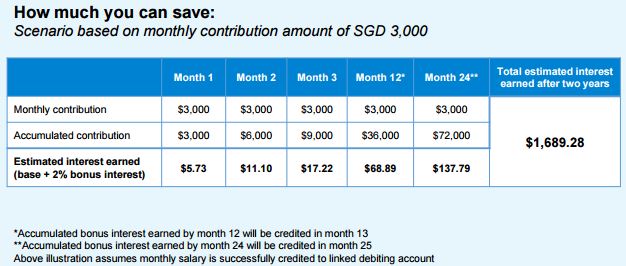 "It was really convenient for me because our salaries were credited into POSB as well so it was very natural to open POSB SAYE which auto-deducted from my salary every month. My pay was very low then so without the scheme, it would be very easy to spend everything when it comes in!" – Jasmine Yeo, 44, POSB customer
POSB is also marking National Day this year with the launch of the POSB Gallery at the National Library Building. The POSB Gallery showcases how POSB has grown with Singaporeans through the years since its founding in 1877. Featuring precious artefacts from the past, ranging from old POSB passbooks from colonial times to the iconic POSB Lucky Draw Drum used in the 1970s, the gallery tells how POSB mobilised an entire national savings movement and played a key role in the development of Singapore. The bank also hopes the gallery will inspire Singaporeans to share their own POSB memorabilia to add towards its collection, which will go towards a larger exhibition for its 140th anniversary next year. More information on the POSB Gallery and how to contribute POSB memorabilia is available at www.posb.com.sg/posbgallery.
Finally, to thank Singapore customers for their support and to celebrate everything Singaporean, POSB will waive PAssion membership fees for Singapore's fastest-growing card – the PAssion POSB Debit Card – for five years. On National Day, POSB will also offer 5,000 1-for-1 tickets to selected local attractions, as its gift to the nation. Customers can sign up for this card via DBS/POSB iBanking or visit any DBS/POSB branch for instant issuance.
[fancygallery id="5″ album="113″]
Images: POSB Singapore