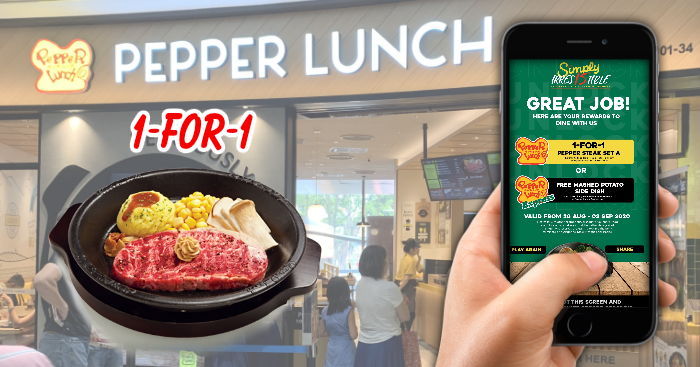 Pepper Lunch turns 15
Pepper Lunch will be celebrating their 15th anniversary in Singapore and will be launching a series of promotion and giveaways including 1-for-1 Pepper Steak Set A, $50 Pepper Lunch vouchers and more.
Here's how you can participate:
1-for-1 voucher and free side
Play their Find The Difference game to unlock the 1-for-1 offer or free side.
Find 15 differences within the time limit to unlock a 1-for-1 Pepper Steak Set A offer *T&Cs apply
If you do not find 15 differences within the time limit, you will unlock a free mash potato side dish + drink offer
Screenshot the screen and present to the cashier before ordering.
There is no limit to the number of times you can try, so keep trying until you unlock the 1-for-1 deal.
$3000 Pepper Lunch Vouchers up for grabs
For those who managed to find 15 differences in the Find The Difference Game will stand a chance to win a $50 Pepper Lunch voucher in their weekly draw.
10 lucky winners will be selected every week from 20 Aug – 30 Sept 2020. 6 weeks in total. Stay tuned to their Facebook for the announcement of the weekly winners. Game screens will be updated on Thursdays so that you get to have a different challenge.
PLAY MORE and increase your chances of winning! Have fun & good luck!
Win attractive prizes such as iPhone 11 and Samsung Galaxy S20
Dine at any Pepper Lunch restaurants in Singapore and collect stickers. Collect 1 sticker for every main dish ordered from now till 30 September 2020.
Collect 8 stickers and submit the completed card to unlock your chances to win the prizes. There will be a total of 300 prizes to be given away on a first-come-first-served basis.