Foodies rejoice!
Chope, a leading restaurant reservation provider, is having a one day flash sale on The Chope Shop.
On 26 Sep, customers can enjoy 30% off cash vouchers to 20 top restaurants including popular ones such as Triple Three, Saveur, Dancing Crab, Mellben Seafood and more!
Sale will end 26 Sep, 23:59 hrs.
1. Mellben Seafood (Toa Payoh)


The Mellben Seafood brand is no stranger to the majority of crab-loving locals with spin-offs popping up all over town in the years since it was established. However the Toa Payoh outlet is the place to go for a casual family gathering, complete with an accommodating outdoor patio and a dazzlingly efficient staff that knows how to please your gang. Reservations are always encouraged because with recipes this tasty, every night is bound to be a packed one. As for the bill, you will be paying for quality, but you will be pleased to see at what a good value such high standards come.


Crabtastic news! The wildly popular Dancing Crab has now opened its claws at Vivocity so get ready to dig into finger-lickin' Louisiana seafood cuisine. Don't worry though, they've got the same country-style Cajun recipes, flavours, and spectacular seafood favourites we fell in love with at the other outlets – so expect the same great treats!
We're talking about their Combo Bags bursting with prawns, clams, potatoes, corn and sausages, crowned with your choice of Sri Lankan crab, Dungeness crab or lobster. Add in their signature Dancing Crab sauce, and you've got hours a good eating. Irresistible sides like the Spicy Cajun Fries, Seafood Gumbo, and the Beer Batter Cajun Calamari are definitely a must-try so don't forget to put in a few orders – you'll be thanking us later.
3. MEATliquor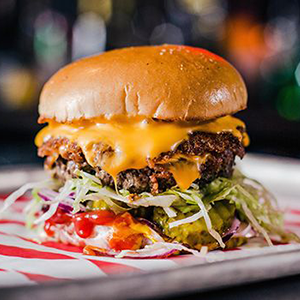 An edgy spot for late night bites and bevvys, MEATliquor, the sensational London hotspot, has made its way to Singapore. Bringing with it outta-this-world burgers, bits & bobs (sides), and a plethora of cheekily named cocktails – it is the quintessential spot for a sinfully superb night out.
Decked out in a wicked 70's English street vibe and large vegas-inspired lighting, MEATliquor's biggest claim to fame has to be their ferocious burgers. Their signature, the Dead Hippie, is a sure crowd pleaser. Loaded with two mustard-fried beef patties and topped off with their secret dead hippie sauce on a home-made sourdough bun – it is mouthwateringly addictive and unbelievably juicy!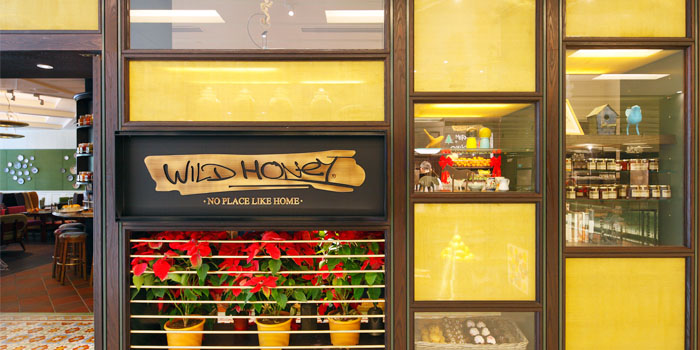 Wild Honey's branch at Scotts Square takes everything we loved about their first outlet, and turns it up a notch. There's something inherently charming about the space with the bay windows that run along two of the restaurant's four walls, and the dark wooden furniture given a chirpy finish by bright cushions; together it makes the restaurant cosy, yet tres chic all at the same time.
Menu wise, breakfast dishes are named after the region they embody, giving you a refreshing context to the flavours tickling your palate. Ranging from the "I Love New York", a platter of scrambled eggs, smoked sturgeon, and a toasted bagel served with cream cheese, to the "English", a full English breakfast of eggs, pork sausage, sautéed mushrooms, baked beans, bacon, brioche and vine ripened tomato, you can do a culinary tour of the world right from the lush, comfortable armchairs of the restaurant.
5. Tea Lounge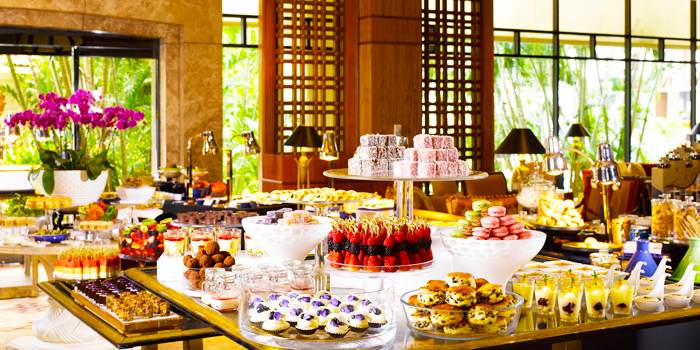 Restaurants specialising in high tea is increasingly the trend in Singapore… but there's a reason why Tea Lounge at Regent Singapore is still considered one of the restaurants in Singapore to go to for an exquisite high tea. Diners will find the luxurious touch and elegant attention to detail that is a hallmark of Four Seasons properties clearly evident here.
During the weekdays, high tea sets are served on a three-tier stand with a variety of finger sandwiches and pastries accompanied with free-flowing premium coffee or tea. On weekends, the high tea buffet fills the lobby with an aroma of British, Japanese, and local flavours. Warm lava cakes and crepes are also made on request.
6. REDPAN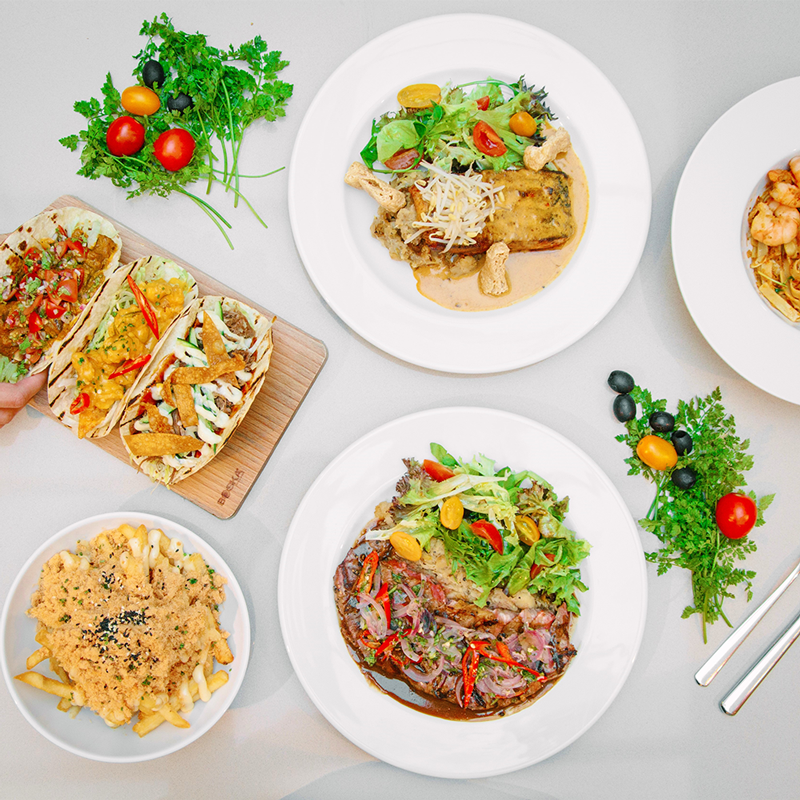 Home-grown architecture practice DP Architects and local restaurateurs The Food Explorer Group, owners of popular bistro GRUB, have just revealed a joint F&B venture – REDPAN Singapore. This new restaurant will see a partnership, or as they call it, a "love affair" between design and food. This partnership has allowed both parties from very different industries to focus on their strengths of design as well as food development respectively, each bringing their best to the table.
7. Uncle Leong Seafood (Punggol)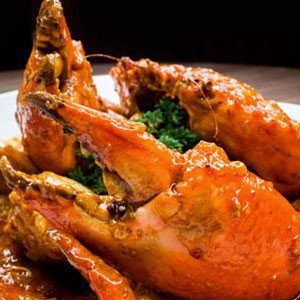 Uncle Leong Seafood is a popular and laidback destination for all those seafood comforts you crave.
With a pleasant waterfront view and accommodating dining room, Uncle Leong's is aimed at making diners feel at home. After all, a hearty meal of Chinese seafood delicacies is a family tradition for most of us, and the next best thing to home cooked, is the variety of delectable treats at Uncle Leong's. Here, shellfish are sourced as fresh as possible, and a variety of sizes are available for diners to choose from.
8. Uncle Leong Seafood (Jurong East)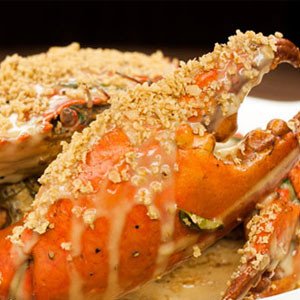 Draped in quirky crab regalia is a quaint little seafood cove doling out the best of crab, fish, prawns, and more! Uncle Leong Seafood in Jurong East is simple seafood done exceptionally well. The menu has it all, from traditional favourites to unique renditions, so ordering one of everything is a must!
The family-style concept is perfect for those groups looking to try a little bit of everything, with items like their Shimmering Sand Crab – also their claim to fame – being a true delight. The mesmerizing Claypot Crab Bee Hoon Soup is a personal favourite, and we've come to learn the hard way that one order is never enough. The broth is simmered for hours which makes for an extremely flavourful stock, and a dish we really begrudgingly share with friends and family – it's just that good! (Jan 2016)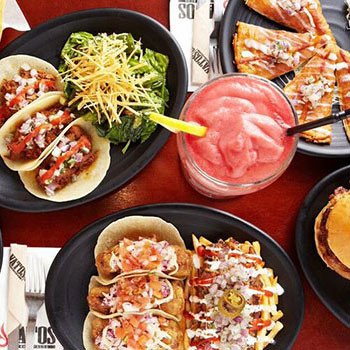 Doling out zesty and delicious Korean-Mexican fusion fare isn't an easy feat but the guys over at Vatos Urban Tacos make it seem effortless. With all three owners having roots in either California or Texas, and growing up on true-blue Mexican eats, it's safe to say they know a thing or two about the flavour explosion the cuisine brings with it.
A quick glance at Vatos' "Seoul-Mex" menu and you'll know exactly what we mean. Using only the freshest ingredients around, they dish out masterful, ultra fiery creations like Chimichurri Chicken Tacos, Kimchi Carnitas Fries, Carne Asada Steak Quesadillas, and more. However, no visit is complete without their Vatos Cowboy Queso and one of their signature margaritas, so be sure to order one (or two) of each before you head out! (Apr 2016)
10. Triple Three Restaurant, Chatterbox, Shisen Hanten and Coffee & Crust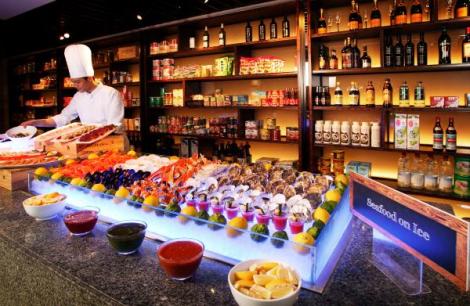 An award-winning Japanese-inspired buffet restaurant in Mandarin Orchard Singapore, Triple Three is where you come to eat till your heart's content. With a plethora of local and international culinary favourites, dining here is about one thing and one thing only – indulging!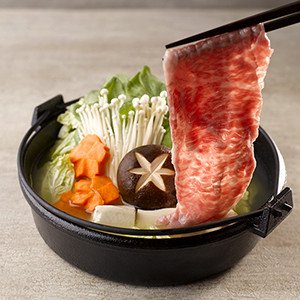 When it comes to shabu-shabu, sharing isn't caring and the folks at Tsukeru know this full well. That's why you get individual hot-pots at this expansive Scandinavian-Japanese inspired restaurant. Situated in Emporium Shokuhin, the $10 million, 34,000 sq ft Japanese gourmet grocer cum dining haven, Tsukeru provides the perfect epitome of the space – premium quality, expansive, and fuss-free.
12. Gyuu+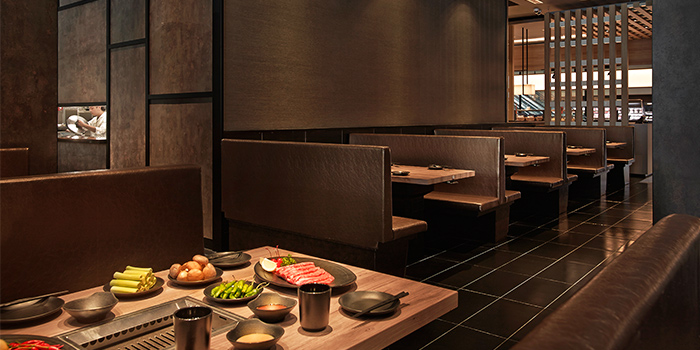 Gyuu+ is a favourite for yakiniku and grilled seafood, in part because of its proximity to fresh fare right outside its doors, in part because prices are slightly lower since the restaurant taps on Emporium Shokuhin's direct sourcing capabilities. Best of all, though, is the food. Buttery slabs of Japanese A5 Miyazaki meat and perfectly marbled USDA Prime beef sizzle on the grill as you debate over which cuts to get next and whether there's enough stomach space left to scarf down bites of dry-aged beef. The answer should always be a yes. Psst, buffet fans will especially love their buffet option consisting of mind-blowing prime beef, scallops, salmon, and more!
13. Hungry Heroes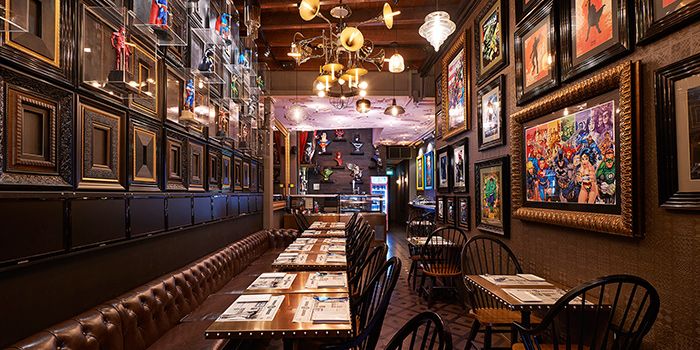 Hungry Heroes is Singapore's first Superhero theme café and restaurant located in Little India.
Hungry Heroes' American menu features a range of specialty meats such as the Bacon Karate Chop with Honey Thyme Gastrique ($20++) and Nuclear Fission Angus Beef Cheeks ($28++); as well as outlandish and decadent burgers such as the Spider Pig Burger ($21++) and the Mother of all Chicken Burgers ($32++). Fall­‐off­‐the bone Pork Ribs are also a specialty at Hungry Heroes and are available for order in half racks (from $21++) and full racks (from $38++) in a variety of flavours. Twice­‐cooked, the pork ribs are first braised over low heat before being glazed with house marinades and placed in the oven to seal in the juices.
14. TungLok XiHe Peking Duck (Orchard Central)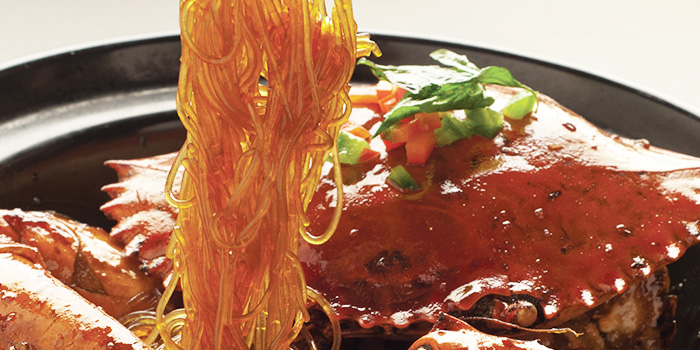 As complex as Peking London Duck may sound – London duck from Ireland's Silver Hill Farm served in traditional Peking style – there's nothing complicated about our feelings for this delicacy from TungLok XiHe. Specially bred and aged to produce dense and porous skin along with tender flesh, the duck is cured with a secret mix of spices and filled with a special marinade before hung to roast in a traditional oven.
15. Sin Lee Foods


A cafe that smacks of nostalgia on Bukit Ho Swee, Sin Lee Foods has preserved both the name and original signboard of its vintage space, while updating the menu with delectable cafe confections that ups the brunch game in the already-trendy Tiong Bahru neighbourhood.
Set at the foot of Block 4 of Bukit Ho Swee, Sin Lee Foods is a find for both its off-the-beaten path locale as well as its scrumptious fare. Whip out the GPS for this one, and you will be rewarded with second to none takes on breakfast essentials. While the cuisine and look of the cafe is modernised to the peak of trendiness, it still pays respects to its local roots.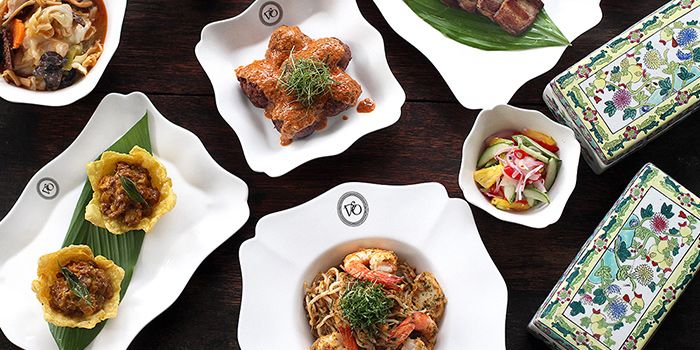 It's not every day that you get to meet a bone fide celebrity chef. Dine at Violet Oon's Kitchen though, and you stand a very good chance of meeting the woman once described as "Singapore's Julia Child". Serving traditional Nyonya dishes, Violet Oon and her family personally invite you to experience the unique flavours of Peranakan cuisine in a beautiful black and white setting.
Given that Ms. Oon is an expert on all things Nyonya, you can't go wrong by exploring the "Nyonya Favourites" on the menu. However, the western offerings, inspired by her experiences travelling abroad as Singapore's food ambassador, deserve some consideration. Her Shepherd's Pie is a cult favourite, while dishes like Chilli Crab Pizza, and Brioche French Toast with Gula Melaka Banana Sauce present an interesting Nyonya twist.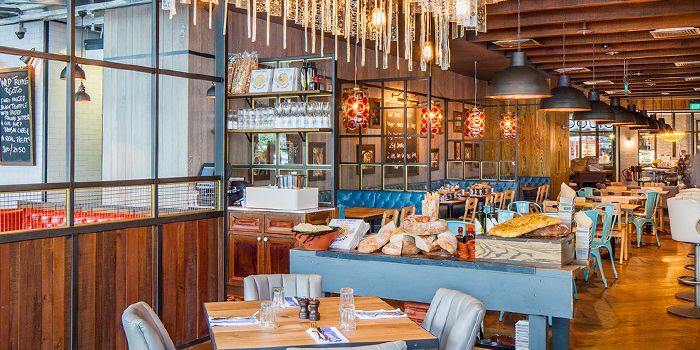 Whether you're a foodie or not, you know that Jamie Oliver is synonymous with uncompromisingly fresh, sustainably sourced and whole foods cooking. The other place you might know him from is his eponymous VivoCity trattoria, rarely seen without mile long queues signaling its worth-the-wait deliciousness.
18. Lokkee


Chinese cuisine goes on on a journey to the West and back with Lokkee, a witty homage to Hollywood's Chinese favourites; think chow mein and fortune cookies. A distant cousin to what we expect in Singapore, at Lokkee, Global Chinese Cuisine is reinterpreted and elevated through fresh, top quality ingredients and clean flavours.
19. Sacha & Sons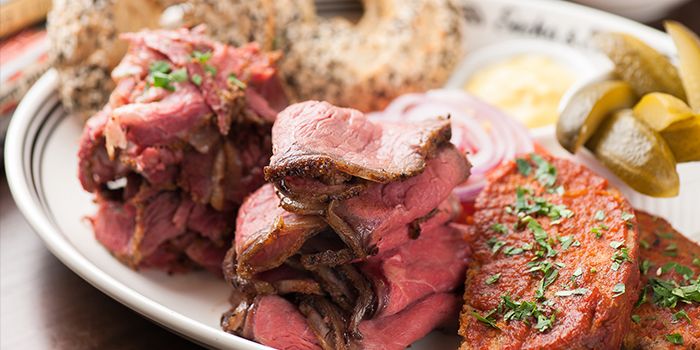 Sacha & Sons not only represents the unique heritage of the Big Apple deli – with its bare bones menu of bagels, carved meats and limited frills – but also the labour of love that goes on behind the typical counter. The peppery pastrami, for example, takes nearly two weeks to turn from premium brisket to the final slices of sandwich filling, enduring a unique curing process and special rub before being steamed fresh to order. The colour, texture and taste need to be on point before ever meeting a slice of bread. All meats, including the tasty corned beef and roast beef, are hand carved, then served warm on the traditional rye and caraway seed bread or potato bread, which are fresh baked of course. The condiments are similarly succinct, with only house-made deli mustard and home-cured pickles to deliver that authentic New York taste.


In case you don't remember a time before Saveur, French cuisine was almost synonymous with fine dining back in the day, so you can bet we sat up and took notice once this wallet-friendly restaurant burst onto the scene. Don't be too quick to dismiss the quality of the food before you tuck in though, the multitude of classical techniques used to create their particular brand of contemporary French fare are a testament to the professional training of the chefs.