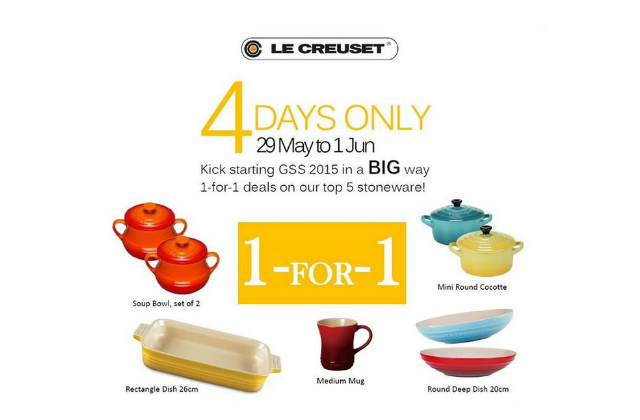 Originates from France, Le Creuset is famous for its enameled cast-iron cookware that is not only colourful, it is also multi-functional designed to lock the original taste in place.
They carries a range of products that you would normally find in a kitchen. Pots. Pans. Kitchenware. You name it and they have it — made from durable cast iron, steels, stoneware to silicone and textiles.
To kick start the Great Singapore Sale (GSS), they are having a 1-for-1 sale on their top 5 stoneware from their famous Mini Round Cocotte to the Soup Bowl, Rectangular Dish and more.
Each and every stoneware product is handmade by skilled craftsmen, so every one is unique. The strict quality control ensures the product being sold are at the best standard.
Le Creuset stoneware is not just effective for cooking and baking, but with the large variety of shapes, sizes and colours available, it can help decorate your kitchen and your dining table.
Check out the store locations here: http://www.lecreuset.com.sg/shop/