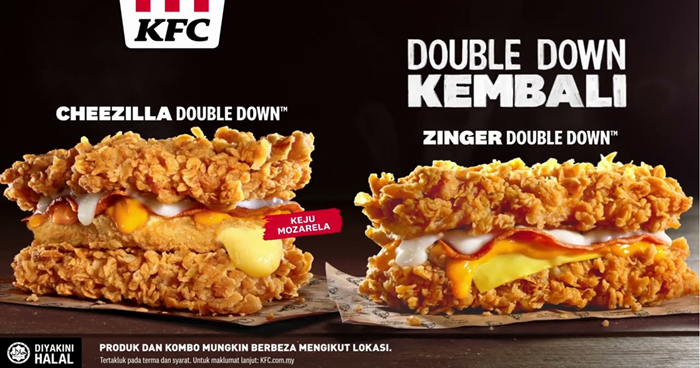 Just in time for the long weekend
Heading to JB during this long weekend? Good news.
The much-anticipated Zinger Double Down and Cheezilla Double Down will make their comeback at KFC Malaysia.
KFC Malaysia announced via a tweet today, 14 April.
Where there is meat on meat on meat, it's definitely a cheat meal day. pic.twitter.com/mIjpARmYr8

— KFCmalaysia (@KFCmalaysia) April 14, 2022
The all-meat Zinger Double Down consists of 100% meat in every single bite to deliver 100% enjoyment. For cheese lovers, go for the Cheezila Double Down as it comes with a golden fried mozzarella cheese patty to let you perform a cheese pull on TikTok.
Can't wait.
Click here to locate the nearest KFC restaurant in Malaysia.