(Image: Kayak.sg)
Travel search engine KAYAK.sg reveals the extent to which low-cost airlines are marking up prices
Travelers who want to enjoy a cup of coffee on board will have to pay on average 900% more than at the supermarket
The mark-up on the in-flight cup noodles is between 222% and 317% as compared to the cost at supermarkets
Airlines charge 562% more for a simple bottle of mineral water than a supermarket does
Singapore, 10 June 2016 – Travellers often expect to pay a little more than usual for snacks and drinks while flying on low-cost carriers, but new KAYAK.sg research reveals that some airlines are going overboard with mark-ups on the prices of snacks and drinks. For example, a simple cup of instant coffee costs, on average, 900% more up in the air than it would at a supermarket.
A cup of hot tea was revealed to be the worst offender. A single tea sachet can be bought in a supermarket for as little as six cents, but the mark-up for providing the same bag plus some boiling water while onboard is astonishing. Tigerair, Jetstar Asia and Scoot all charge S$4, while AirAsia charges a slightly more reasonable price of S$1.70 for a cup of tea, an average markup of 4,344%, compared to standard supermarket costs.
Breaking the bank for a sweet bite
Sky-high prices were also uncovered on everyday snack items; Scoot charges S$4 for a 40g chocolate bar – 74% higher than one would pay for the same item in a supermarket. A serving of cup noodles varies between S$2 and S$5 depending on the airline and brand, a mark-up of between 222% and 317% over the average supermarket price.
Cashing in on beverages
The price of alcoholic drinks on board is anything but relaxing. A small 330ml can of beer costs up to S$8 on low-cost carriers, compared to S$3 or under in most supermarkets. Interestingly, JetStar Asia, Tigerair and Scoot charge S$6, S$7 and S$8, respectively, for the same popular brand of Japanese beer, a mark-up of over S$160% on average, when compared to purchasing the same can at the supermarket.
Getting overboard with drinks prices
Even non-alcoholic drink prices are sure to give fliers a financial hangover. An identical bottle of water (330ml) costs up to S$4 on board compared to just S$1.40 at a supermarket, representing a 562% mark-up on average. A 330ml can of cola or a sports drink will also set travellers back; costing S$4 on each of the four major low-cost carriers flying from Singapore – a 433% mark-up, on average, over supermarket prices on the ground.
Debby Soo, KAYAK Vice President APAC said, "Low-cost carriers are providing a service when it comes to food and drink on board, which accounts for some of the mark-ups we see. However, it pays off to plan ahead and eat before you board, especially for short flights. Also, travellers should bring empty plastic bottles through security, into the boarding gates at Changi Airport, and then fill them up at the water fountains in order to stay hydrated economically while flying."
Some of other largest mark-ups
Chocolate powder drink – S$4 (Tigerair/ JetStar Asia) vs S$0.40 – 770%
Crisps (40g) – S$4 (Tigerair/JetStar Asia) vs S$0.90 – 344%
Pretzel sticks – S$4 on (JetStar Asia) vs S$0.95 – 300%
Pulpy Juice (350ml) – S$4 (Tigerair/ JetStar Asia) vs S$1.15 – 247%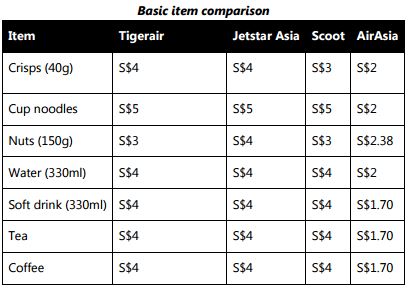 Notes to Editors:
Airline F&B prices are correct as of 16 May 2016 and are based on inflight menus on the airlines' websites. AirAsia prices were supplied in Malaysian Ringgit and converted into Singapore dollars on 16 May 2016. Supermarket prices are based on the best prices found in three main supermarkets in Singapore and were correct as of 16 May 2016. In some cases, prices are based on multi-pack purchases.