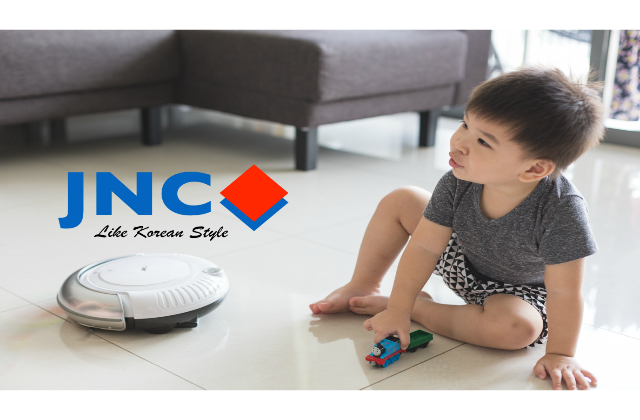 Let's face it. Many of us work full-time and dread doing household chores after work.
Even if you can afford to spare an hour of your time cleaning up the house, it's not worth the effort considering you'd end up getting yourself drained before you can spare some time with your loved ones.
Fortunately, with the advent of technology, man created machines to lend us a helping hand. Then came robots — which are designed to automate the entire process and bring about efficiency.
There are already many robots out there in the market, and they are usually priced at an amount that are out-of-reach for the average consumers. Will you pay a thousand dollars on an equipment that you are not familiar with without second thoughts? Unlikely. And that's why many of us are still doing our chores manually.
It's no longer the case when JNC, a Korean lifestyle brand, introduced the JNC IQ Robot Vacuum Cleaner II. At first glance, it looks like those robots that are already in the market, except for being more affordable — costing S$128.00 on Qoo10. (RSP S$229.00)
The question is how will this gadget performs when put to task — to sweep, mop and vacuum? Let's find out.
1. Ease of installation
It comes packed in its original box and items are packed neatly in various compartments. Once opened up, you will find brush, filter, cleaning cloth, battery, charger and spare expendable parts. It took us no longer than 5 minutes to set it all up. There is a user manual that show you some guidance on where to fit the battery.
2. Ease of use

Well, using the robot is as simple as just a touch of a button. In this version of the IQ Robot, you just need to push the power on button and it will automate itself to move around the house. It has various sensors installed to avoid staircase or steps, re-navigating itself when it hits an obstacle and so on — making it a fuss-free affair. Its simplicity makes it an ideal gift for my aged parents. Even my kids know how to operate it! (Pss.. they were having much fun observing how the robot intelligently move by itself)
3. Effectiveness
It does it deeds. The robot roams around the house freely armed with two brushes to sweep the floor, a cleaning cloth that mops up any spills and a suction to vacuum the dusts and dirts.
4. Field Test
After letting it operates for a good whole 15 minutes, we stopped the machine and here's what we found:
The cleaning cloth has became dirty after 'mopping' the entire living room
The compartment and filter have trapped a significant amount of hair and dusts.
The vacuum is not too loud as it has a minimal noise technology with at a rated frequency of 50 / 60 Hz.
After 15 minutes of hard work:
That being said, a robot is still a robot and although it performs well to reach otherwise-unreachable-areas i.e under the sofa, there are times where it get stuck in very narrow areas. It is not very common so it's not a big issue. What you can do is after using it a few times, you will find out the soft spots which are "out of bound" for the robot. Simply place a barrier to block it and it's still an incredible machine by itself. You can then leave it running while you go take a shower or make you dinner.
Good news! For a limited time only, Money Digest's readers get an additional 15% off the retail price. Simply like the JNC Facebook page and head down to their store (20 Upper Circular Road, The Riverwalk #02-15 Singapore 058416)!
Show them that you've liked their page upon purchase and enjoy this exclusive promotion! (Pay just S$108.80 instead of S$128.00!) Offer valid from 15 June till 6 July 2016.
*Join their mailing list to receive the latest updates and promotions on JNC products!
(This post is brought to you by BuyHome.sg, the official distributor of JNC Life's products.)