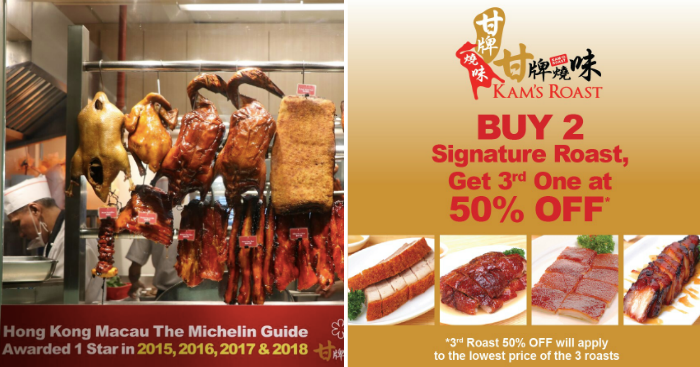 Kam's Roast is set to celebrate its second anniversary on 19 November 2018. To thank its guests for their fervent support, Kam's Roast is holding a special promotion: buy 2 signature roasts and get the 3rd one at 50% off extended till 31 December 2018.
Kam's Roast's Signature Roast Duck has long been a favourite amongst the restaurant's guests. Roasted Cantonese style, the meat is marinated with Kam's Roast time-honoured secret recipe. The duck has ethereally thin skin and succulent, juicy meat. Another perennially beloved dish is the Suckling Pig, which has super crispy and addictive skin. Beneath the skin is a gelatinous texture that brims with collagen.
Iberico Char Siu is also one of the popular roasts. Kam's Roast's innovative chefs use Iberico pork, an award-winning treasure from Spain, to create this dish. The pork is recognised as one of the four global gastronomic delights alongside caviar, foie gras and truffle.  The meat comes from the free-range black hog pigs of the Iberian Peninsula, all fed on a diet of acorns. This high-quality and highly prized meat is marinated and seasoned with a secret blend created by the Kam family, and roasted the traditional way using modern technology. Every slice of the char siu has an enticing ratio of lean meat and fat, and the charred bits add a delightful crunch.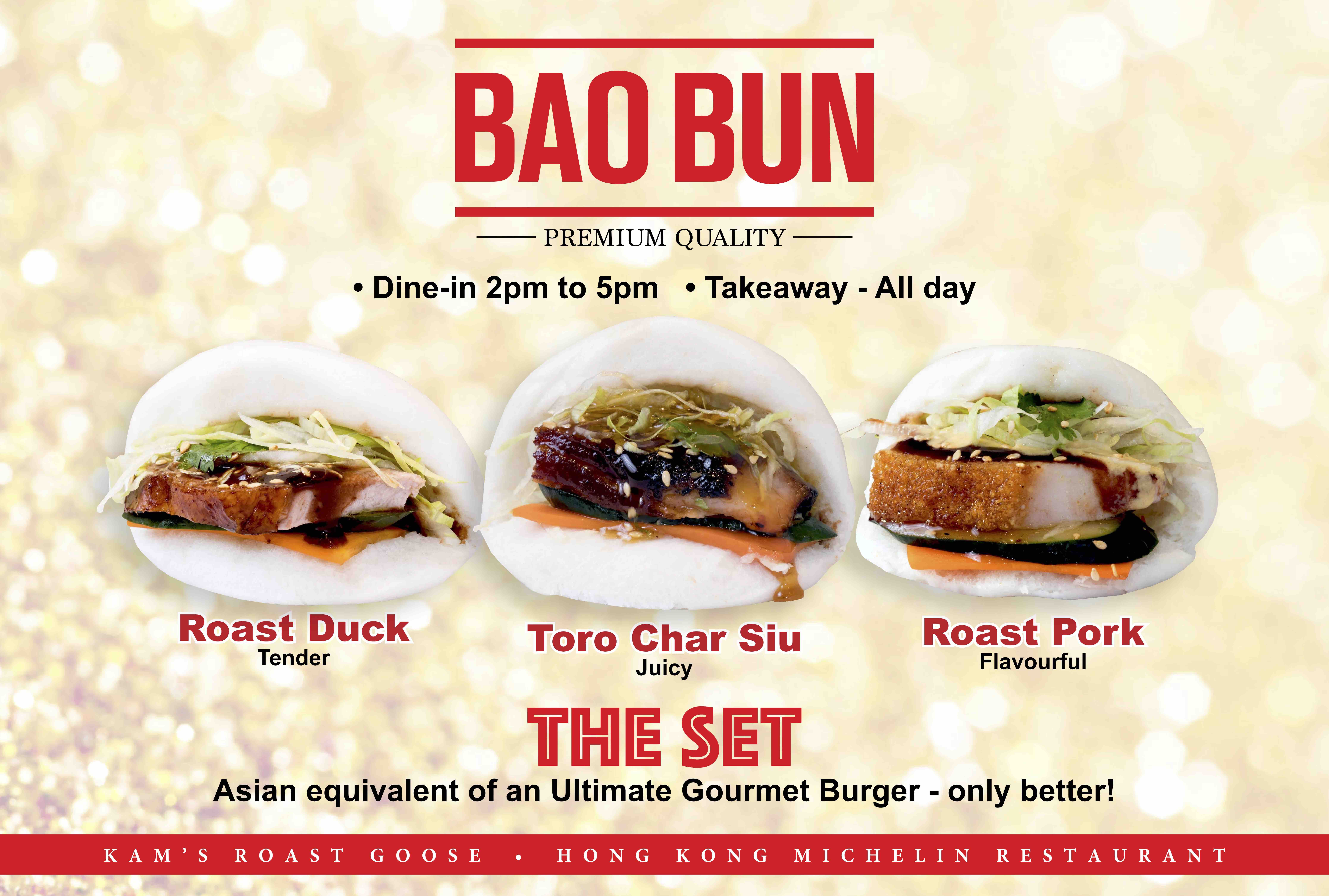 Kam's Roast has also introduced a brand-new dish: Kam's Bao Buns. This irresistible new trio of soft, pillowy buns houses three of the restaurant's signature meats: Kam's Roast's Roast Duck (Promotion: $3.50 per pc, Usual Price: $4.50), prepared with Kam's Roast secret marinade passed down for generations, and then roasted to perfection; perfectly-glazed, melt-in-your-mouth Toro Char Siu    (Promotion: $3.80 per pc, Usual Price: $4.80) and Crispy Roast Pork (Promotion: $3.50 per pc, Usual Price: $4.50) with mustard. The buns are accompanied with fresh lettuce, parsley, cucumber, carrot, sesame seeds and a savoury sweet sauce.
In conjunction with Kam's Roast 2nd Anniversary, Kam's Bao Buns are now available for dine-in! There is also a Dine-in Bao Bun Tea Set (Promotion: $11.80, Usual Price: $16.60) where you can choose any 2 Bao Buns and is inclusive of Chinese Tea and Red Bean Soup. For takeaway, there is a promotion for a set of Kam's Bao Buns (Roast Duck, Toro Char Siu and Crispy Pork) at Promotion Price: $9.80 (Usual Price: $13.80).
Kam's Bao Buns will be available in limited quantities from 17 November for dine-in during tea time (2:00pm – 5:00pm) and for take-away (whole day) at Kam's Roast. It will be officially launched on 19 November 2018. The anniversary promotion price will be offered until 31 December 2018.
Dine-in Prices [Available during tea time 2:00pm to 5:00pm]
| | |
| --- | --- |
| BAO BUN | ANNIVERSARY PROMOTION PRICES |
| Toro Char Siu | $3.80++ (Usual Price: $4.80++) |
| Roast Duck | $3.50++ (Usual Price: $4.50++) |
| Crispy Pork | $3.50++ (Usual Price: $4.50++) |
Dine-in Bao Bun Tea Set Price [Available during tea time 2:00pm to 5:00pm]
BAO BUN
ANNIVERSARY PROMOTION PRICE
Choose any 2 Bao Buns
$11.80++ Tea Set (Usual Price: $16.60++)

Chinese Tea
Aged Orange Peel Red Bean Soup
Take-away [Available whole day]:
BAO BUN
ANNIVERSARY PROMOTION PRICE
Toro Char Siu
$3.80+ (Usual Price: $4.80+)

$3.50+ (Usual Price: $4.50+)

$3.50+ (Usual Price: $4.50+)

Roast Duck
Crispy Pork
Set of 3 at $9.80+ (Usual Price: $13.80+)