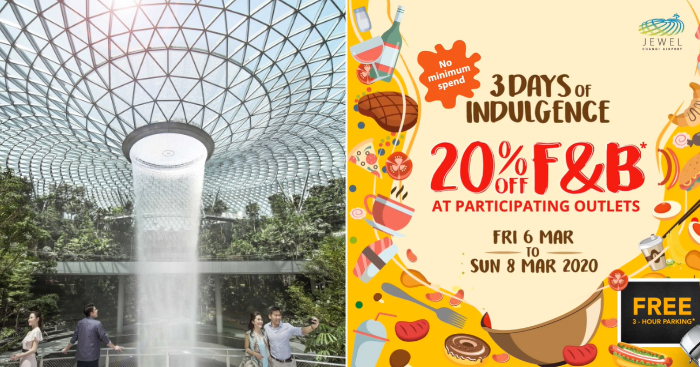 For 3 days only, enjoy 20% OFF when you dine at participating F&B outlets with no minimum spend! In addition, get 3-hour FREE parking at Jewel (B3 – B5 only) with one minimum receipt of $10.
Valid at the following restaurants and cafes in Jewel Changi Airport:
Andersen's of Denmark
Arteatiq
Café Amazon
Cafe Moz Morozoff
Café&Meal MUJI
Cedele Bakery Kitchen
Commons
d' Good Café
dal.komm COFFEE
Dian Xiao Er
Earle Swensen's
Elfuego by Collin's
Four Seasons Restaurant
Gochi-So Shokudo
Herit8ge – 回忆
Jack's Place
Japanese Soba Noodles Tsuta
JUMBO Seafood
Kam's Roast
Lady M
Maison de PB
nectar
Paris Baguette Signature
PAZZION Café
Perch
PINK FISH™
PizzaExpress
Pizzamaru
Pow Sing
Privé
Sankranti
Shang Social
Suage Hokkaido Soup Curry
Tanuki Raw and The World is Flat
Tapas Club
TONITO
Tonkatsu by Ma Maison
Violet Oon Singapore
White Restaurant
Yun Nans 云海肴.
Terms & Conditions
Promotion period is from 6 to 8 March 2020, unless otherwise stated.
Promotion is valid for dine-in only at the following participating F&B outlets:
Andersen's of Denmark, Arteastiq Bistro, Café Amazon, Cafe Morozoff, Café&Meal MUJI, Cedele Bakery Kitchen, [email protected], Commons, d' Good Café, dal.komm COFFEE, Dian Xiao Er,Earle Swensen's, Elfuego by Collin's, Four Seasons Restaurant, Gochi-So Shokudo, Herit8ge – 回忆, Jack's Place, Japanese Soba Noodles Tsuta, JUMBO Seafood, Kam's Roast, Lady M, Maison de PB, nectar, Paris Baguette Signature, PAZZION Café, Perch, PINK FISH™, PizzaExpress, Pizzamaru, Pow Sing, Privé, Sankranti , Shang Social, Suage Hokkaido Soup Curry, Tanuki Raw and The World is Flat, Tapas Club, TONITO, Tonkatsu by Ma Maison, Violet Oon Singapore, White Restaurant, and Yun Nans 云海肴.
The list of participating outlets in this promotion is subject to change by JCAT at its discretion without prior notice.
Please check in-store for the respective F&B outlet's full terms and conditions and operating hours.
*Please click here for the full list of Terms and Conditions
*Please click here for respective store's Terms and Conditions