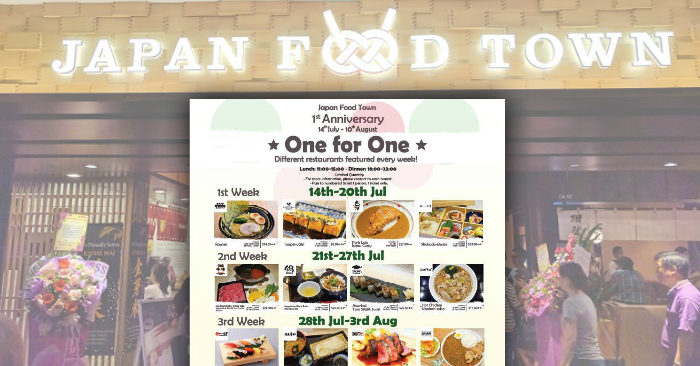 Japan Food Town is excited to announce it is celebrating its first anniversary from 14th July until 10th August. It is delighted to have, over the past one year, won the hearts of gourmands with its eclectic range of Japanese dishes and be an address where friends and families can discover culinary experiences and create new memories.
To commemorate this special occasion, it will hold its first-ever one-for-one promotion for the span of a month! Sixteen restaurants are poised to lend muscle, and each one offers a classic dish from Japan.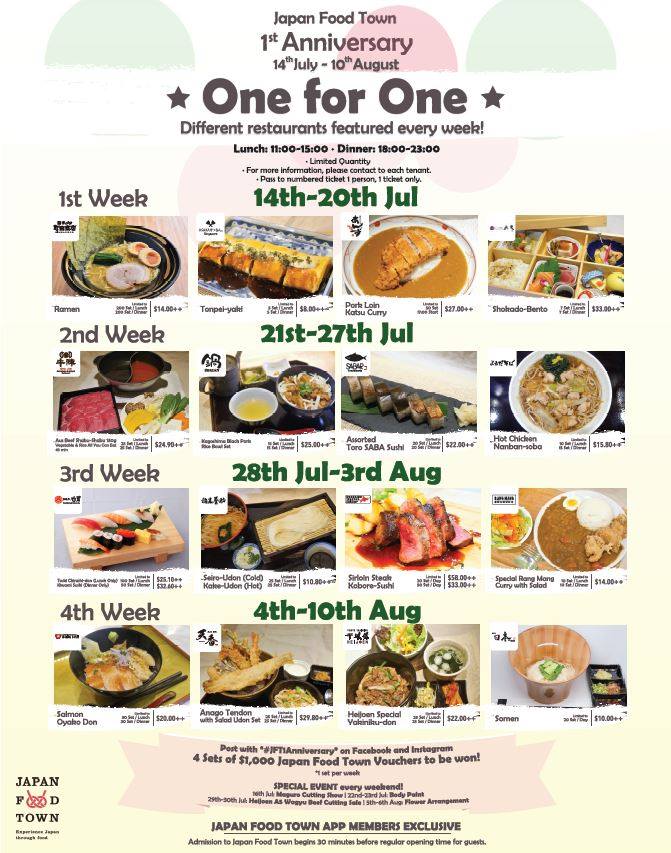 The 16 participating restaurants and their one-for-one dishes are as follows:
Other than the one-for-one promotion, Japan Food Town will also be hosting special events during the four weekends:
16 July, 5:30pm Japanese Maguro Cutting Show: Members of the public will get to watch top-quality maguro specially imported from Japan and sliced by the masters from Sabar. This is held in conjunction with Japan Food Town's birthday!
22 – 23 July, 12pm; 5:30pm Body Painting: With the help of Japanese body jewellery artist ZUNKO, decorate your body with interesting motifs such as sushi and cartoon characters.
29 July, 1pm; 30 July, 5:30pm Beef Cutting Show & Selling: Witness the exciting cutting of A5-grade Japanese wagyu (Nozaki beef) by Yakiniku Heijoen's chefs. The lean meat is specially imported from Japan, and is very delicious. Every part includes an adequate amount of fat, which has a lingering sweetness. The cows are fed grains rich in carbohydrates, such as rice and barley, and hence their meat have a high glucose content. .
5 – 6 August, 2pm; 4:30pm Flower Arrangements: One of Japan Food Town's partners, One Olive Floral Boutique will conduct a special flower arrangement lesson. Learn how to make exquisite floral arrangements from the talented florists.
Japan Food Town is also holding an exciting Facebook and Instagram contest. Simply post celebratory entries with #JFT1Anniversary and stand a chance to win S$1,000 vouchers. There are four sets of vouchers to be won.
For more information and updates, please visit
Website: http://www.japanfoodtown.sg/
Facebook: https://www.facebook.com/japanfoodtown/
Instagram: https://www.instagram.com/japanfoodtown/