With the launch of Chope vouchers two years ago, Chope has helped diners save more than $1.5 million dollars through discounted vouchers.
Starting from 24 May 2018, Chope is enabling more ways to save. With the introduction of off-peak dining vouchers, diners can now expect to save up to 50% off at over 130 top restaurants in Singapore by dining at selected timings!
Simply visit Chope Deals or launch Chope's newly revamped app to purchase the dining vouchers and secure great discounts!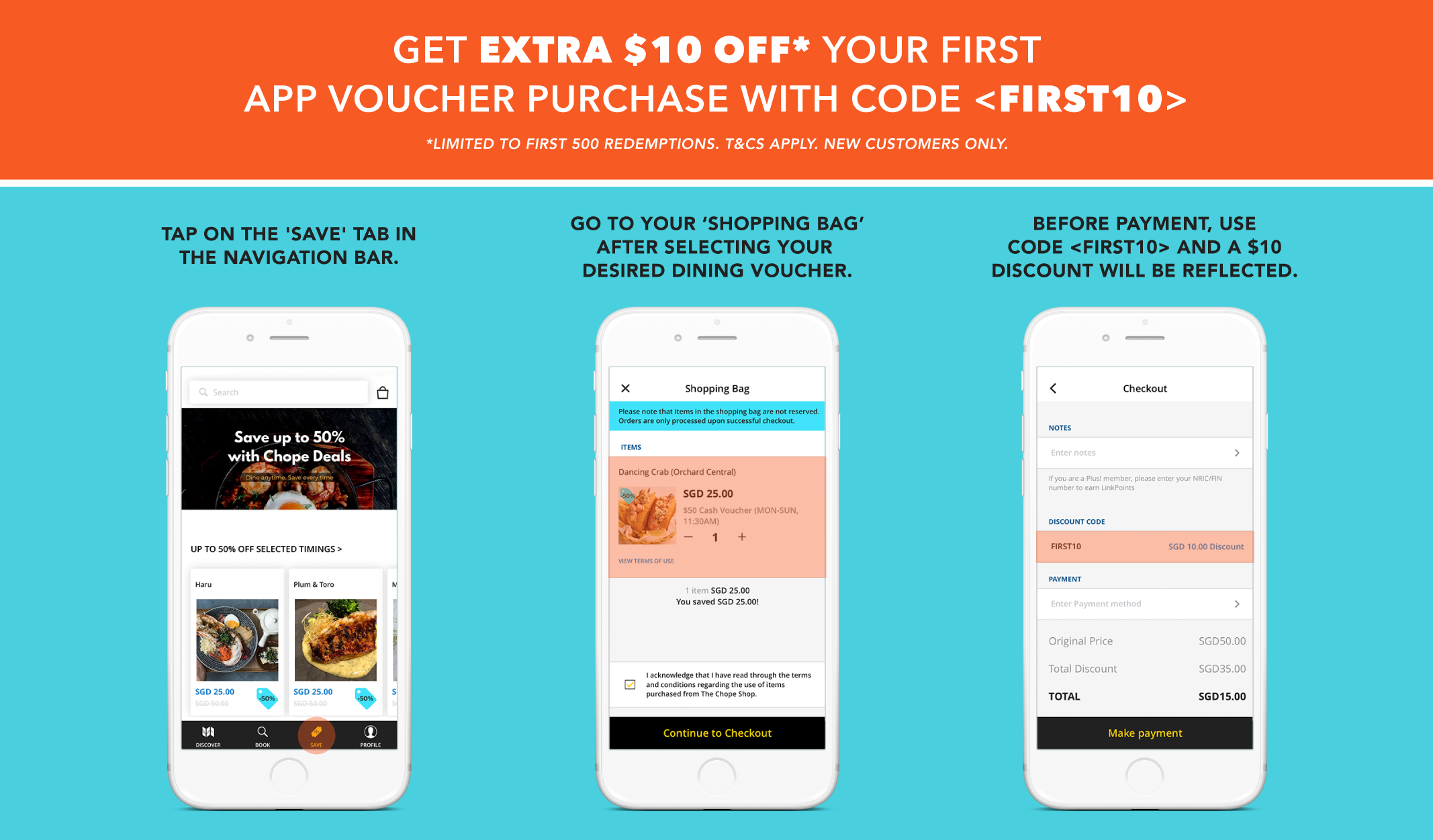 What's more, customers who make their first purchase can get an extra $10 off* with the discount code <FIRST10>, through the Chope app.
How it works
Here's how you can purchase the dining vouchers on Chope in 3 easy steps.
Head to Chope Deals or Chope's mobile application to pre-purchase dining vouchers for your desired restaurants. You may either purchase these vouchers before, or after making your Chope reservation at the selected restaurant.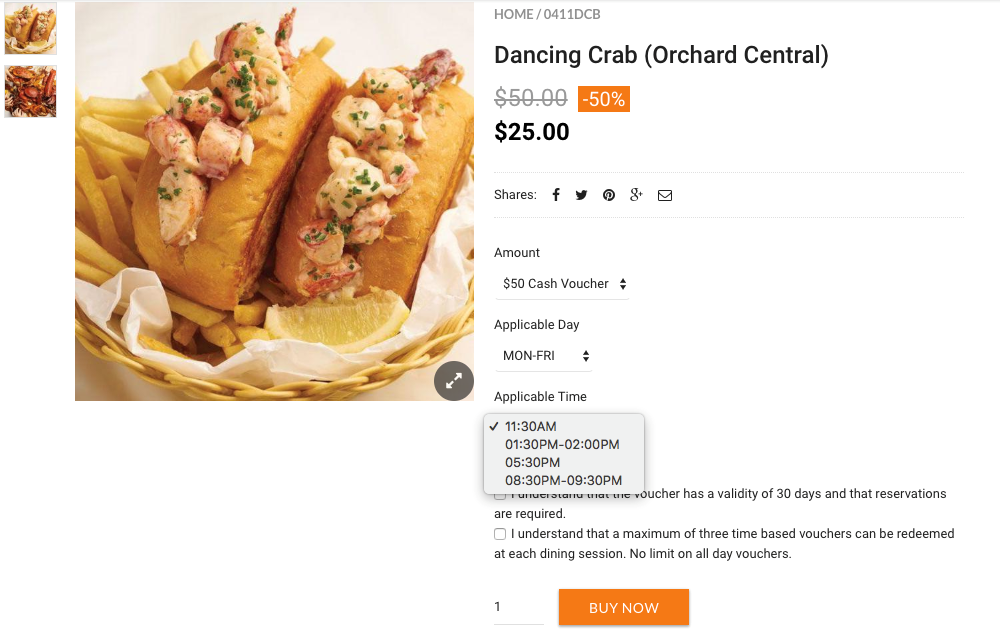 Step 1: Choose your preferred restaurant and time on our Chope Deals website or Chope App (from the "Save Tab"). Note that the day and time displayed refer to the start of your reservation time and not dining duration.
Step 2: Pre-purchase discounted dining vouchers and instantly receive your Chope Vouchers by email and app.
Step 3: Simply present your voucher prior to ordering, and pay with your Chope Vouchers to enjoy your discount!
Participating Restaurants
There are more than 130 restaurants that are offering these massive discounts. Wherever you go, whatever the occasion, there is always a place for you to redeem these deals.
Here are some of the participating outlets:
1. JUMBO Group restaurants
JUMBO Group is running a promotion from now till 14 September as part of their launch on Chope Deal.
ALL JUMBO restaurants' off-peak dining vouchers are going at a whopping 50% off!
Restaurants under the JUMBO Group include:
JUMBO Seafood East Coast
JUMBO Seafood Riverside
JUMBO Seafood Gallery
JUMBO Seafood NSRCC
JUMBO Seafood Dempsey
JPOT Tampines 1
Chui Huay Lim Teochew Cuisine
Singapore Seafood Republic
NG AH SIO Bak Kut Teh (Keng Lee)
NG AH SIO Bak Kut Teh (Rangoon)
2. Dancing Crab – Up to 50% Off
3. Uncle Leong Seafood (Punggol) – Up to 50% off
4. Wine & Chef – Up to 50% Off
5. 49 Seats – Up to 50% Off
6. Shin Yeh – Up to 50% off
7. Park Bench Deli – Up to 35% Off
8. The Fabulous Baker Boy – Up to 35% Off
9. Zafferano – Up to 35% Off
10. Osteria Art – Up to 35% Off
11. The Palmary – Up to 35% off
12. Ninja Bowl – Up to 35% Off
13. Aura – Up to 35% Off
14. Gudetama Cafe Singapore – Up to 35% Off
15. REDPAN – Up to 35% Off
16. Plentyfull – Up to 35% Off
17. Majestic Bay Seafood Restaurant – Up to 25% Off
18. No Signboard Seafood – Up to 20% Off
Full list of participating restaurants can be found here.
With these dining vouchers, there are more reasons to enjoy quality restaurants at affordable prices. You can book, discover, and SAVE smarter, so every dining experience becomes more memorable for you and your closed ones.
*T&Cs apply.