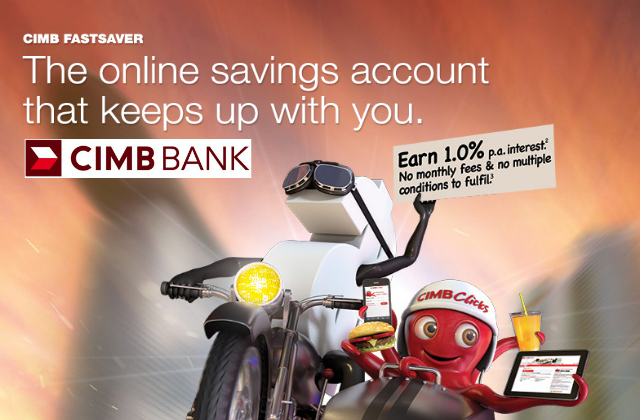 Designed with the digitally-savvy, time-starved working professional in mind, CIMB Bank Singapore has today announced the launch of CIMB FastSaver – an online savings account that not only frees customers from the hassle of being physically present at the branch for account application, it also surpasses many other savings accounts in the market with the 1.0% p.a. interest rate it is offering.
Payable from the first dollar, the high interest rate of 1.0% p.a. applies to the first S$50,000 without imposing on the customer a myriad of other mandatory conditions including chalking up a minimum monthly spending on one's credit card, performing a certain number of banking transactions, etc. Beyond the first S$50,000, a 0.6% p.a. interest applies on the remaining deposit balance. As long as S$1,000 is maintained in the CIMB FastSaver account on any given day, interest will be paid on the daily balance and there will be neither monthly fee nor fall-below fee regardless of the total deposit amount.
Created for maximum simplicity and ease, the new CIMB FastSaver also allows customers to do away with branch banking completely by conveniently applying for the account online via www.cimbbank.com.sg/fastsaver. Upon submission of the application, the customer will receive their account number instantly – onscreen and via email. Thereafter, they can easily use FAST (Fast and Secure Transfers) via Internet banking to transfer the minimum deposit of S$1,000 instantaneously from their account with another bank into CIMB FastSaver to start earning interest. Doing away with the need for queueing at the bank to carry out transactions, CIMB FastSaver provides customers with easy access to view their account and perform transactions anytime and anywhere via CIMB Clicks Internet Banking or CIMB Clicks on Mobile.
Coreen Kwan, Head of Retail Banking at CIMB Bank Singapore said, "As one of the world's highest penetrated markets for Internet and mobile usage, it is no surprise that online banking is fast becoming a norm in Singapore. The introduction of CIMB FastSaver thereforeenables us to bring greater ease and convenience to our customers who prefer to bank from the comfort of their own home or on the go. Furthermore, we are able to pass on the savings achieved from the reduced operational costs at the branch by rewarding customers with an attractive 1.0% p.a. interest – a rate that's practically unheard of in Singapore today for a basic savings account, without multiple conditions to fulfil."
For new customers who sign up for a CIMB FastSaver account by 31 October 2015, CIMB Bank will further reward them with cash credit for their initial deposit amounts: S$10 for S$1,000, S$50 for S$10,000 and S$100 for S$25,000. To qualify for this promotion, customers need to transfer the required minimum initial deposit amount into CIMB FastSaver within seven calendar days after account opening. The qualifying deposit amount must also be maintained for a minimum period of six months.

For more information on CIMB FastSaver, customers can log on to www.cimbbank.com.sg/fastsaver or call CIMB At-Your-Service at +65 6333 7777.
Visit http://cimbbank.com.sg/pdf/fastsaver.pdf for full terms and conditions of the promotion.