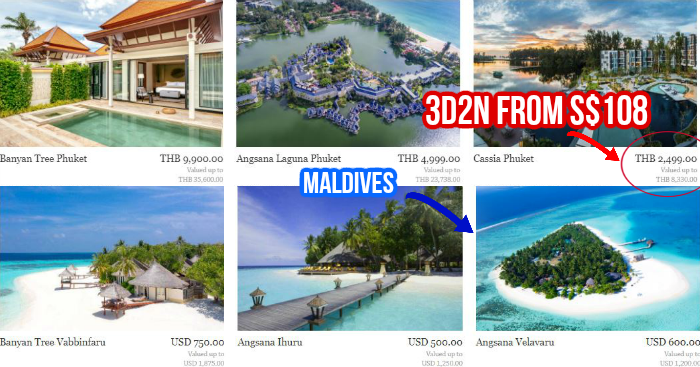 Save up to 78% with these crazy offers
Plan your next vacation with Banyan Tree Hotels & Resorts. Most of us can't wait to travel once the pandemic is over, and so are we.
Banyan Tree Hotels & Resorts understands this and would like to address the suppressed wanderlust in us with a once-in-a-lifetime deal. Exclusively from now till 6 May 2020, guests can now purchase 3Day-2Night packages at selected resorts in the form of a gift certificate for stays from now till 20 December 2021.
With price starting from USD77 (~S$108) for a 3D2N package, it is simply too good to be true. Enjoy savings of up to 78% at the following resorts in Phuket, Bangkok, Bintan, Lăng Cô and Maldives:
Banyan Tree Phuket – THB9,900 (U.P. THB35,600)
Angsana Laguna Phuket – THB4,999 (U.P. THB23,738)
Cassia Phuket – THB2,499  (U.P. THB8,330) 😲
Banyan Tree Bangkok – THB7,650 (U.P. THB15,300)
Banyan Tree Bintan – S$480 (U.P. S$1,720)
Angsana Bintan – S$240  (U.P. S$588)
Cassia Bintan – S$140 (U.P. S$480)
Banyan Tree Lang Co – USD380 (U.P. USD1,159.50)
Angsana Lang Co – USD180 (U.P. USD515.80)
Banyan Tree Vabbinfaru – USD750 (U.P. USD1,875)
Angsana Ihuru – USD500 (U.P. USD1,250)
Angsana Velvaru – USD600 (U.P. USD1,200)
Click here to purchase now: www.banyantree.com/UltimateGetaways

Some of the packages include daily breakfast for 2, afternoon tea for 2 and more.
What a deal.