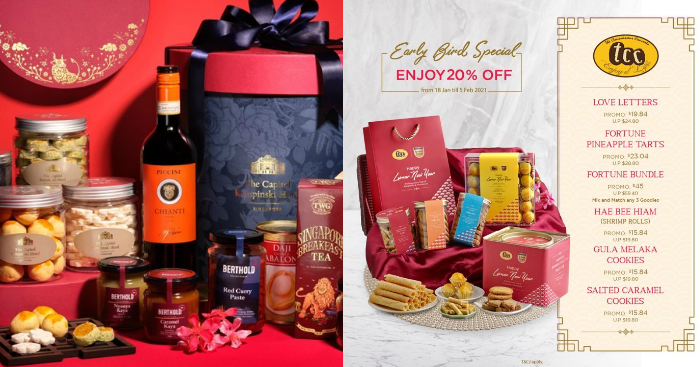 Near or far, make your Chinese New Year extra huat this year with these thoughtful gifts. We've lined up some of the best gift ideas for your foodie friends so you don't have to rack your brains. Surprise your friends and family with the classic yet elegantly decorated hamper or with delicious goodies to munch on. From cakes in special Chinese New Year flavours to healthy zero-sugar snack alternatives, there is something for everyone!
1. Seriously Keto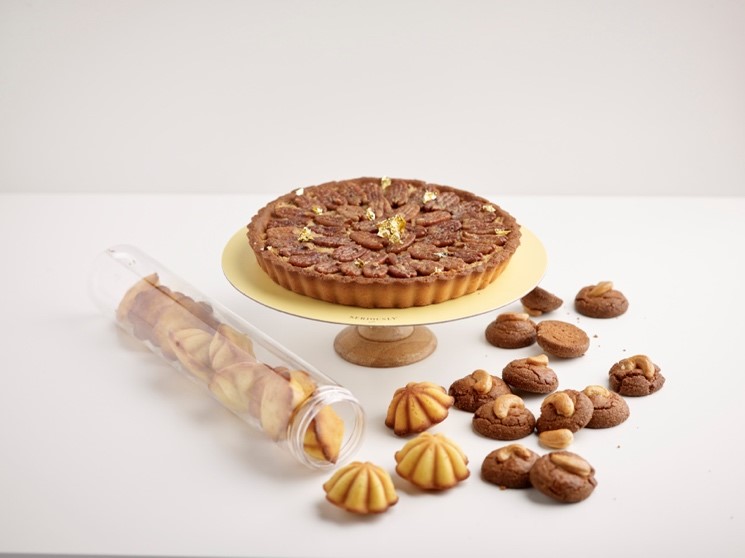 Singapore's first wholly ketogenic bakery, Seriously Keto, is providing an array of healthier choice bakery offerings of low carbs, gluten-free and zero sugar sweets and savouries to desserts and pastries lovers. Their Chinese New Year collection features the quintessential classic such as Cashew Cookies (20 pcs per jar, $19.80), Kueh Buloh (12 pcs per jar, $16.80), and a savoury dessert with a local twist Pecan Coconut Tart ($88.80).
Also get the Seriously Prosperous Bundle – $118.80: featuring all three items for all the snack lovers out there!
Available from 11 January till 11 February 2021 via seriouslyketo.com and in-stores.
2. The Real Peranakan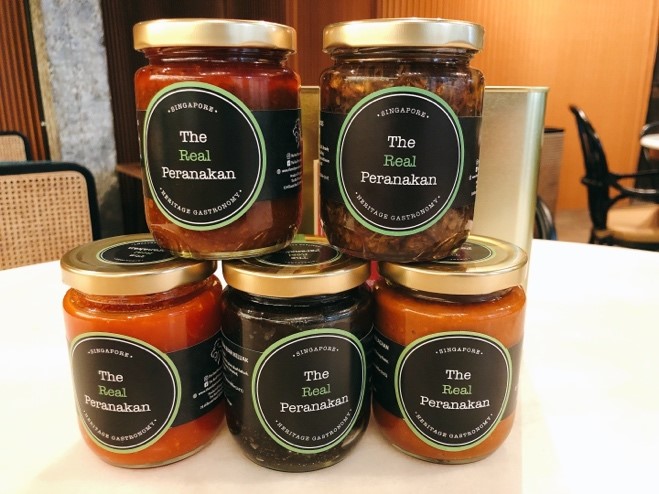 Wait no longer for Chef Philip's 5 Specialty Sauces, an intense concentrate of his labour of love, bottled for sale! With The Real Peranakan, add a dash of piquant Peranakan flavours minus the days-long prep work to up the ante this Chinese new year. Sauces available include the Babalicious XO Sauce ($32.00++/250g) made from only the best premium dried prawns from Penang, TRP Famous Sambal Belachan ($18.00++/250g), the spicy and sweet Specialty Sambal Ikan Bilis ($19.00++/250g) as well as the Exclusive Sambal Buah Keluak ($28.80++/250g) which showcases a full-bodied blend of TRP Famous Sambal Belachan and Chef's signature Buah Keluak recipe. Not forgetting the All-Purpose Dipping Sauce ($18.00++/250g), a distinct herbal flavour with slight tangy notes from lime juice that pairs wonderfully with fried foods and is sure to be an instant crowd favourite!
Artisanal small batch Yuzu Pineapple Tarts ($38.80/390g) are available as well, limited to 500 bottles. Golden Pineapple Balls ($24.00), Vegetarian Almond Cookies ($16.00), Delectable Love Letters ($18.00) and Shrimp Rolls ($14.50) are also available too.
Available for pre-order in-stores, or over the phone at +65 9783 1118, while stocks last.
3. 3. Ah Mah Homemade Cakes
Although gatherings continue to remain intimate this Chinese New Year, show care from afar with these adorable goodies from Ah Mah! Bundle up both Moo Moo Cookies and Sunflower Cookies ($28.80) or savour the fluffy and fragrant CNY Orange Castella Cake ($12.80).
Irresistibly cute, Ah Mah's Moo Moo Cookies ($15.80/bottle) are made with premium butter and boasts a filling of delectable pineapple paste. For those who nibble off the crumbly butter pastry leaving the sticky pineapple paste left uneaten, Ah Mah has thoughtfully included more addictive heart-shaped and lucky four-leaf clover butter cookies to satisfy those munching craves!
A quintessential festive treats to have at the table this Chinese New Year, Ah Mah's pocket-friendly Sunflower Cookies ($12.80/bottle) are mildly sweet, open-faced pineapple tart.
Available in-stores and online at www.ah-mah.com.sg, with free islandwide delivery with a minimum order of $80.
4. Châteraisé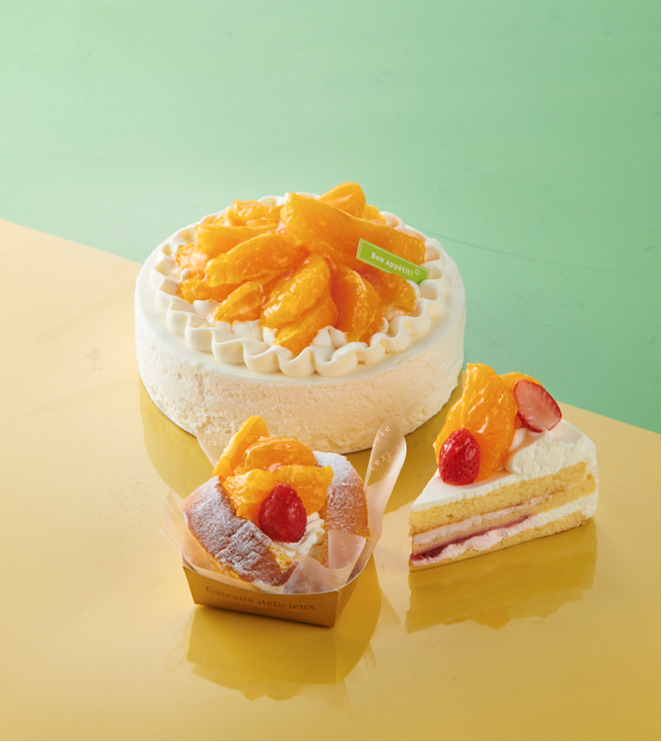 Châteraisé presents the New Sumo Citrus Range to Usher in an 'Ox'-picious 'Niu' Year! Their latest product range – Sumo Citrus (Shiranui) – symbolises good luck as we usher in the New Year. Produced in Kumamoto Prefecture, Japan, these legendary Sumo Citrus or oversized mandarins are a hybrid of Kiyomi and Ponkan mandarins. They are celebrated for their exceptional sweetness and so named for the distinctive "top knot" said to resemble that of a sumo wrestler. Only available in season for four months out of the year from January through April, the exclusive Sumo Citrus boasts unmatched sweetness and incredibly juicy pulp with a refreshing slight tartness, and 1.6 times more Vitamin C than the usual mandarin oranges!
Châteraisé showcases the Sumo Citrus in eight individual sliced variants, as well as in whole cakes and a tart, starting from $5.10 for a sliced cake.
Available from 22 January 2021 (Friday) to 28 February 2021 (Sunday), and are also available for pre-order online at https://chateraisesg.getz.co/
5. The Capitol Kempinski Hotel Singapore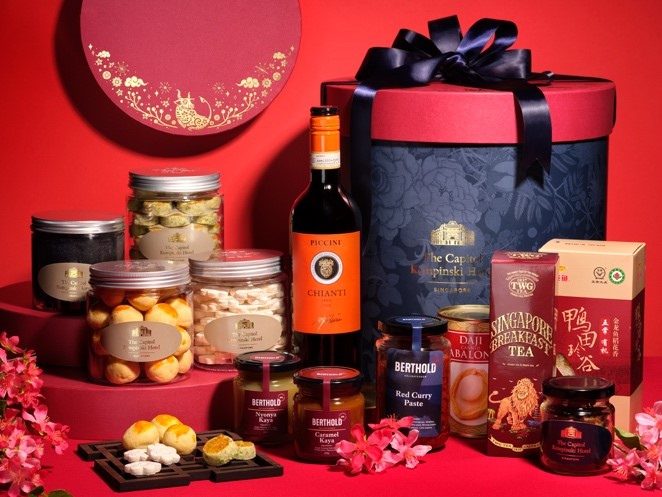 If you can't visit your loved ones this Chinese New Year, show that you're still thinking of them with The Capitol Kempinski's CNY Prosperity Hamper from $288+ (Petite) and $388+ (Grand). Cocooned within an elegant barrel box are quintessential favourites including pineapple tarts, kueh bang kit and green pea cookie — along with premium must-haves like canned abalone, dried oyster and dried black moss. The hamper is completed with a box of TWG tea leaves and a luxuriant bottle of red wine.
Available for pre-order from now till 26 February 2021, with an advance order of at least 3 days. Collection starts from 10 January 2021. 15% Early Bird Privilege applies to all advanced online shop purchases at shop-capitolkempinski.com until 3 February 2021 only.
6. Joy Luck Teahouse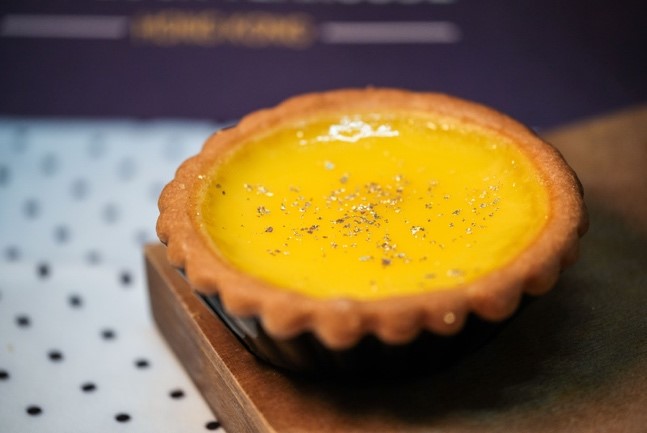 Joy Luck Teahouse launches Chinese New Year exclusive Gold Egg Tarts for the first time – perfect for gifting this festive season!
From 22 to 24 January 2021, Gold Egg Tarts will be exclusively available at Joy Luck Teahouse's newest outlet at Parkway Parade, and will be available at all outlets from 25 January 2021, while stocks last. Prices are as follows:
1 piece: S$6
4 pieces: S$22.80 ($5.50 /pc)
6 pieces: S$28.80 ($4.80/pc)
Pre-order the Gold Egg Tarts here: http://bit.ly/joyluckpreorder
7. Paradise Group of Restaurants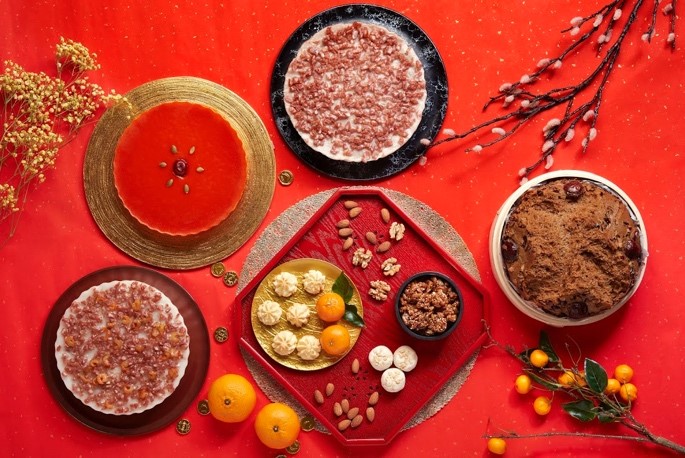 Liven up the Lunar New Year festivities with Paradise Group's special handmade CNY goodies such as Steamed Yam Cake with Chinese Sausage, Golden Fa Gao with Red Date, Steamed Nian Gao with Coconut Milk, and Steamed Carrot Cake with Chinese Sausage. Weighing 1.2kg each, the yam and radish used in its festive cakes are freshly minced upon production. Each festive cake is priced at $29.80, or get the Festive Cake Trio Set (Steamed Yam Cake with Chinese Sausage, Steamed Nian Gao with Coconut Milk, and Steamed Carrot Cake with Chinese Sausage) at $86.80 (PGR member price: $72.80).
There is also a Festive Goodies Trio Set which comes with addictive Nutty Almond Cookie, Butter Cookie, and Honey Sesame Walnut ($56.80, PGR member price: $48.80).
Available for takeaway at Canton Paradise, Beauty in The Pot (The Centrepoint) and Paradise Dynasty outlets only from 7 January 2021 onwards, while stocks last. Kindly take note that festive cakes are chilled at the point of collection, and require reheating before consumption.
8. The Connoisseur Concerto (tcc)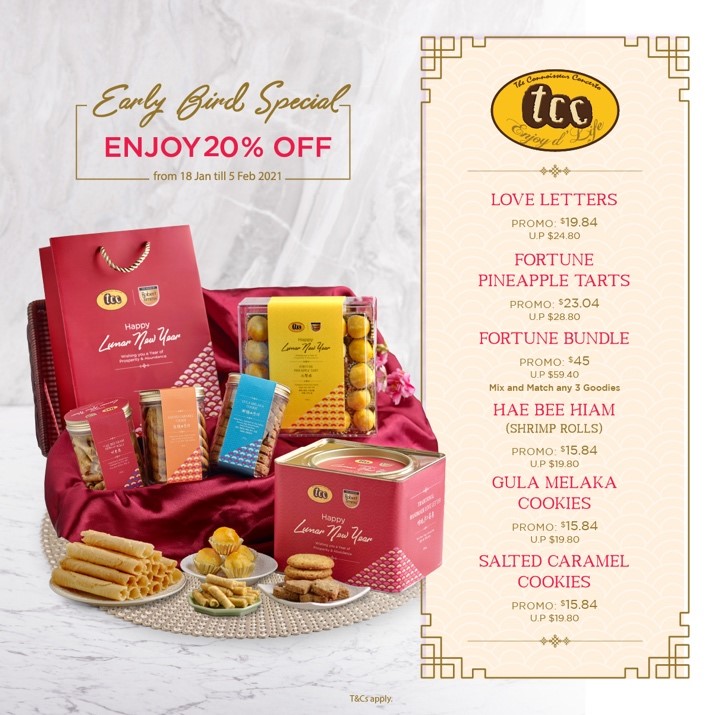 Besides auspicious seasonal dishes and beverage, tcc will also unveil contemporary classic Chinese New Year goodies that will enliven any house party! Goodies include Love Letters (S$24.80+/380g),
crumbly and buttery Fortune Pineapple Tarts (S$28.80+/400g), the crunchy and irresistible Hae Bee Hiam (Shrimp Rolls) (S$19.80+/250g), Gula Melaka Cookies (S$19.80+/250g) and the melt-in-your mouth Salted Caramel Cookies ($19.80+/150g)!
Save a fortune with the Fortune Bundle at S$45+ (U.P S$59.40+); simply mix and match any 3 CNY Goodies: Shrimp Rolls/ Gula Melaka Cookies/ Salted Caramel Cookies and let tcc pack them up in a handy and festive packaging for you.
Available from 18 January 2021 to 5 February 2021 at https://order.theconnoisseurconcerto.com/, pre-order and enjoy 20% off with the early bird offer on Chinese New Year Goodies.