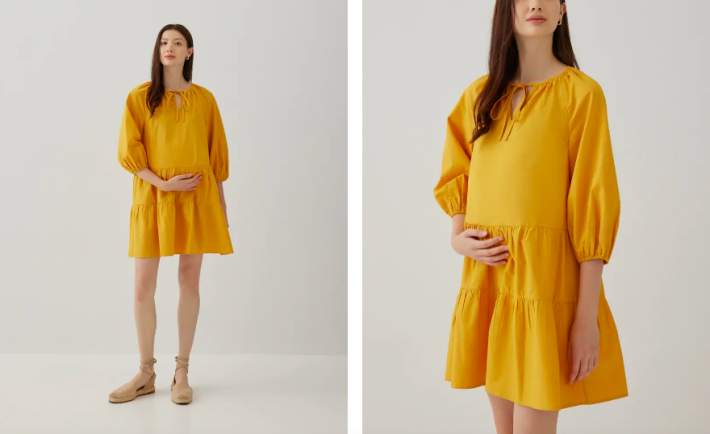 Image Credits: lovebonito.com
Soon-to-be mummies, pregnancy doesn't mean you can't stay stylish.
We know it's not always easy to feel chic with a baby bump, but we've got some fantastic news for you.
We've curated a list of gorgeous maternity outfits, all under $60, to ensure you look as radiant on the outside as you feel on the inside during this special time.
From comfortable yet fashionable pieces that will flaunt your growing belly, we've got you covered.
Price: $34.90 (was $49.90)
This plunge-neck maternity dress makes pregnancy fashionable. Its deep v-neckline and empire waist celebrate your curves in all the right places, while an adjustable side zipper expands to accommodate your growing belly.
Made of a poly-elastane blend, this dress moves with you through all stages of pregnancy and beyond. The classic plaid print and maroon color add stylish versatility to your wardrobe. 
With its timeless print, this dress is a wardrobe workhorse right up until delivery and beyond. Throw it in your overnight bag for the hospital too—you will want something cute in the days after the baby arrives.
Price: $50.90
This versatile nursing dress is your stylish secret weapon for new motherhood. Its playful curve empire waist provides a flattering silhouette while discreetly accommodating your pre and postpartum figure.
A front zipper offers easy nursing access when it's time for a feeding, then zips back up for a put-together look that works as well for the playground as the office. Made from a breathable crease-resistant fabric, this dress keeps you cool and polished on even the most sleep-deprived days.
Whether you're meeting friends for brunch, heading to a work meeting, or running errands around your neighborhood, this pretty dress has you covered with its winning combination of form, function, and effortless style.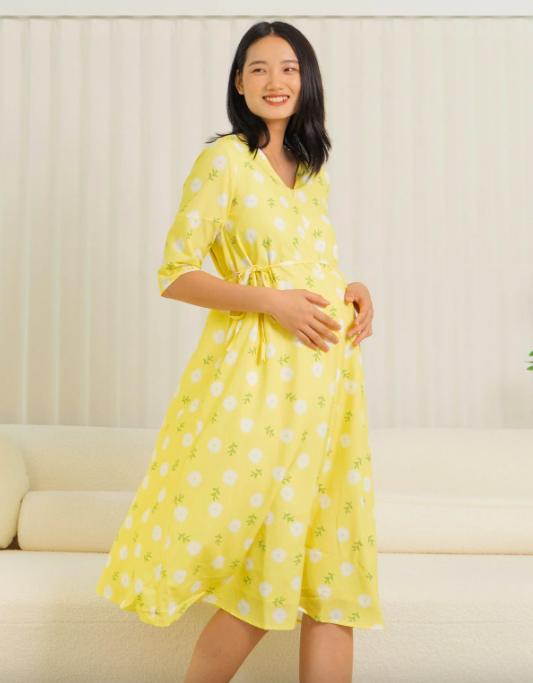 Price: $51.90
This dress is lovely for a mum looking for a fresh summer look. Its vertical zipper makes for easy breastfeeding on the go, and the bold floral prints evoke feelings of flower power and new life.
Even better, this stylish number comes with a bonus twinning dress for your little princess so you can both blossom in style: Aubrey Flare Girl's Dress ($33.90).
Whether you're strolling through the park or enjoying a sunny brunch with the hubby, this breezy flare dress is ideal for effortless summer days. Pair it with sandals or wedges and oversized sunglasses for a look that's practical, fashionable, and unmistakably mummy.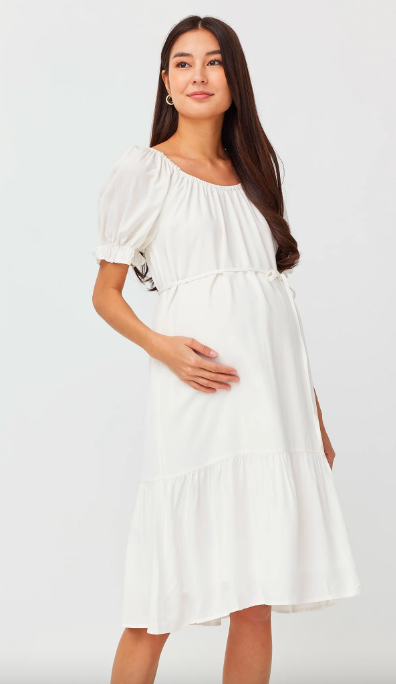 Price: $52
Keeping up with your growing bump just got easier with this versatile Davina dress. The pull-down elastic neckline provides discreet nursing access whenever needed, while the detachable sash allows you to tie it tighter or looser as your belly expands and contracts.
Made with a smooth polyester lining, it's comfortable enough for all-day wear whether your shoulders are covered or left bare by the versatile off-the-shoulder design.
Best of all, between the elastic neck and adjustable sash, this nursing dress grows along with you—so you can look put together through each trimester. No immediate wardrobe changes are necessary pre and post-pregnancy with this pretty number.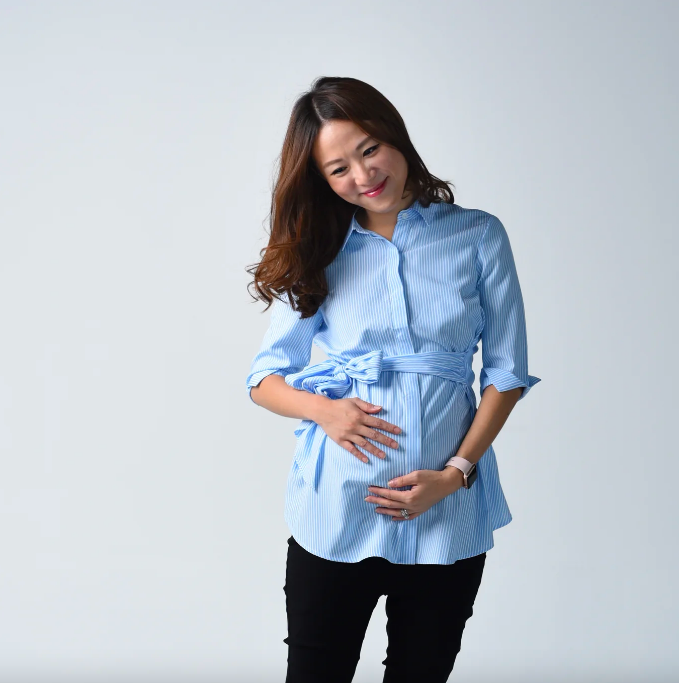 Price: $52.90
Even expecting moms deserve stylish workwear that's not in a dress form. Look sharp at the office during pregnancy in this chic maternity shirt. Made of breathable cotton, it boasts timeless stripes and a cut that comfortably fits your changing shape.
An attached waist-tie sash allows you to accentuate your curves, while the flexible design ensures this top transitions seamlessly into post-pregnancy wear. No more struggling to find professional attire that actually fits—this maternity must-have has you covered through all three trimesters and beyond.
Whether you're leading an important internal presentation or meeting a client, this versatile shirt helps you maintain your girl boss style with minimal fuss.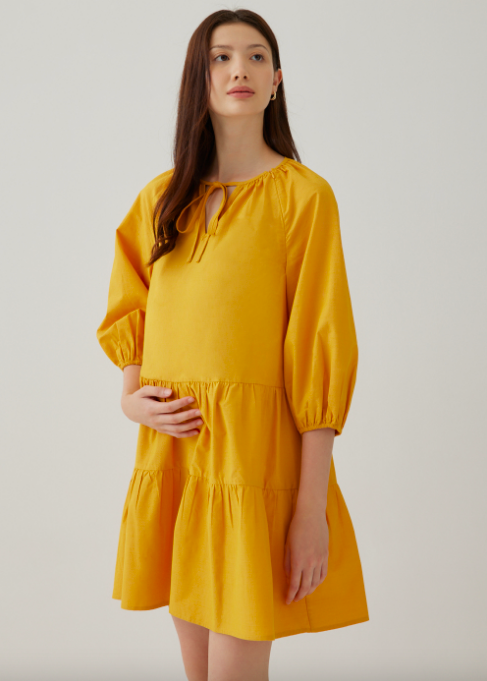 Price: $55
As we come to a close, make this Morgana's dress your new favorite maternity frock for warmer days ahead.
Crafted from textured cotton that's as comfortable as it looks, this frock features a notched neckline and relaxed swing silhouette to flatter your changing shape. Helpful raglan seaming and side pockets hold all your essentials within easy reach, whether nursing or on-the-go with older kids.
Available in rich butternut or classic black, this dress transitions seamlessly from morning to nightfall. For expectant fashionistas who want comfort and style in equal measure, this twirl-worthy dress is the best babymoon companion.
Alright ladies, we've come to the end of our list of stylish maternity wear under $60 and proven that there's no need to spend a lot to look gorgeous during your pregnancy, right? Remember, it's all about feeling comfortable and beautiful in your own skin. You're about to become a mother, and that's a significant milestone to behold. So go ahead and flaunt your baby bump in style. You're doing amazing, new mama-to-be!