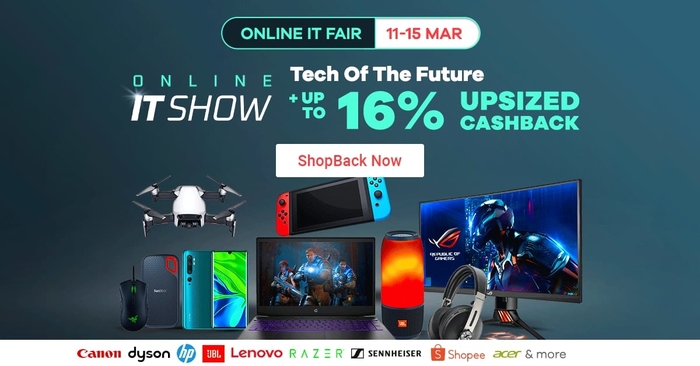 Hate that you're missing out on the good deals and freebies from IT shows? Don't let COVID-19 put a damper on your spirits because ShopBack's Online IT Show is here, with the BEST DEALS EVER! ShopBack is offering you an epic 50% Bonus Cashback for selected merchants. 
Wanna know how you can enjoy this? Read more to find out! 
ShopBack Browser Extension
Oh, the joy of saving effortlessly! Now you can save time, hassle AND money with the help of the ShopBack Button! 
While you are browsing your favourite online stores on your desktop, the ShopBack Button actively helps you to automatically find, test and apply the best promo code to your cart when you shop on your favourite online stores on your desktop.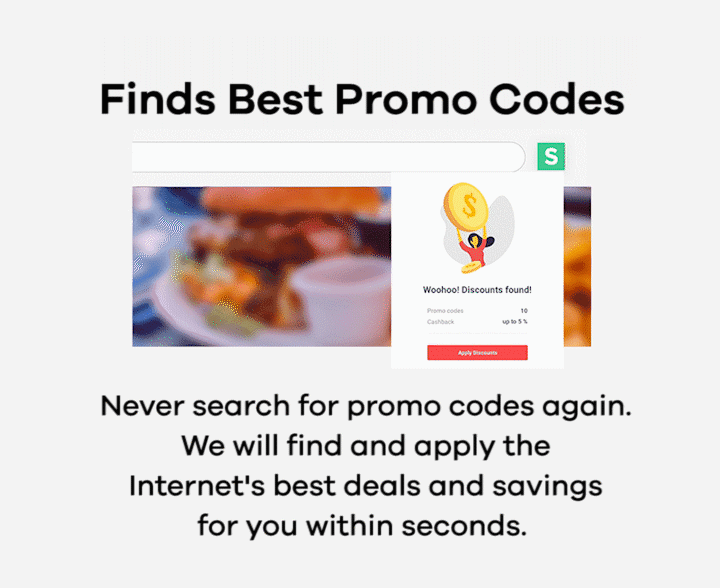 Automatic reminders to activate your Cashback will prompt you and all you have to do is to click on the green button! Hurray to saving more money, and quickly on top of that!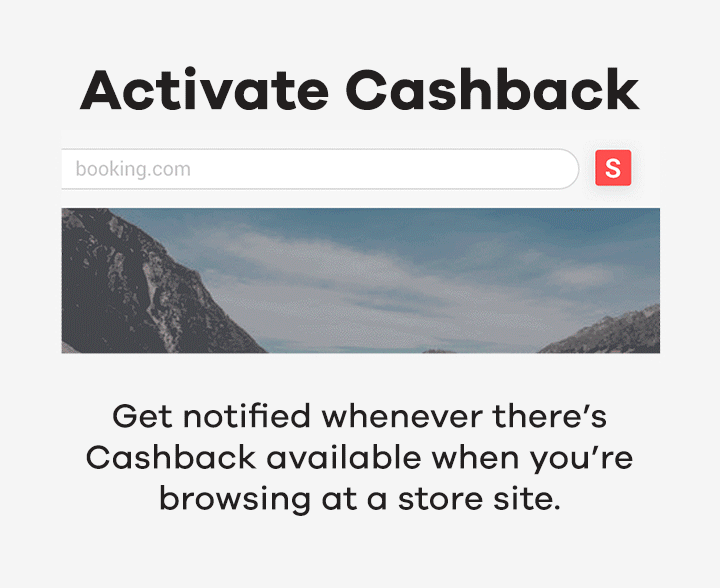 How to install
Haven't hopped on this bandwagon yet? Get the ShopBack Extension now and join over 400,000 existing members who have saved millions of dollars, across more than 2,500 participating sites including Qoo10, Taobao, Agoda, Klook, Booking.com, and ASOS.
In just 2 steps, you can install the ShopBack Extension on your desktop, 100% Free!

If you've downloaded the ShopBack Extension already, hang it there! We've got two exciting events you can look forward to:
ShopBack's IT Trivia Show with Aiken Chia from NOC (12th March, 9pm)
Secret Saver Extension – grab 50% Bonus Cashback via the ShopBack button (12th – 15th March)
ShopBack's IT Trivia Live Show
12th Mar, 9pm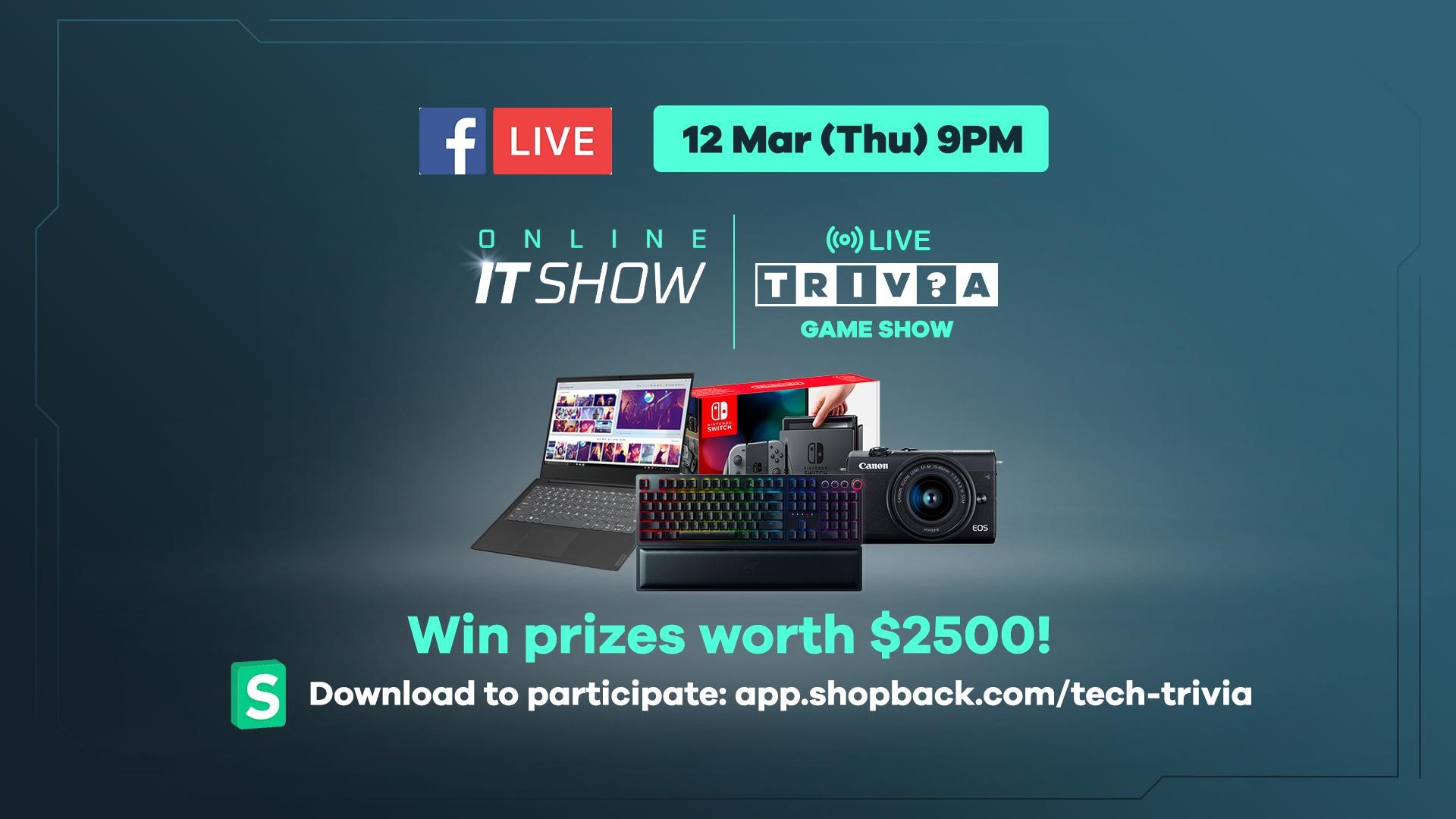 ShopBack's live stream is happening on the 12th March, 9pm and you wouldn't want to miss it! Aiken from Night Owl cinematics (NOC) along with Cindy, ShopBack's community manager will be doing live-stream tech reviews, doing a trivia giveaway for amazing prizes!
Tune in and play and you might just stand a chance to win amazing prizes like Canon EOS M200 KIT ($809), Nintendo Switch Console with Extended Battery Life in Grey ($602), Razer Huntsman Elite – Opto-Mechanical Switch Keyboard ($339) & Lenovo Ideapad S340 Ultraslim 14" laptop ($749)
Pro-tip: You'll need the ShopBack Extension to find clues and answers for the trivia, so be sure to download it on your desktop if you haven't already downloaded it!
ShopBack Secret Extension Saver
Secret Saver Extension is making an appearance this IT SHOW! You can enjoy 50% Bonus Cashback (capped at $30) for selected merchants on selected days!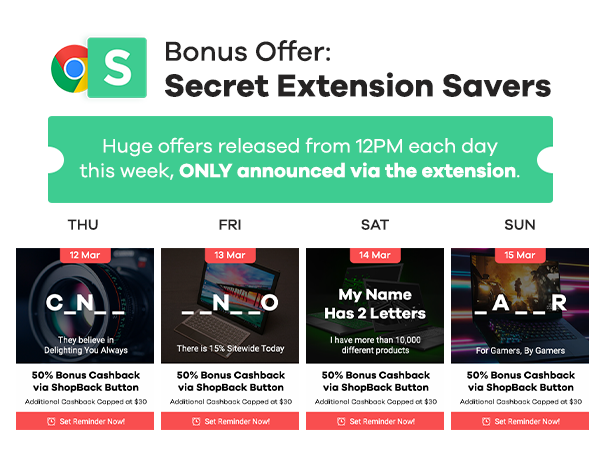 Wanna get a head-start? We got you! Solve these clues and follow the hints to know where the Cashback bonuses will make their appearances! Cashback Bonuses will be released at 12 pm daily during the 12th – 15th March, via the Shopback Extension only!
SHOPBACK'S IT SHOW 2020
What's an IT show without the goodies? Skip the crowd and still enjoy the IT Show! From the 11th to 15th March, not only can you enjoy your favourite electronic brands, you stand a chance to win a PS4 Bundle worth $478 when you shop, all from the comfort of your home!
For every $400 you spend, you automatically qualify for a chance to stand to win a PS4 Bundle worth $478. Need some inspiration? Here's a glimpse of some of the awesome deals you can catch from the 11th – 15th March:
Lenovo
Get 15% Off Sitewide with ShopBack Code
Get 22% OFf any laptop and receive a Free Bundle Deal

Bundle inclusive of Tab E7 (worth $299), Jedi (worth $379), Powerbank (worth $49)* (Limited to first 50 customers only)
Canon
9% Upsized Cashback on Canon Cameras (was 2%)
Dyson
6% Upsized Cashback on cordless Dyson Vaacums (was 1%)
Razer
Peripherals: 6% Upsized Cashback (was 1.5%)
Systems: $13 Upsized Cashback (was $7.00)
Wait no longer, shop this IT Fair with ShopBack!
---
How ShopBack Works
ShopBack is a platform that allows users to earn up to 30% cashback every time they make an online purchase from 500+ stores like Lazada, Qoo10, Shopee, Foodpanda, Agoda & more. ShopBack is free to join and is available on desktop, app store, play store and on browser extension. Learn more here.