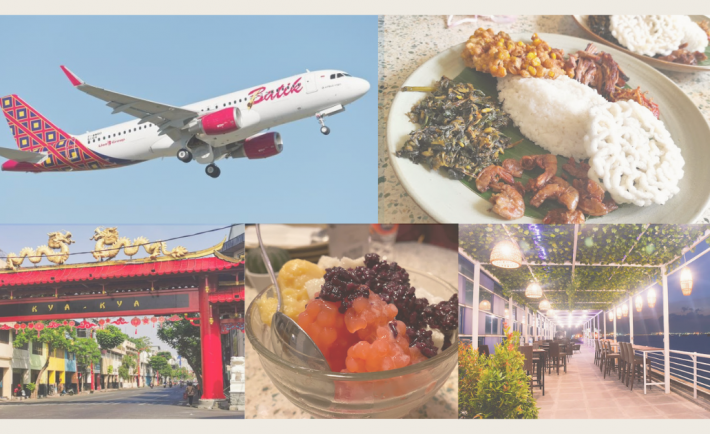 One more day to the long weekend!
If you've not planned yourself a trip out of Singapore for Labor Day, boohoo.
Haha, just kidding.
It's never too early to start planning for the next getaway and for this Travel Thursday, we will be looking at a 3D2N trip to Surabaya, Indonesia.
Best of all, it's just $204.30/pax and includes flights + hotel + breakfast.
Since Vesak Day falls on 2 June, a Friday, this itinerary's prices will be based on research done for 2 June to 4 June 2023 (2-to-go):
Batik Air flights, round trip per pax: $166.30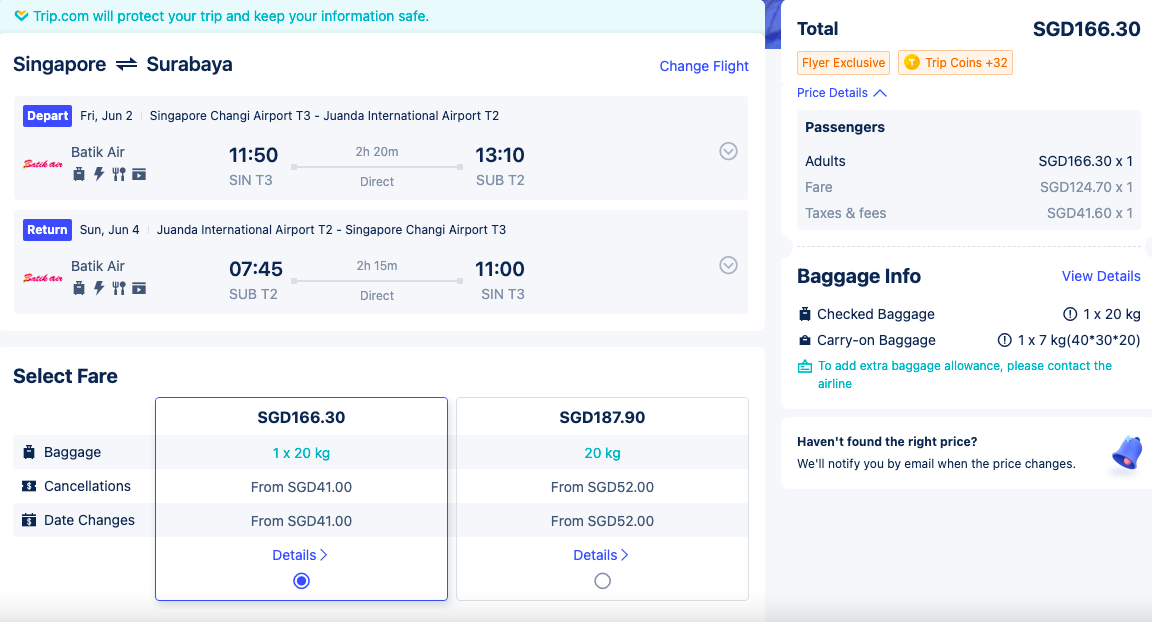 The Life Styles Hotel Surabaya (superior room + breakfast): approx. $76 including taxes

via Agoda

($38/pax)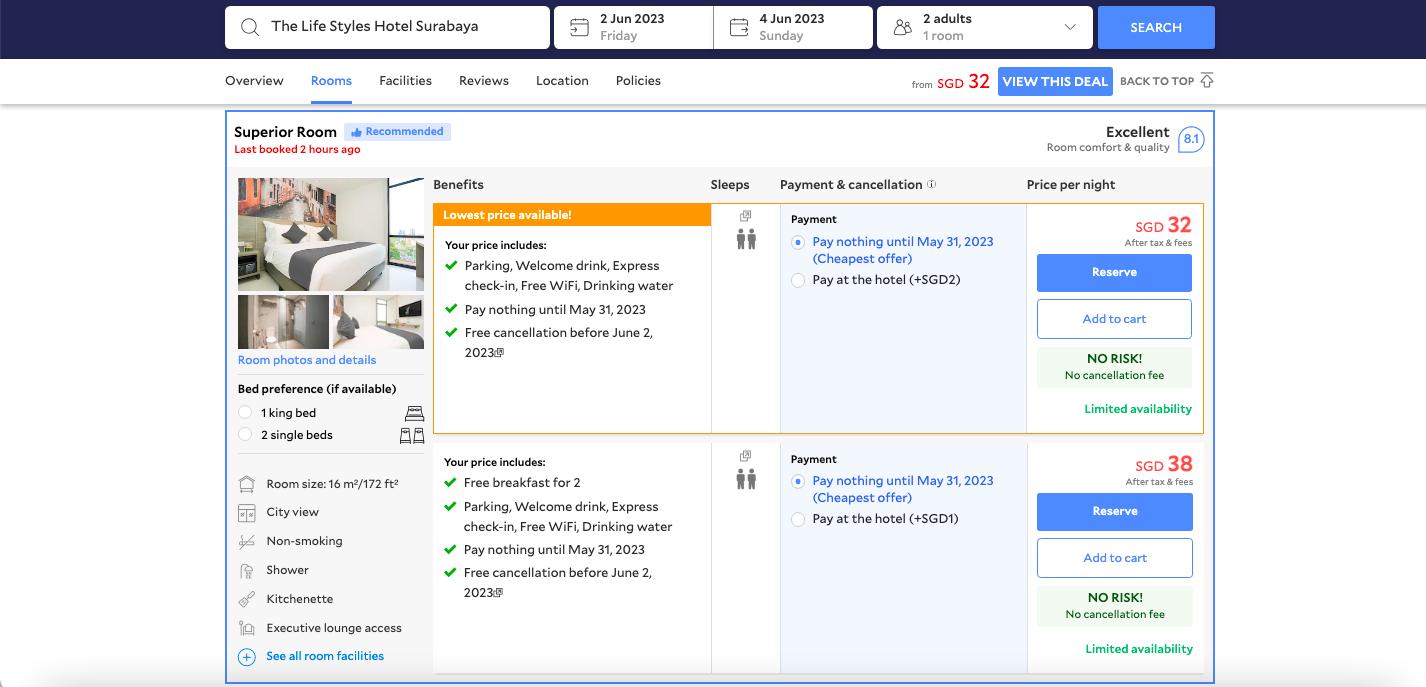 Ready for a detailed itinerary? Let's roll.
Prices reflected are accurate at the time of writing.
2 June 2023, Friday
Flight: Batik Air
8.50 am Reach Singapore Changi Airport T3 for check-in
11.50 am Flight to Surabaya
1.10 pm (local time) Touch down at Surabaya Juanda International Airport T2
Hotel: The Life Styles Hotel Surabaya
2 pm Take your ride to the hotel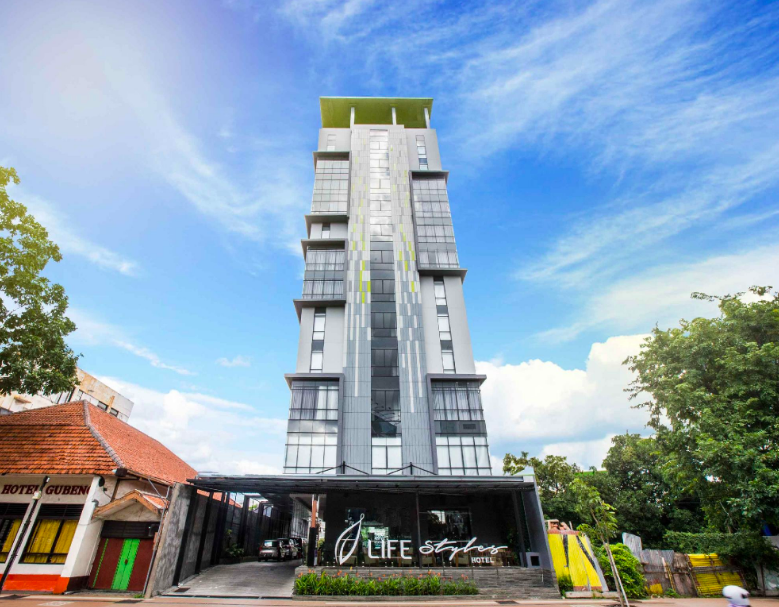 Address: Jl. Sumatera No.16, Ketabang, Kec. Gubeng, Kota SBY, Jawa Timur 60272, Indonesia
2.40 pm Reach The Life Styles Hotel Surabaya (estimated time is about 40 minutes but that depends on the traffic too)
Check-in is from 2 pm so you should be able to drop your luggage and freshen up a little before heading for lunch.
Late lunch: Sansekerta – The Authentic Taste Of Indonesia
Let's fill our tummies first before we start exploring, shall we? 
Take a 4-minute ride or 10-minute walk from your hotel to Sansekerta for a real taste of Indonesian food.
Or you can head straight to Grand City Mall Surabaya for more dining options.
4 pm Take a 7- to 10-minute walk from your lunch place to Surabaya Submarine Monument, a museum that offers tours. Or you can go free and easy, snap your quick pics, and let's move on to the next location.
5 pm Walk your way to Bambu Runcing, about 15 minutes away from the Surabaya Submarine Monument. This landmark monument will certainly prove that you're in Surabaya. Ha!
*Plan ahead*
Since you're in the district, you may want to book yourself a massage session for tomorrow night (3 June). RATU MASSAGE SURABAYA (massage panggilan) is right around the corner from Bambu Runcing so drop by to book yourself a massage appointment.
5.30 pm It's almost dinner time and from all the walking, you should be ready for some food. A 10-minute walk will take you to Apsari Park, an urban green space with street eats. You will instantly know you're at the right place if you spot the Monumen Patung Gubernur Suryo.
6 pm If the food stalls are closed, you may want to take a short walk to Tunjungan Plaza instead. You will never go wrong with a shopping mall, yeah?
Enjoy your dinner, and drinks, do some shopping, or even catch an evening movie at the Tunjungan 5 XXI cinema. It's your holiday so do it your way!
Once you're done, your hotel is just a less than 15-minute drive away.
Take a swim, or wash up and get some rest; I'll see you tomorrow.
3 June 2023, Saturday
8 am Rise and shine, and get changed because it's time for hotel breakfast.
9 am After breakfast, grab yourself a taxi to Surabaya Zoo. It will be a short 10-minute ride from the hotel.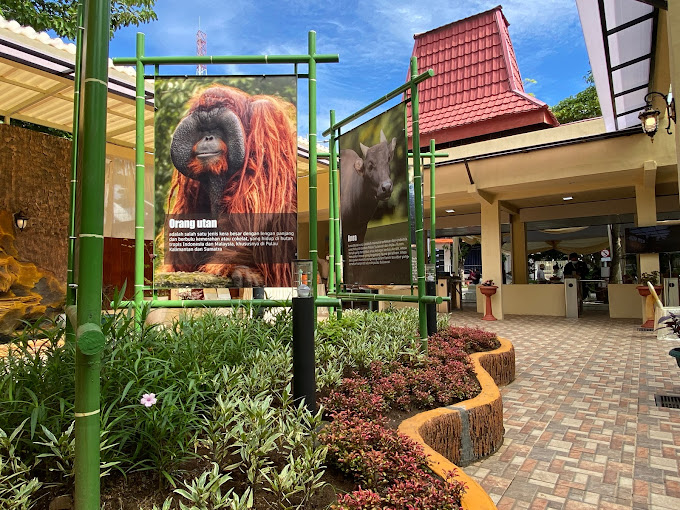 Fun fact: Do you know that looking at cute animals can lead to reduced stress levels? Science has backed this up. So all the sake of our happiness and well-being, here's a zoo trip planned for you.
11.30 am We're heading for lunch soon but before we go, let's drop by Bungkul Park, just 600 m from the zoo.
Bunkul Park is a dog-friendly popular green space so just take a walk through and snap some pictures for keepsake.
12 pm Let's head to Marvell City Mall for lunch. It's a 5-minute ride away from the park or if you prefer to clock more steps, take a 12-minute walk to the shopping mall.
Have your lunch, shop at LOTTE Mart if you wish and I'll see you at 2 pm.
2 pm We're heading far out so make sure you stop by the washroom to relieve yourself before we grab a ride to Surabaya North Quay.
It's going to take 30 to 40 minutes (depending on the traffic) to get to the famed tourist attraction by the waters. 
2.45 pm There's a rooftop deck over there, so feel free to grab yourself a drink at the cafe and soak in the port and sea views and vibes while you're there.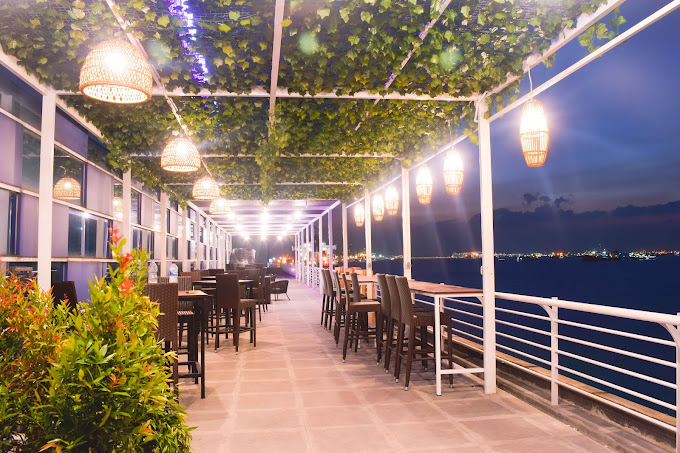 Don't forget to look out for the Monumen Jalesveva Jayamahe by the corner!
4 pm Call yourself a cab because we're heading to Chinatown. More specifically, we want to snap some pictures of Kya Kya Surabaya, a historical landmark marked by red "gates" and golden dragons.
You're in the Chinatown district so take some time to walk through the streets before you walk yourself to ITC Mega Grosir Surabaya (shopping mall) for some cool air and respite. And of course, food!
Pasar Atom (another shopping mall) is just right around the corner so we have options ya.
7 pm Let's grab a cab to RATU MASSAGE SURABAYA (massage panggilan) for your massage session.
9 pm All relaxed for bed? You're just a 5-minute ride or a 15-minute walk back to your hotel.
Pack up, wash up, and hit the sack early because we've got a morning flight to catch tomorrow.
4 June 2023, Sunday
4.45 am Hop on your taxi to Surabaya Juanda International Airport T2 (it will take roughly 40 minutes)
5.45 am Reach the airport for check-in
7.45 am Take your flight back to Singapore
11 am (local time) Touch down at Singapore Changi Airport T3
Hope you've had a superb trip in Surabaya!
See you soon for our next flight out 😉