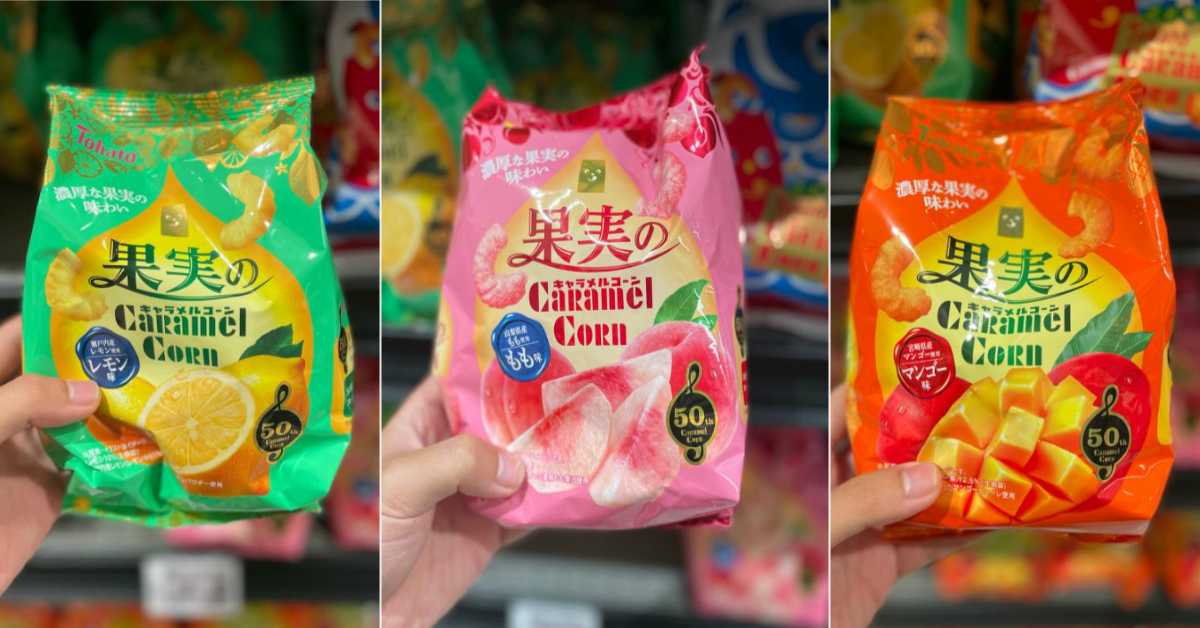 Try th famous caramel corn snack in different flavours
Hands up if you are a big fan of Tohato's caramel-coated corn puffs.
The popular Japanese snack has been around in Japan since 1971 and the company behind the snack, Tohato Inc., has launched an assortment of different flavours to celebrate its 50th anniversary.
New flavours include Mango, Peach, Lemon, Strawberry and more.
They can be found in selected FairPrice stores in Singapore.
Strawberry-flavoured Caramel Corn
$2.05 (U.P. $3.20)
Not to be confused with the more commonly found Strawberry Milk flavour, this 50th Anniversary's Strawberry Flavoured Caramel Corn Puff has 8% real strawberry juice that makes it a refreshing and tasty snack that your kids will enjoy.
Mango-flavoured Caramel Corn
$3.20
Enjoy this fiftieth edition of Tohato's famous Caramel Corn puffs in mango flavor! Each crunchy piece is also coated with a sweet and tangy mango powder. The fruit purée used for these corn puff snacks comes from the famous ruby red mangoes from Miyazaki Prefecture!
Peach-flavoured Caramel Corn
$3.20
Each tasty piece is flavored with syrup made from peaches from the Yamanashi prefecture in Honshu, Japan.
Lemon-flavoured Caramel Corn
$2.05 (U.P. $3.20)
If sweet and sour is your thing, then go for the one that is lemon-flavoured. It contains 10% real lemon juice to add a little zest to your favourite snacks!
Milky Caramel Corn
$2.00
Enjoy munching on these limited edition Milky chocolate-flavored caramel corn puffs! These crunchy snacks came from the wonderful collaboration between the two iconic treats from Tohato and Fujiya. Find yourself lucky when you get the rare circular caramel puff.
Limited-edition Tanabata Caramel Corn
$2.00
This is said to contain star-shaped caramel corn puffs and paper strip that tells your fortune based on the number of star-shaped puffs you can find in the bag. Interesting.
Bitter  / Original / Matcha
The ones that you usually find are Daiso, Don Don Donki and other Japanese marts in Singapore are available here as well.