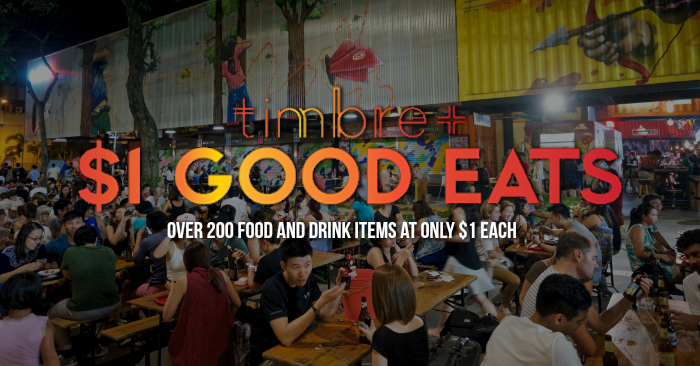 From 1 to 30 November, Timbre+ is offering over 200 daily food and drink items at only $1 each.
Customers just need to pay for these items with UOB cards using any one of the three mobile payment – Apple Pay, UOB Mighty Pay or Android Pay.
This is the $1 Good Eats campaign where the Timbre+ Bottle Shop and 14 restaurants at Timbre+ will offer main courses and alcoholic drinks at this nominal price of $1 from 6pm daily while stocks last.
Not a UOB Cardmember? Sign up for one or share this news with someone you know and tag along!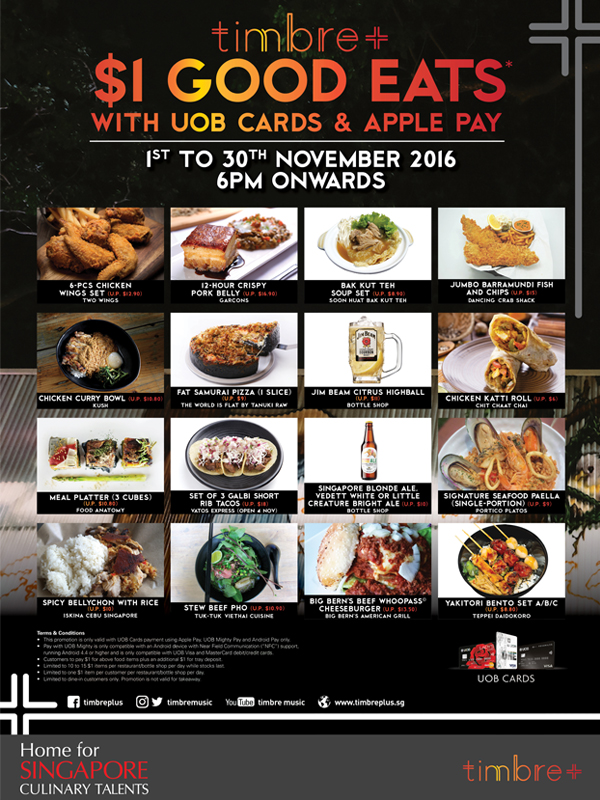 1. 12-hour Crispy Pork Belly (U.P. $16.90)
by Garçons

2. 6-pcs Chicken Wings Set (U.P. $12.90)
by Two Wings

3. Bak Kut Teh Soup Set (U.P. $8.90)
by Soon Huat Bak Kut Teh

4. Big Bern's Beef Whoopass Cheeseburger (U.P. $13.50)
by Big Bern's American Grill

5. Chicken Curry Bowl (U.P. $10.80)
by Kush

6. Chicken Katti Roll (U.P. $6.00)
by Chit Chaat Chai

7. Fat Samurai Pizza (one slice) (U.P. $9.00)
by The World Is Flat by Tanuki Raw

8. Jumbo Barramundi Fish and Chips (U.P. $15)
by Dancing Crab Shack

9. Meal Platter (3 cubes) (U.P. $10.80)
by Food Anatomy

10. Set of 3 Galbi Short Rib Tacos (U.P. 18)
by Vatos Express (opening from 4 November 2016)

Signature Seafood Paella (single-portion) (U.P $9.00)
by Portico Platos

Spicy BellyChon with Rice (U.P. $10.00)
by Iskina Cebu Singapore

Stew Beef Pho (U.P. $10.90)
by Tuk-Tuk Viethai Cuisine

Yakitori Bento Sets A, B, or C (U.P. $8.80)
by Teppei Daidokoro

In addition to the food items, customers can also purchase refreshing Jim Beam Citrus Highballs (U.P. $11), Archipelago Brewery's Singapore Blonde Ale, Vedett Extra White or Little Creatures Bright Ale (U.P. $10) from the Bottle Shop at a dollar too. Terms and conditions apply* for all purchases.
Terms & Conditions
This promotion is only valid with UOB Cards payment using Apple Pay, UOB Mighty Pay and Android Pay only.
Pay with UOB Mighty is only compatible with an Android device with Near Field Communication ("NFC") support, running Android 4.4 or higher and is only compatible with UOB Visa and MasterCard debit/credit cards.
Customers to pay $1 for above food/drink items plus an additional $1 for tray deposit.
Limited to 10 to 15 $1 items per restaurant/bottle shop per day while stocks last.
Limited to one $1 item per customer per restaurant/bottle shop per day.
Limited to dine-in customers only. Promotion is not valid for takeaway.