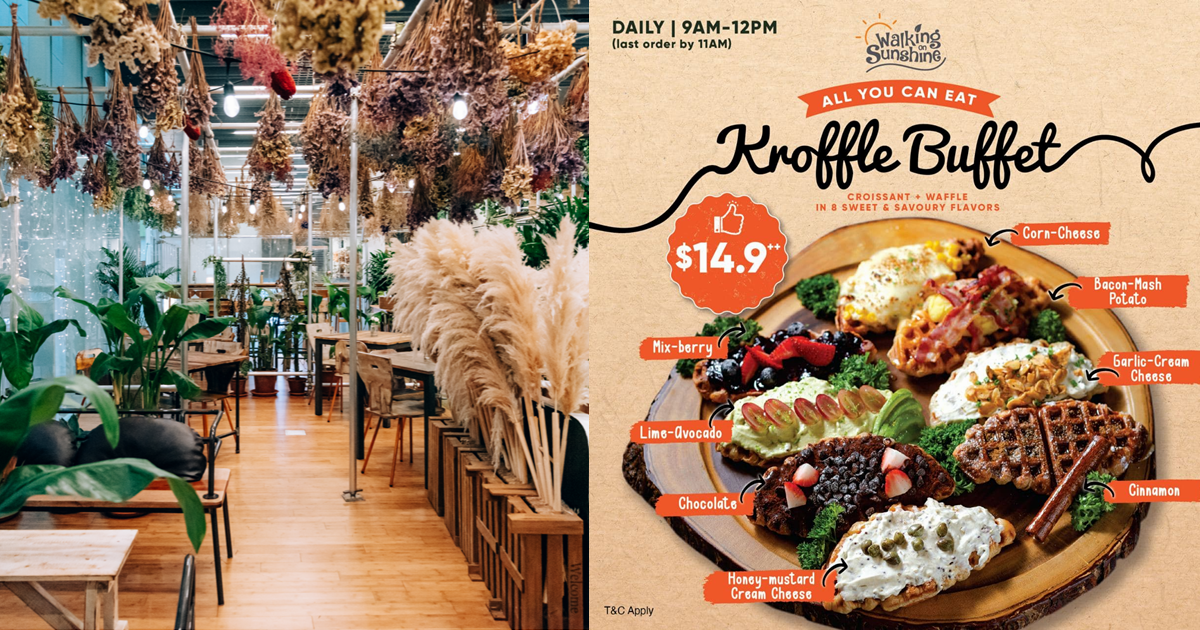 Free flow kroffle at Walking on Sunshine
The legendary Kroffle Buffet at Walking on Sunshine Cafe is back! If you haven't got the chance to try the latest food craze as they were fully booked previously — here's your chance. Now that restaurants are allowed to be operational, the cafe is now welcoming walk-in customers for their highly raved buffet.
Kroffle, touted as the #1 Korean pastry, is said to be a super tasty hybrid between a croissant and a waffle. Imagine having your croissant that comes with a crispy outer waffle layer plus a warm buttery and flaky interior.
Enjoy unlimited servings of sweet and savoury kroffles prepared by professional Korean chef.
From $14.90++, customers can enjoy an all-you-can-eat kroffle buffet that comes in 8 different flavours such as:
Sweet Flavors:
Chocolate: Our rich, semi-sweet chocolate ganache coats the croffle, sprinkled with chocolate chips and topped with a dusting of cocoa powder and icing sugar for the chocoholics.
Cinnamon: A breakfast classic. House-made sweet cinnamon sauce made with pure maple syrup and cinnamon powder generously poured over the kroffle with a touch of icing sugar on top. Best paired with a milky coffee drink!
Mixed Berry: Slow cooked, fresh blueberry and strawberry compote— fruity and sweet flavour to kick-start your healthy morning!
Lime-Avocado: Fresh guacamole made with zesty lime juice and topped with sweet grape slices— a refreshing citrus flavour to brighten up your breakfast!
Savoury Flavors:
Garlic Cream Cheese: Aromatic garlic oil infused into the staple cream cheese spread for a garlicky twist, topped with crunchy garlic chips. A-must-try for the Garlic Lover!
Bacon-Mash Potato: Crisp, juicy bacon with house-made mash potatoes. This is for you, Bacon Lover!
Corn-Cheese: Cheddar cheese warmly melted over our fluffy sweet corn puree. The cheesy, sweet and savoury combination is superb with the crisp oven-charred top layer! Having it on pizza is too mainstream, try it on Kroffle!
Honey Mustard Cream Cheese: Soft and creamy white cheese paired with the subtle spice of whole mustard seeds for a well-rounded unique flavor profile. Be amazed with the special flavor that sparks joy in your first bite!
The buffet will be available daily from 9am to 11am. For enquiries, simply WhatsApp or Call +65 8877 0088. For more details, visit https://walkingonsunshine.sg/pages/kroffle-is-now-at-walking-on-sunshine
Walking on Sunshine Cafe at Orchard Central
181 Orchard Rd, #03-07 Orchard Central, S238896
[+65] 8877 0088
OPEN DAILY: 9:00AM – 11:00PM
Kitchen and Bar last call at 10PM
Beer/Alcohol will be strictly until 10PM.