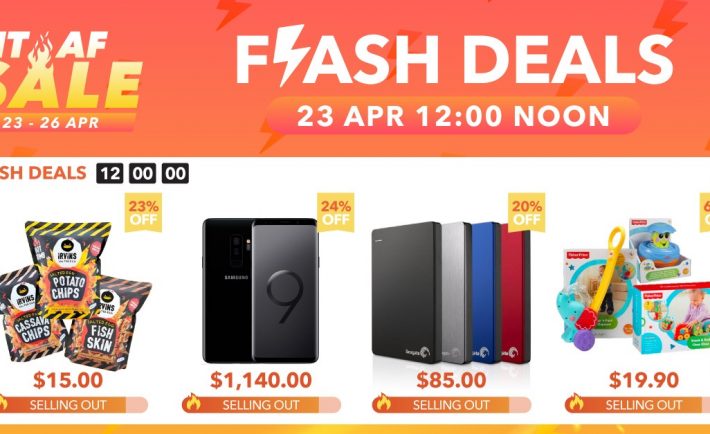 If you can't resist a bargain, check out the upcoming sale by Shopee.
From 23 – 26 April 2018, treat yourself to some online shopping as Shopee will be bringing you their hottest (pun intended!) sale this month. Expect daily giveaways, Shopee Coins daily check-in rewards and over 1,000 items at the Lowest Price Guaranteed, you can rest assured you'll be shopping the BEST sale in Singapore.
More huge savings for all the shopaholics out there; from 23 – 26 April 2018, Shopee will be releasing some hot Hot HOT bargains at their special Lunchtime Flash Deals from 12pm to 2pm.
In case you didn't know, the flash deals section be found on the homepage of the Shopee app. Look out for this bar:

If you're new to Shopee, you can take $7 off your first purchase (min. spend $15) with the promo code MDxLITAF7.
Here's what you've been waiting for – a rundown of some of the items you can expect:
1. Irvins Hot & Spicy Bomb Salted Egg Chips (Released 23 April 2018, 12PM)
$19.50  $15.00
Bring the Dangerously Addictive to a whole other level with Irvin's Hot & Spicy Bomb Salted Egg Chips. For the spicy daredevils, these are a must-try. Freshly made and handcrafted without any preservatives, Irvin's Chips uses only the best quality ingredients.
Challenge yourself with these addictive chips for just $15.00.
2. Samsung S9 Plus 256GB (S9+) (Released 23 April 2018, NOON)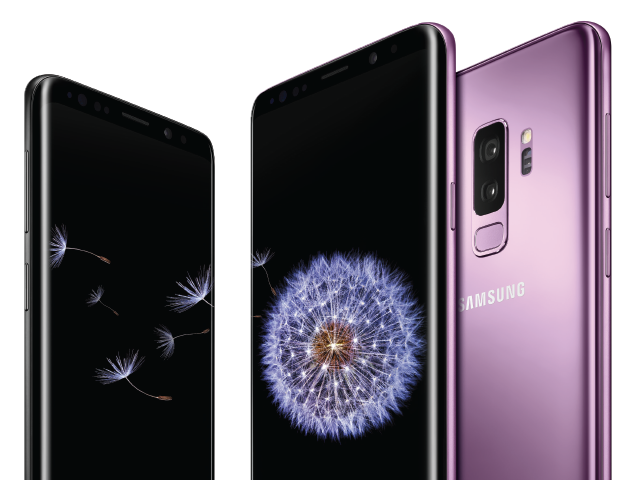 $1498.00  $1140.00
The Samsung S9 Plus boasts a camera that adapts like the human eye. Not only does it captures stunning pictures in bright daylight and super low light, it is able to automatically switch between various lighting conditions with ease—making your photos look great whether it's bright or dark, day or night. The S9 Plus comes with beautiful edge-to-edge screen to provide you with an uninterrupted display,
Save a whopping $358 in the Shopee Sale and pay just $1140 (U.P $1498)
3. Red Velvet Etude House Luv Special Kit Matte Chip Lip Lacquer + Photo Card Set (Released 23 April 2018, NOON)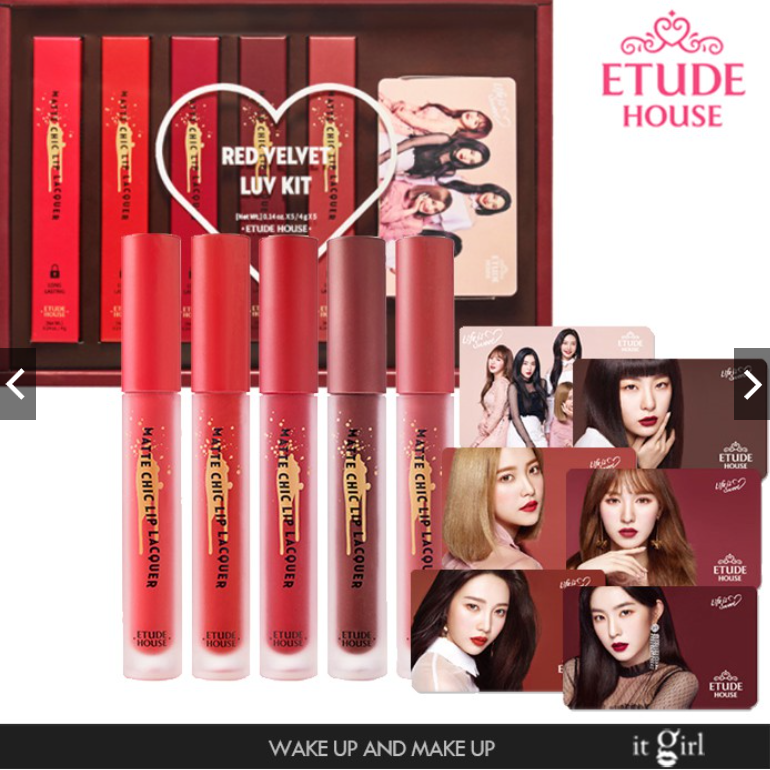 $65.00  $39.90
Red Velvet fans, rejoice! Now you can have red velvet lips with this limited edition set of rich and hydrating long-wear matte lippies. Vividly pigmented and infused with oils to smooth and moisturize skin, the lightweight-feeling Etude House Matte Chic Lip Lacquer Red Velvet Luv Kit formulas go on softly and dry down quickly to a velvety, petal-matte finish.
Put this in your bag right now. Buy one set for $39.90 each.
4. Seagate Hard Disk Black (Released 23 April 2018, NOON)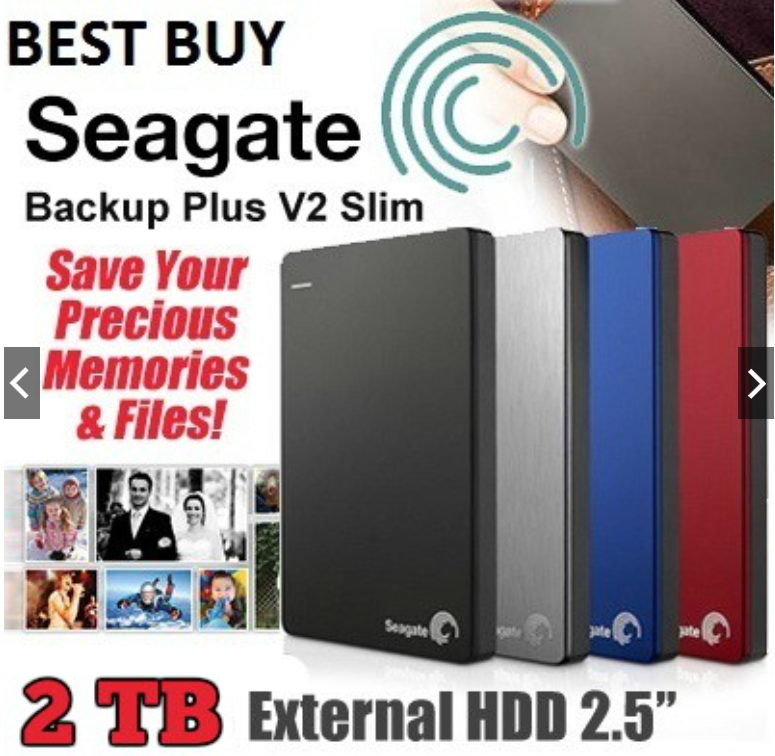 $105.90 $85.00
The Seagate V2 Backup Plus 2TB is the slimmest portable hard disk in the market. It simplifies backup for consumers who want to help protect their entire digital life locally, in the cloud, from mobile devices or from social networks.
The slim, metal design allows you to slide the drive into your pocket, purse or backpack and carry it with you.
You can now get it for less than a hundred bucks during this event.
5. Fisher-Price Infant Favourites Bundle (Released 23 April 2018, NOON)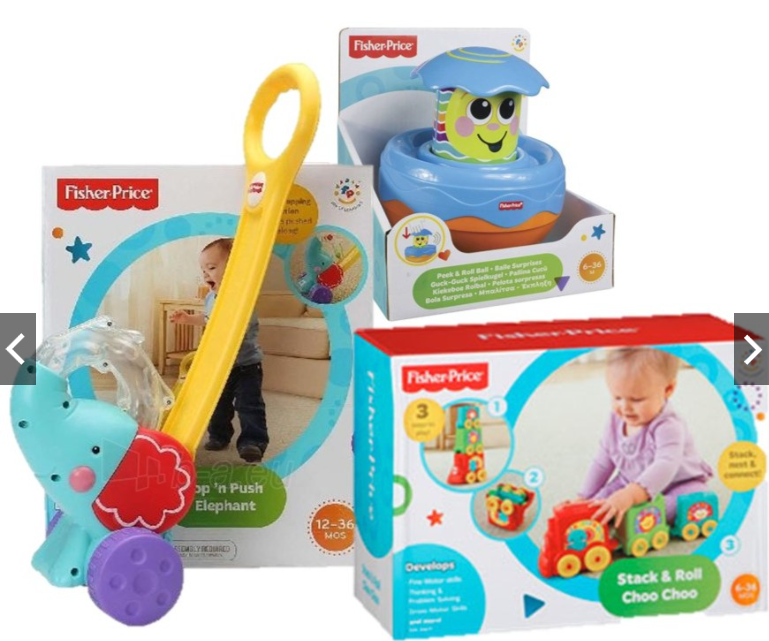 $64.70  $19.90
Full of peek-a-boo surprises! Younger babies can sit and play peek-a-boo with the silly characters and fun squeaking sounds! And when baby's ready to crawl & chase, rattle sounds and peek-a-boo wobble action encourage baby to crawl after the rolling ball. The Fisher-Price Infant Favourite Bundle is suitable for infants age: 6-36 mos.
Pick up a bundle set for $19.90.
6. Kiehls Calendula Toner (Released 26 April 2018, NOON)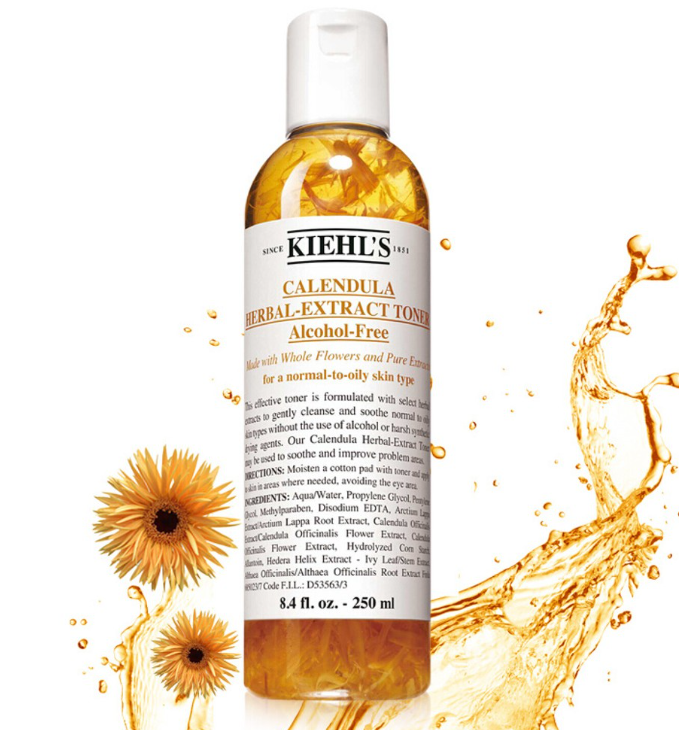 $87.00 $44.90
The Kiehls Calendula Toner is formulated with select herbal extracts to gently cleanse and soothe normal to oily skin types without the use of alcohol or harsh synthetic drying agents. It may also be used to soothe and improve problem areas.
Grab a bottle for just $44.90 instead of $87.00
7. Delsey Dauphine 3 // 4 Wheel Ultra Light Soft Case Cabin Luggage Travel (Released 26 April 2018, NOON)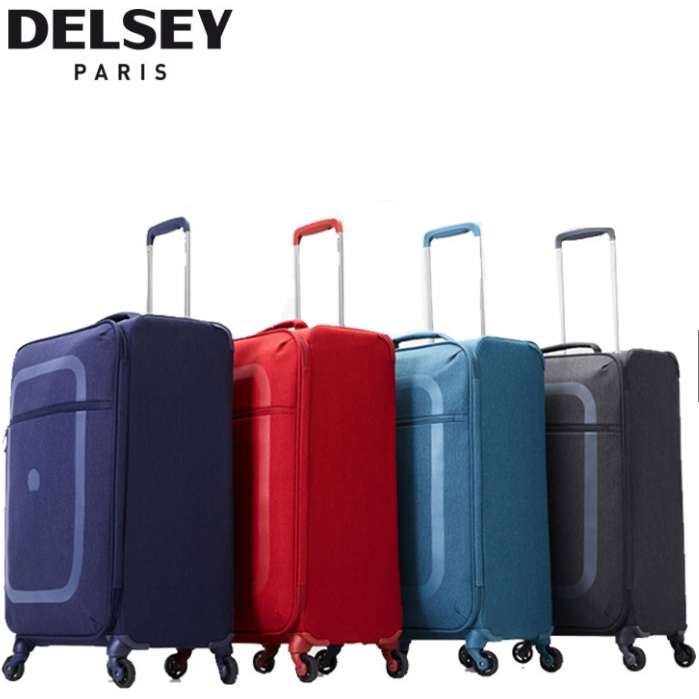 $249.00 $89.00
A perfect combination of a reinforced frame and a durable material for extreme lightness and robustness. The DAUPHINE 3 cabin suitcase is the lightest of all and has passed all the DELSEY tests! Outer fabric covered with TEFLON coating for water and stain repellancy. Features Integrated top and side handles, supplied TSA combination padlock, front side zippered pocketand main compartment with interlocking sliders.
Shopee will be selling it for more than half price – for just $89! (instead of $249)
8. Nintendo Switch Joy-Con (Released 26 April 2018, NOON)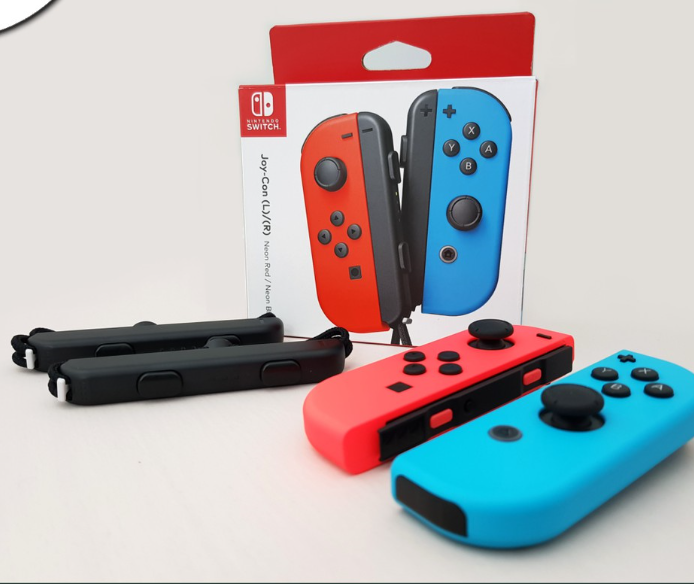 $119.90 $89.00
Add a splash of style to your Nintendo Switch™ console with Joy-Con™ controllers and Joy-Con straps. You can try out different color combos such as the red or blue to match your preference.
Each controller will cost just $89. (U.P $119.90)
9. Dyson Supersonic HD01 Hair Dryer-Iron/Fuschia (Released 26 April 2018, NOON)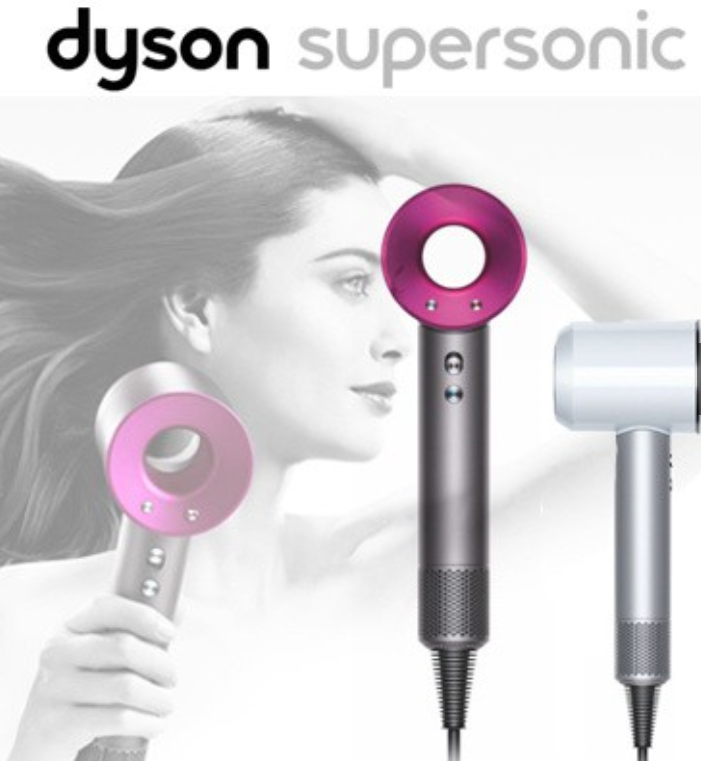 $535.00 $495.00
Intelligent heating Dyson Supersonic hair dryer protects your hair from extreme heat damage while keeping its natural shine. Engineered to be dry fast with great balance, the Dyson Supersonic changed the conventional head for better handling while keeping a well controlled, high velocity airflow.
Dyson Supersonic enables you to dry hair gently without tangles. You can also style your hair easily using the magnetic nozzle attachment.
Instant savings of $40 if you buy it from Shopee.
10. NESCAFÉ® Gold Blend Instant Soluble Coffee 200g (FREE Barista Machine) (Released 26 April 2018, NOON)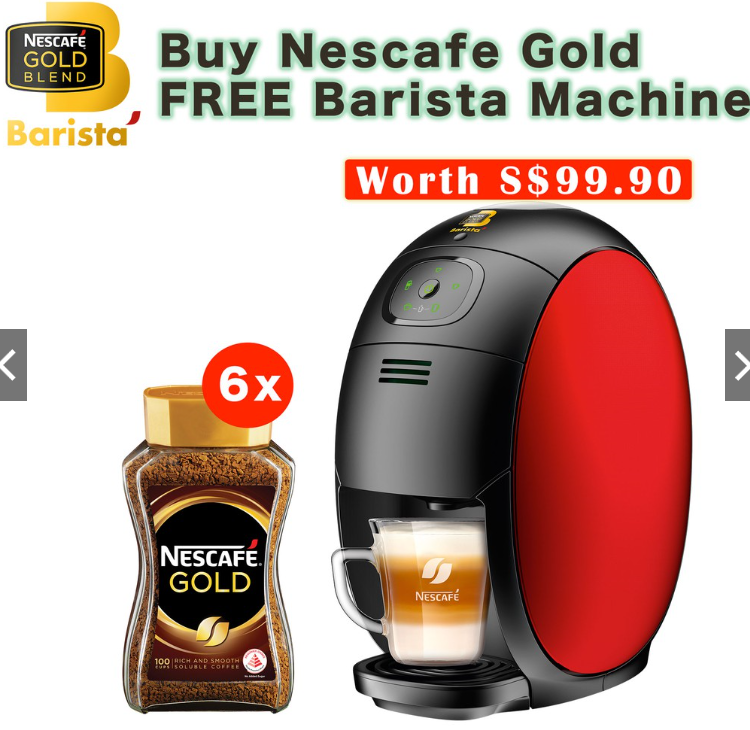 $85.00 $69.90
Advanced technological development and building on 75 years of coffee making experience, NESCAFÉ® reinvents convenience with a proprietary coffee system to reveal the full potential of your NESCAFÉ® GOLD.
Buy 6x NESCAFÉ® GOLD BLEND Instant Soluble Coffee 200g & get a FREE NESCAFÉ® GOLD BLEND Barista Machine – Metal Red Worth $99.
---
To all of you who have not downloaded the Shopee App, you might want to do so now. Shopee is holding a special giveaway for all new buyers on 25 April. Redeem awesome prizes like Eassano Treat Your Skin Pack (worth $39.95), Alcatroz Air Tag (worth $10.90) and more for free with just a promo code, while stocks last.
Download the Shopee App NOW and mark your calendar for this upcoming 23 April, and remember to camp in-app to snatch the items as there are only limited quantities available.
If you're new to Shopee, you can take $7 off your first purchase (min. spend $15) with the promo code MDxLITAF7.
Also, you can get $12 off (min. spend $100) when you checkout with your Citi Cards! Don't have a Citi Credit Card yet? Apply now and get up to $120 cashback as you spend + $70 Shopee vouchers. T&Cs apply.