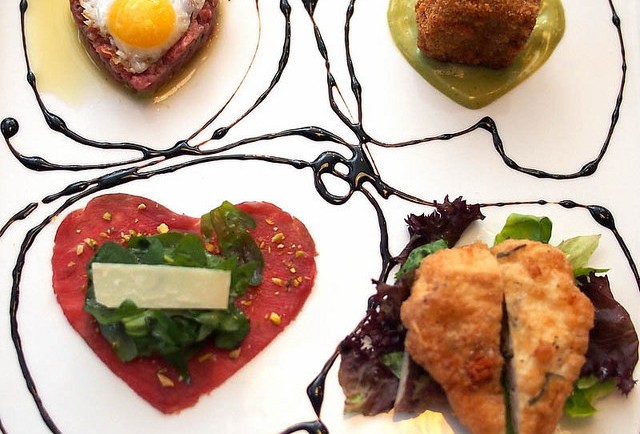 They say that a quickest way to a man's heart is through his stomach. If you desire to impress your loved one without breaking the bank then brace yourself as I lay out the 3 Delicious Valentine's Day Dining Places in Singapore That Are Under S$50…
Who would have thought that affordable yet scrumptious French cuisine exists in Singapore? Young chefs named Joshua and Dylan paved way for casual dining that serves renowned French dishes at reasonable prices.
Your special someone would definitely enjoy the simple ambiance and the taste of food that is raved all over the social media. One yelp.com user even wrote on that it was "90% as good as the dish served in Paris".
Delicately handmade "Duck Confit" and "Seafood Pasta with Tiger Prawn and Lumpfish Caviar" are crowd pleasers. Their main courses start from S$10 while their desserts are S$7 and up. Generally, the menu's maximum price is S$30. Saveur has various locations around the country namely in: Ion Orchard, Far East Plaza, and Purvis Street.
If your partner is looking to try something different then feast your way to Haji Lane where Piedra Negra Restaurant is located. Piedra Negra is a Mexican restaurant with "hippy" vibe, cultural ensembles, and colorful graffiti walls. Much like Saveur, the menu generally is S$30 and under.
The restaurant takes up two units and specializes on Latin American cuisine. If you are an expat looking forward for a taste of home then try their amazing handmade Guacamole that is certified fresh.
3. ANTOINETTE

Named after the late Queen of France, Antoinette boasts its interior beauty that is known for its Parisian style tea and pastries. Antoinette's selection of lavish treated and handmade dishes will be perfect for celebrating your perfect date. It is established by the Sugar Daddy Group.

Take your girl friends on a Valentine's day lunch for high tea and ladies' luncheons that you all can enjoy. Food generally ranges from S$5 to S$30. Honorary dishes include the "Beef Bourguignon" and the "Gnocci Carbonara". If you are a dessert lover then I suggest for you to try the "Antoinette", a sinful serving of Earl Grey ice cream, raspberry jelly, and milk chocolate shards.