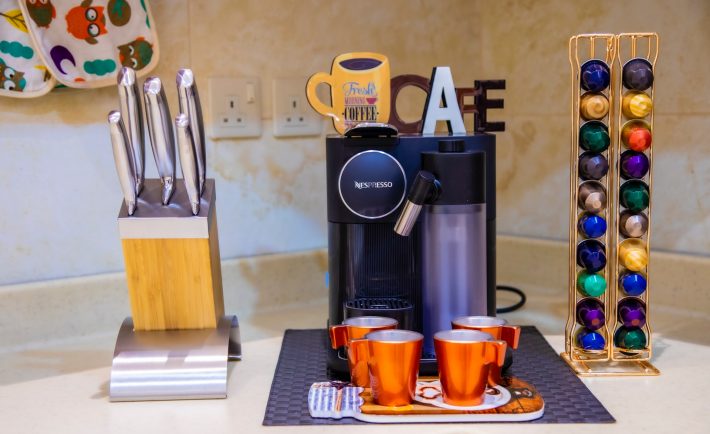 This year marks the start of my sister's journey to marital bliss. When she got married, I asked her what she wants as a wedding present. As a coffee enthusiast, she asked me to buy her a coffee machine. Her love for coffee runs deep into her veins, both literally and figuratively.
Much like her, many people enjoy a freshly brewed coffee in the morning. Instead of spending S$6 or more on a daily cup of joe, you can save money by investing in a good coffee machine. Getting your own coffee machine will not only help you save money in the long run, but will also let you create a drink that satisfies your preference.
On that note, here are four affordable coffee machines that you can consider.
CAPSULE COFFEE MACHINES
Satisfy your coffee craving in no time by using a capsule coffee machine. As the name suggests, capsule coffee machines work by inserting a pod into the machine and clicking start. Pods or capsules come in a variety of flavors. In Singapore, you can purchase the Nescafé Dolce Gusto Piccolo XS or the Nespresso Essenza Mini Coffee Machine. For existing fans of this Nescafé Dolce Gusto, you will love that this machine can help you create both hot and cold drinks.
Its sleek and compact design makes it easier to put in almost anywhere. In fact, it is one of Nescafé Dolce Gusto's smallest coffee machines. Do not be fooled by its size because it can produce 35 varieties of coffee, tea, and chocolate drinks. Moreover, its size makes cleaning trouble-free.
Now, let us put a spotlight on Nespresso Essenza Mini Coffee Machine. This coffee machine proves to be suitable for busy individuals with its fast heat-up system and high-pressure pump. Quickly prepare your favorite drink by choosing one of its two programs. You have an option to choose the cup's size too. Best of all, its portable design only weighs 2.3 kg!
When you are considering the price of this machine, remember to factor in the cost of the capsules. Prices vary depending on the flavor of the capsule and where you are buying it. You can save more by watching out for the current deals.
Nescafé Dolce Gusto Piccolo XS (Price: S$99 at Lazada)
Nespresso Essenza Mini Coffee Machine (Price: S$148 at Lazada)
DRIP COFFEE MAKERS
Drip coffee works by dripping boiling water over ground coffee. You can watch as the water filters through the coffee and falls into a pot. If this is your preffered type of coffee machine, you may consider buying either the Braun KF7120 Drip Filter Coffee Maker or the PowerPac 1.25L Drip Style Coffee Machine (PPCM302).
People who want to savor a gourmet-style coffee at home may try the Braun KF7120 Drip Filter Coffee Maker. It has an OptiBrew system, which you can control through its 24-hour timer and its cup setting. What is more? You can select your preferred coffee strength with its strength selector setting.
For those who wish to enjoy a good cup of kopi o kosong, this coffee machine can grant your desire. The PowerPac Coffee Maker 1.25L Drip Style Coffee Machine can be used to make either coffee or tea. Simply add the coffee powder and boiling water and wait for your coffee to be churned out in a large glass jug. It can serve up to eight cups of coffee!
Braun KF7120 Drip Filter Coffee Maker (S$159 at Lazada)
PowerPac Coffee Maker 1.25L Drip Style Coffee Machine (S$25.90 at Shopee)
There are other types of coffee makers such as French Press and Espresso coffee machines. Find a coffee machine that suits your lifestyle and budget best by doing your research first.