Located at Qiren's Tampines & Jurong East client lifestyle hubs, Pokémon Themed Café* is opened to members of the public
In conjunction with the launch is Qiren's 3-month Pikachu islandwide activation which brings Pokémon to life with Meet & Greet sessions with Pikachu and Eeve in full animated character.
Qiren Organisation and Japan-based The Pokémon Company, owner and license holder of the Pokémon franchise, announce the inaugural launch of non-retail Pokémon themed Café in Singapore. Open to clients of Qiren Organisation, the Pokémon themed Café* is a specially designed Pokémon themed space located in Qiren's Tampines and West Hub customer centres where you can spend the perfect afternoon with your family and friends. More importantly, there are plenty of opportunities to snap Insta-worthy photos with your loved ones.
At this Pokémon themed Café* @Tampines & West Hub, complimentary coffee with Pokémon latte art and cakes are served to privileged clients. To kick start the campaign, the café is open to public and anyone can also enjoy a cup of coffee by downloading the People's App, a customer-oriented app designed to serve their customer better.
To kick off the collaboration, Qiren Organisation will also be hosting a three-month Pikachu Islandwide Activation campaign that brings Pokémon to life with parades and meet & greet with lovable animated characters – Pikachu and Eevee. For Pokémon fans out there, this is the perfect chance for you to snap photos of Pikachus and Eevees up close as they dance to the melodious music in front of you. This activation will be held across different locations throughout the island, from East Point mall in the East, to Yew Tee Point in the North, to Westgate in the West and Suntec in the Central.
Aspiring Pokémon Masters and Ash Ketchums will get to experience living in a world of Pokémon that features Insta-worthy parades, shrink art activities and carnival games. For sharp shooters, you can try your hands on the 'Lets Battle, Pikachu!' to catapult Pikachus into the target holes and make your way onto the scoreboard. For nifty Pokémon masters, aim your way to score as many points as possible in the 'Litten Game'. This is a must-go event in your quest to become the very best.
The fun doesn't stop with the Pikachu and Eevee parade and Meet-&-Greet sessions. For families and friends of existing Qiren clients, there will be dedicated spaces at both Pokémon Cafés where they can hold birthday parties for their children with special appearance by Pikachu.
States Qiren Organisation founder and chief executive Lin Qiren: "Augmenting our customer-centric lifestyle destinations with Pokémon themed lifestyle hub sits with Qiren Organisation's aim of constantly ensuring our company is well placed to provide the best in client service and engagement."
"By opening our outlets to members of the public, we want you, Singaporeans and residents of Singapore to experience a different level of experience with us. We aim to be your choice for insurance for family & kids."
*The cafes are actually for clients of Qiren Organisation's usage only but it is now open to the public for the Pokémon Campaign.
For more future events updates, you may visit their Facebook page at https://www.facebook.com/QirenOrganisation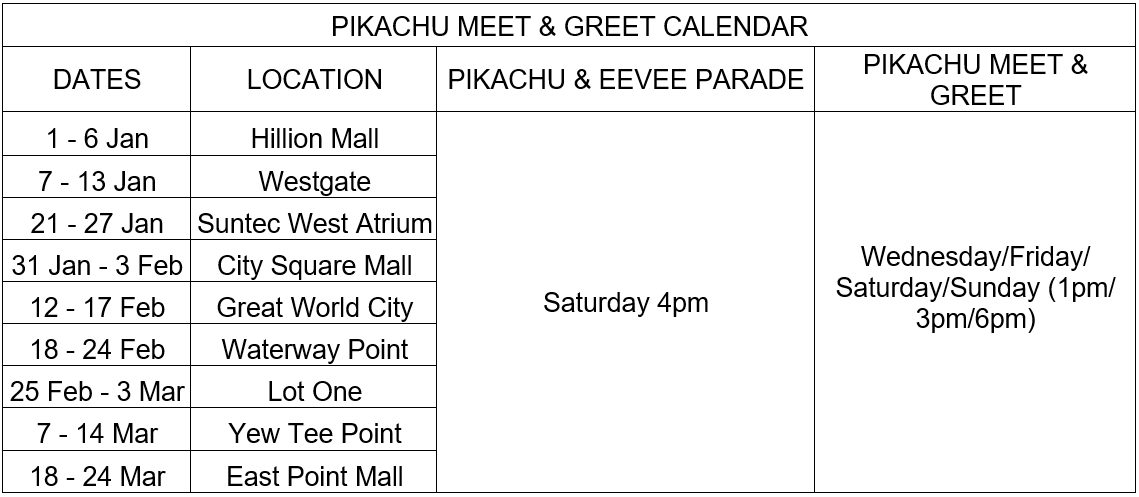 You Gotta Catch 'Em All at:
10am to 6pm

Tampines: 9 Tampines Grande, Level 2, Singapore 528735
Jurong East: Vision Exchange, Level 21, 2 Venture Drive, Singapore 608526