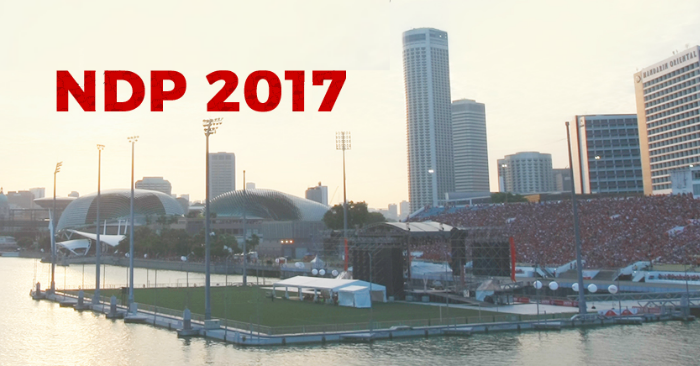 National Day Parade (NDP) 2017 will be held at The Float @ Marina Bay. This year's parade will be an engaging spectacle for Singaporeans, with highlights such as a Salute to the Nation by the Republic of Singapore Air Force fighter aircraft, a special tribute to 50 years of National Service, two exhilarating Dynamic Defence Display segments as well as a Show segment featuring mass displays, special effects and active audience participation.
Ticket Application – Key Dates
Singapore Citizens and Permanent Residents can apply for tickets to the two Previews and National Day Parade (NDP) from 23 May to 4 June 2017.
Successful applicants will be notified from 26 June to 3 July 2017 via the contact number provided in their application. Successful applicants may collect their tickets from 7 to 9 July and 14 to 16 July 2017, between 10am and 9pm, at the National Gallery Singapore, Basement 1, The Ngee Ann Kongsi Auditorium Foyer.
(Address of National Gallery Singapore: 1, St. Andrew's Road, Singapore 178957).
Ticket Application – Options
Applicants can choose to apply for two, four or six tickets to Preview 1 on 22 July 2017, Preview 2 on 29 July 2017, or NDP on 9 August 2017. Applicants should note that the lower the number of tickets applied for, the higher the chances of obtaining them.
Ticket Application – Process
Applicants may apply for tickets via the following modes:
Short Message Service (SMS)
Step 1: Go to 'Create Message' under the SMS function of your mobile phone.Step 2: Key in your details in the format below and send it to 8240 0050 to apply for the tickets.

<NRIC No.> SPACE <Preview1/Preview2/NDP> SPACE <No. of Tickets>

Below are three examples of the SMS format:


S1234567A Preview1 6
S1234567A Preview2 4
S1234567A NDP 2

Step 3: An SMS reply will be sent to you shortly to acknowledge receipt of your application.

Internet
Step 1: Log on to the official NDP website at https://www.ndp.org.sg.Step 2: Select Ticket Balloting in the top navigation bar.

Step 3: Fill in all the fields as prompted on the screen before submitting the application form.

SAM / AXS Stations
Step 1: Visit any SAM and AXS station. The locations of SAM and AXS stations can be found at https://www.singpost.com.sg and https://www.axs.com.sg respectively.Step 2: Fill in all the fields as prompted on the screen before submitting the application form.
Ticket Application – Terms & Conditions
Each NRIC holder is limited to ONE application regardless of the mode ('mode' being SMS, NDP website & AXS/SAM machines) used to apply. If more than one application is made, only the latest application will be entered for the electronic ballot when the application period ends on 4 June 2017. Tickets will be allocated via an electronic ballot system supported by NCS Pte Ltd, and audited by KPMG Service Ptd Ltd. Tickets are NOT allocated on a first-come-first-served basis.
The balloting results are final and there will be no appeals. As each ticket admits one spectator to the parade, children (inclusive of infants) must hold a valid ticket to be admitted to the parade.
All successful applicants in the NDP 2016 ticket eBalloting exercise will not be eligible for the NDP 2017 ticketing eBalloting exercise.
Tickets are strictly not for sale, sold for any gain, monetary or otherwise.
The applicant gives consent to the NDP2017 Executive Committee to collect and disclose personal data provided in the ticket application forms as needed to facilitate the eBalloting process.
For further enquiries or feedback regarding NDP 2017 ticketing, please visit the official NDP website at https://www.ndp.org.sg.
Read Also: Get up to S$600 worth of vouchers (NTUC, Takashimaya, etc) when you apply for any of these credit cards!