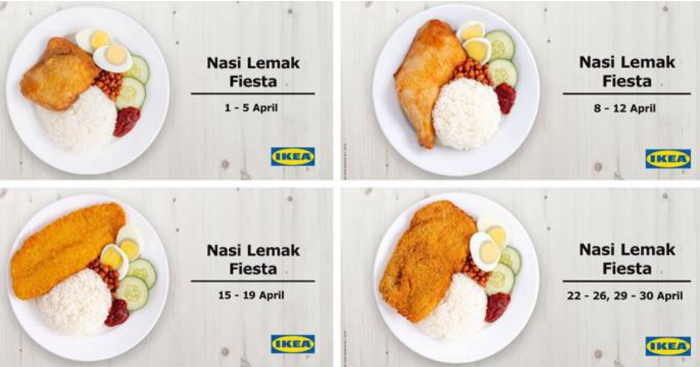 Picture this. Fragrant, coconut flavoured rice. Tender meat that falls of the bone and melts in your mouth. A perfectly boiled egg. Cucumber slices for bite and fiery sambal for that kick. What else can it be, but one of Singapore's most beloved dishes, the iconic Nasi Lemak.
For the entire month of April, IKEA is hosting its Nasi Lemak Fiesta! Every week, a different version of Nasi Lemak goes on sale for just $6.50!
1 – 5 April: Nasi Lemak with Chicken Chop
8 – 12 April: Nasi Lemak with Chicken Leg
15 – 19 April: Nasi Lemak with Fish Fillet
22 – 26 & 29 – 30 April: Nasi Lemak with Chicken Cutlet
What are you waiting for? Bring your family and come on down to IKEA to indulge in Singapore's favourite dish! Dishes are available on weekdays at the IKEA restaurants* for lunch and dinner only. Find out more at IKEA.sg/restaurant
*Dishes are only available at the non-halal line.